The importance of Teacher and Student Relationships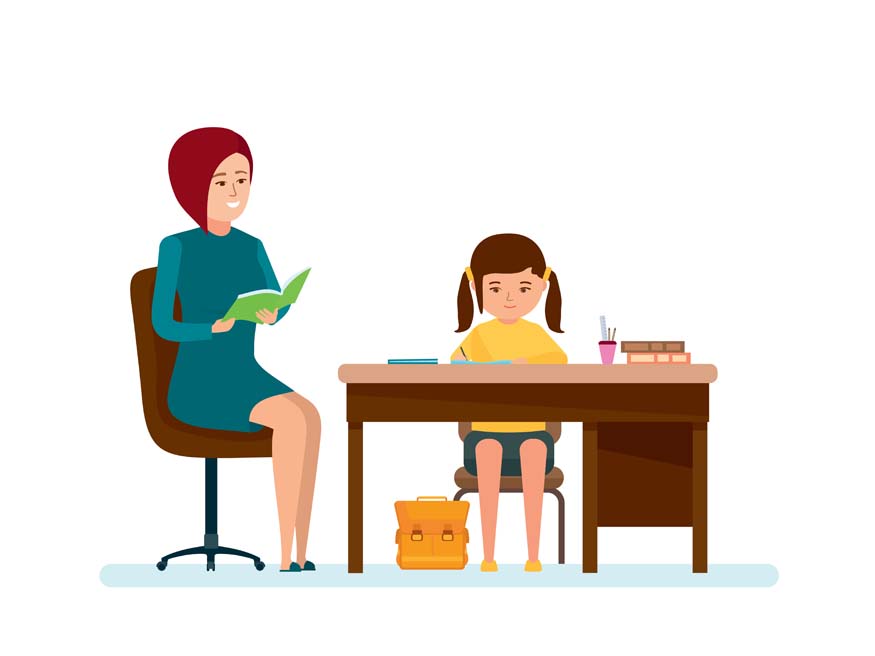 The Power of Teacher-Student Relationships
Ever notice a sense of casual familiarity between your child and their teacher?
You don't want to make too much out of it. It's not as though they might be silently striving hard to unlock your child's hidden potential.
Plenty of teachers have the ability to engage with children at a superficial level, but that's not enough. A truly great teacher goes way deeper, actually engaging with students around things like their curiosity and habits of mind.
What makes for a great Teacher and Student Relationship, is the association it has with a lot of short- and long-term improvements in various arenas. For instance, it may lead to higher academic engagements, attendance and even fewer disruptive behaviours.
In this article we will see exactly how Student-Teacher Interaction can work wonders for your child. But first, a look at what a great Student-Teacher Relationship encompasses.
Teacher-Student Relationship: The Basics
In essence, a Teacher-Student Relationship is a positive relationship between the teacher and student, in an attempt to gain trust and respect from each other.
This relationship involves teachers getting to know their students better, and encouraging them to become stronger learners. By doing this, the teachers are valuing the individuality of their students and making their classroom a safe and welcoming environment for all.
The Importance of Student-Teacher Relationships
Want to know how that Teacher-Student Relationship influences Learning?
There are all sorts of benefits that a great Student-Teacher Relationship can provide. Presenting a look at the best of them.
An Environment that stimulates Mutual Respect
The hallmark of a good teacher-student relationship, is the sense of mutual respect that is fostered between teacher and student. A mutual respect that goes a long way in helping both teacher and student understand each other.
Promotes Academic Success
While a great relationship between teacher and student cannot be the only reason a child does well in school, it most certainly helps. Children who create strong bonds with their teachers, are seen to perform better academically than their peers whose behaviour with teachers involves some conflict.
Promotes Mental Health
While that teacher-student relationship might influence learning, it works wonders for the mental health of children, too. This is especially relevant in the case of kids who have learning issues, and low self-esteem on account of the same. All that extra attention and care from teachers, will increase their self-worth and leave them feeling much happier.
Prevents Chronic Absenteeism
This vital importance of teacher-student relationships is one that is often overlooked. When teachers foster a strong bond with their students, it becomes all the more natural for the students to want to attend class. When children have the knowledge that their teacher deeply cares for them and will do anything to help them succeed, they will be all the more motivated to attend class.
Improves Social Development
What teachers are doing when they work on getting children to respect and trust them, is fostering an environment of enhanced Emotional and Social Intelligence. Progressing healthily over time, children will aspire to emulate their teachers and develop the same levels of accountability and compassion.
Helps manage Behavioural Issues
It's not uncommon for young children to behave out in school, especially when they feel isolated from their environment. It's worse when those behaviours start to affect their grades, and even disrupt the learning environment for the other kids. When teachers develop strong interpersonal bonds with these children, these unwanted behaviours gradually vanish.
Aids in assisting Teachers in Interacting with Parents
The last thing both parents and teachers want is to be sitting across from each other at that Parent-Teacher Meeting, with nothing to say. Teachers who are genuinely interested in their students, will have plenty of things to say about them. This will only get the parents to talk a good deal themselves, about their children's lives.
Sparking Meaningful Connections
Apart from their family, young children are unlikely to form too many close relationships. When they find themselves having a meaningful connection with their teachers, they are even more likely to form similar connections with other people in the outside world.
A Healthy Classroom Atmosphere
Last but certainly not the least, a good teacher-student relationship only contributes to a positive classroom atmosphere. Students are far more likely to have fun in a classroom, where they have a personal connection with their teacher. Conversely, the same goes with the teacher, too.
Ways Teachers build Stronger Bonds with their Children
Curious to know how those strong Teacher-Student bonds are created? Here's a look at how great teachers build those unique relationships with their kids.
They greet their students every day. You can never undermine the power of a simple greeting, no matter if it is 'Hello' or 'Bye'. Great teachers greet their students every time they meet them, making it a most special time for the children.
They believe that all their children can succeed. The best teachers believe that every child they teach is capable of succeeding. They provide extra support to the kids who need it more, and constantly push all students to achieve more.
They get to know their students. Even simple things like knowing the names of their students, and getting information related to personal tidbits of their lives, will help teachers establish a trustworthy learning climate.
They share their own stories. Storytelling is a great way for human beings to connect with one another. A teacher might tell students stories of their own educational struggles, that will help the children persevere in their journey.
Mutual Feedback. Not only should teachers provide constructive criticism where required, children should also be able to provide feedback to teachers. This feedback can help teachers glean some valuable insights into adapting their class to embrace the needs of all students.
At EuroKids, we pay a great deal of importance to Positive Teacher-Student Interactions, in each and every one of our classrooms. We believe that not only do those positive interactions improve academic performance, they boost those vital levels of school-engagement, too.