Discover 21 Vacation Destinations Perfect for Toddlers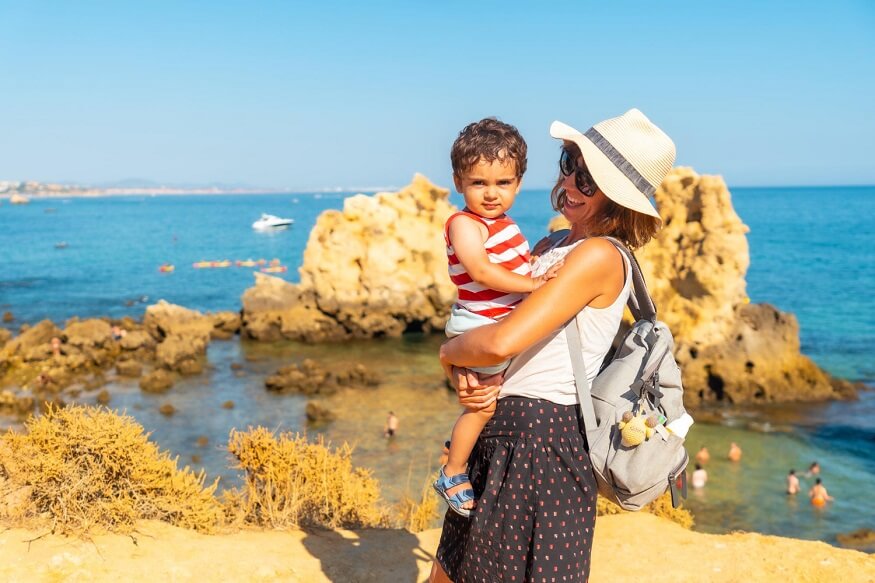 Any vacation with a toddler can be rather tricky. That's what makes it so vital to choose family friendly vacation places that look after all their needs. That way you can unwind and relax and return rejuvenated. We have shortlisted some places where you can have a holiday in the true sense of the word with your toddler.
Jersey Shore

One of the ideal vacation destinations with toddlers, it offers long sandy beaches, music, art and other beach activities. Toddlers can enjoy rides at the amusement parks, watch street performers or just walk along the shore. Jersey Shore also has aquariums, a zoo and Gillian's Wonderland Park specifically for toddlers.

Chicago

The indoor and outdoor attractions of Chicago are among the best and are accessible at all times, be it the 'Bean' at Cloud Gate or an amazing view of the entire city from the 110 foot tall Willis Tower. Toddlers enjoy the famous Shedd Aquarium and the Lincoln Zoo with their variety of animals and fish.

Paradise Islands

This jewel in the Bahamas is one of the most popular vacation spots and has something for everyone. This kid-friendly place offers customised meal plans and trained babysitters if you want some time to yourself. The aquatic version of Build-A-Bear at Atlantis Pals allows toddlers to create stuffed marine animals and also has safe play areas in the water and beaches. Couples can unwind at the Mandara Spa and some places host free movie nights for the family.

Florida

Club Med is extremely popular as one of the vacation places for kids in Florida with its white sand and crystal clear blue water. Its 'Baby Club Med' initiative offers both outdoor and indoor activities along with a daycare which looks after your toddler's nap time and meals.

Monterrey

One of the perfect vacation places for kids, Monterrey in California is a coastal place that has relatively fewer tourists, but has myriad family-friendly activities and attractions. The National Maritime Sanctuary has a range of aquatic animals including otters and seals and the attached aquarium allows a one-to-one interaction with sea animals. The Country Youth Museum has a huge play area for toddlers with interactive exhibits.

Lake Chaplain

Vermont's Lake Champlain has gained a lot of popularity with its family-friendly attractions of camps and lake resorts all around it. It's a great place to relax and the Tyler Place family resort allows you some time to yourself while the children are taken care of by qualified caregivers. There are many toddler activities and water sports, campfires, fishing and treehouses.

Olympic National Park

Washington's Olympic National Park is iconic with its mountains and rainforests and tide pools and straits. The trees are massive and some are over a thousand years old. It has ample opportunities for hiking and mountaineering while kids can enjoy less physically demanding activities.

San Diego

During the peak season San Diego can be quite a crowded vacation destination but it's one of the incredible family friendly vacation places. It has several popular places to visit like Sea World, the zoo and downtown theme parks. Family resorts over here place childcare products, cribs and strollers in advance for children in the rooms. There is also a provision for baby food and onsite play areas for your little munchkins.

Island Adventure

Captiva's South Seas Island Resort in Hawaii is great if you want a secluded island experience in beach villas and cottages. You can go on island treks and the hot dog boat rides and watersports are great for kids. There are several child-friendly restaurants and children can enjoy looking for colourful and unique shells. There's a craft centre where your child can learn to make interesting decorations.

Hawaii

The Aulani Resort at Hawaii is a great beach getaway with your toddlers with its family deals and toddler packages. It's surrounded by forests, mountains and the ocean and Hawaiin culture and hospitality is visible everywhere. You can get a cabana by the poolside or classes on massaging infants. Children adore the Disney theme with its water play areas and costumed actors.

Disney Cruise

This is ideal for a relaxing cruise for family fun. Children will love the Disney theme with games, rides and fireworks all around. The luxurious staterooms and Mediterranean themed specialty restaurants give you a chance to dine and unwind. Adults can pamper themselves with massages and spa treatments.

Traverse City

Situated near Lake Michigan, Traverse City has outdoor movies to music performances to lakeshore fishing and water sports. If you visit in the summer, you can also participate in the National Cherry Festival with cherry-picking competitions, homemade ice cream, cherry pie stalls and dog jumping shows.

Water Parks

Noah's Arkin in Wisconsin is a lovely child-friendly water park. You also have a variety of rides, restaurants and toddler accommodations. There are various kiddie and splash pools with lazy rivers on which you can float through the park.

Urban Getaway

If you find travelling far and long drives with toddlers stressful, you could always opt for an urban getaway at a hotel. The Colonnade Hotel on the East Coast is at a very comfortable distance from the Children's Museum, New England museum, Fenway Park and other historical sites in Boston. Children will love the splash fountains at the and the statues and rides.

Mountain Getaway

Mountains make great vacation spots with children provided you pick the right resort. Smugglers Notch Resort in Vermont is one such place and offers skiing classes for the whole family. It has a fully equipped child care centre for winter sports like skiing, snow-tubing and water slides and splash pools for the summer.

Mexican Riviera Experience

The Azul Beach Hotel in the Mexican Riviera offers yoga classes for moms, childcare, 24 hour babysitting services, onsite cribs and toy loans, so you can travel light. Children can spend hours at the playhouse filled with Fisher-Price toys while parents enjoy beach massages and private dinners. There are also family movie nights to spend time together.

Cowboy Holiday

A Cowboy Holiday is a great option for animal lovers with its puppies, kittens and petting zoo. The Rocking Horse Ranch in New York has childcare facilities and you can hire a babysitter, ask for customised meals and take up pony and horse rides to wagon trips. There is also an interactive playground and indoor waterpark for toddlers.

Legoland

Legos are fun and educational for children and adults and you can have the time of your life at Legoland with over 50 rides. The themes range from Star Wars to Lord of the Rings to Superman and Batman. Legoland offers a wide range of childcare services and you can really spend some creative quality time with your toddler here.

Jamaican Getaway

Caribbean resorts are now customising what they offer to parents of young children. Franklyn D. Resort in Jamaica is not only picturesque, it has a dedicated recreation room, children's centre and nannies for hire at very reasonable rates. Also, the rooms are just a short walk to the restaurant and pool.

Spanish Fiesta

If it suits your pocket, Spain and Barcelona in particular, is very beautiful and one of the great vacation places for kids. The tall spires of Sagrada Familia Basilica or the amazingly creative designs of Gaudi, the architect, are awe inspiring. You can walk with your children through the markets and sample the local cuisine. Sip on some freshly mixed sangria while your toddler plays in the beautiful parks which have play areas and ducks and exotics birds all around.

Langhorne

Langhorne in Pennsylvania, close to the Delaware River, boasts of picture-postcard beauty and is a hotspot for boating and fishing. The greatest crowd puller is the Sesame Place theme park, based on the Sesame Street show. It has character meets, rides and restaurants based on the show and you can connect with these familiar characters for a really fun vacation.




Though travelling is great for a child's development and does a lot for their creativity and imagination, it can be rather stressful too. Their routine is disrupted with new faces and crowds and may cause them to get anxious and stressed. Fortunately, there are more and more places taking steps to make this process seamless and full of fun and frolic for your toddler. In case you are looking for more information on such vacation spots, do visit the EuroKids website.