Top 10 Family Friendly Beach Vacations | Choose the Perfect Beach for Your Next Vacation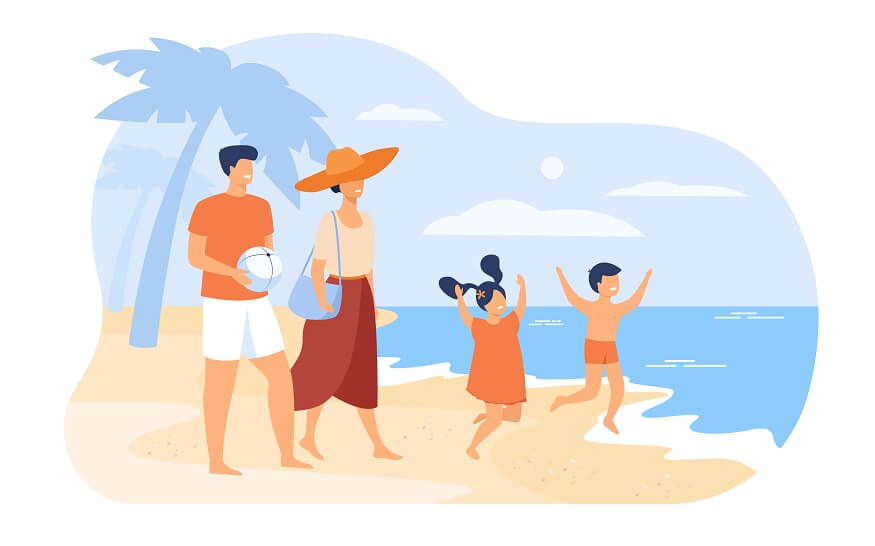 Looking to relax with a cold drink in your hands on that next vacation, without having to worry about your kids? Pick a beach destination!
No matter which country you zone in for that beach vacation, you want to ensure you choose a beach resort that's away from the booming sounds of nightclubs. Also, one that has a beach with safe swimming waters and prioritises child water safety, and that's not a flocking spot for those 'all-bare' sunbathers.

The great news is, finding a family friendly beach is easier than it seems. Here we have curated a list of the top beach vacations that will help you get that much needed break.
Top 10 Family Friendly Beach Vacations
When planning your next beach vacation, look for the best beaches where your little one can indulge in a wide variety of activities. Things ranging from simple things like collecting sea shells, to child-friendly water activities.
Here's our list of the top 10 beach destinations, across the globe.
#1. Antalya, Turkey
One of the best places for beach vacations, Antalya is one of Turkey's most popular summer resort towns.
Highlights: Fancy relaxing next to ancient Greek and Roman ruins on a day of exploration? You can do this, apart from checking out vast lengths of beautiful shorelines.
Beach to visit: Konyaalti. The largest beach in Antalya, it has plenty of space for the entire family.
#2. Biarritz, France
Surfing lessons, anyone? Head to Biarritz, well known as the surfing capital of Europe.
Highlights: Here you will find the perfect mix of 'chill' beach vibes, and upscale gourmet restaurants and boutiques.
Beach to visit: La Grande Plage, a stunning crescent-shaped beach with golden sand.
#3. California, USA
Looking for the best beaches? Head to sunny California!
Highlights: Whether your interest is piqued by surfing, or simply lounging in the sun, The Golden State has a beach just for you.
Beach to Visit. Santa Monica Beach, undoubtedly California's most iconic beach. Tip: For some cool fun for the young ones, head north of the pier, to the family-friendly North Beach Playground.
#4. Cape Town, South Africa
Cape Town's rugged coastline is lined with some truly spectacular beaches.
Highlights: Children will have a blast swimming in the wonderful tidal pools in a number of beaches here.
Beach to visit: Muizenberg Beach. A popular beach destination for families. Here you can indulge in cool activities like stand-up paddling and kite surfing. Children can also have fun at Planet Kids, which boasts several outdoor and indoor activities.
#5. Koh Samui, Thailand
The best place for relaxed family vacations.
Highlights: The crystal-clear waters are one of the top reasons you should visit Koh Samui.
Beach to visit: Lamai Beach is perfect for its laid-back atmosphere and plenty of dining, shopping and accommodation options. Ideal for families looking for a quiet vacation.
#6 The Maldives
A trip to the Maldives is a tad overpriced, but well worth it.
Highlights: The sandy beaches here are stunning, private and peaceful.
Beach to visit: Not one in particular. Enjoy great villa accommodation on any atoll, and activities like island-hopping, snorkelling, turtle-watching and many more!
#7. Japan
Did you know that Japan is actually a series of islands?

Highlights: There's plenty to do on the beaches of Japan, from soaking up the sun to building sand castles.
Beach to visit: Manza Beach, Okinawa. This one's actually a resort operated by InterContinental. Here children can enjoy supervised jet ski rides, banana boat rides and even an inflatable playground constructed on the water!
#8. St. Kitts and Nevis
Plenty to do for families in these wonderful Caribbean islands.
Highlights: Enjoy Sunset Catamaran Sailing and exploring the Black Rocks formation, or simply chill at one of the many beaches.
Beach to visit: Turtle Beach. On this secluded beach, marvel at the sight of pelicans and turtles lounging in the sand.
#9. Portugal
Looking for diverse seascape escapades? You will find them all in Portugal.
From sandy islands amidst cerulean waters for clicking the most amazing pictures, to dune-backed expenses for surfing, Portugal is great for beach vacations.
Beach to visit: Praia do Ancão, Pragança. This beach destination with pristine golden sands, is located near some of the more affluent resorts. Perfect for luxury family getaways.
#10. Mykonos, Greece
It might be known for its legendary nightlife, but Mykonos has some gorgeous beaches, too.
Highlights: From historical monuments to beaches, most places in Mykonos are kid-friendly.
Beach to visit: Kalafatis beach for its sugary white beaches, clear seas and the plethora of water sports it offers.
At Eurokids we encourage parents to get their kids to explore as much of the world as they can. We believe beach destinations are truly the best, because they are a great way for children to connect with nature, and soak in some precious vitamin-D, too!