A Guide to Packing for Summer Camp Essential Items for Kids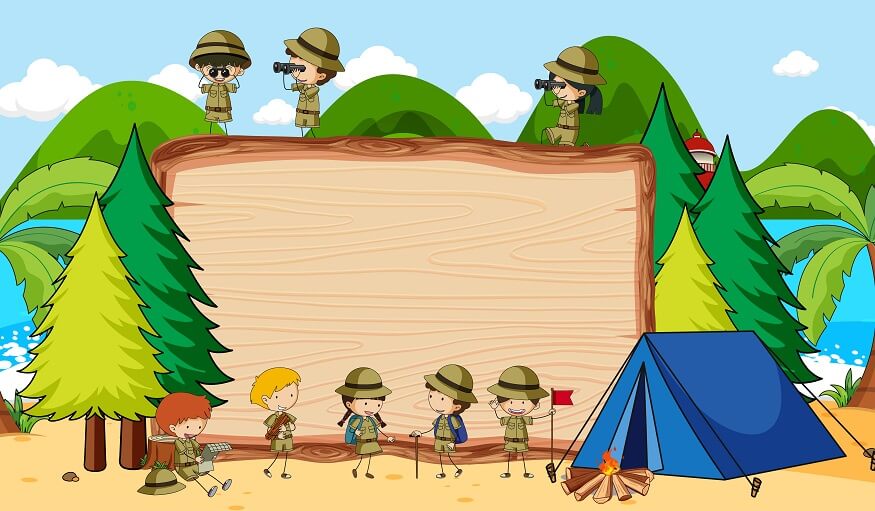 Ultimate Guide to Packing for Kids' Summer Camp
The sun is shining, school is out, and it's time for kids to indulge in a world full of summer camp activities. Summer camp for kids is an extraordinary opportunity to grow, learn new skills, make lasting friendships, and create cherished memories. We are sure that as parents, you appreciate the importance of summer camp and desire the finest experience for your children. Packing for camp, on the other hand, can be a difficult chore, especially if you're not sure what to bring. We've got you covered with this blog!
We're sharing a comprehensive guide to packing for a kids' summer camp, bursting with essential items and helpful tips to ensure your little ones are well-equipped for their exciting adventure.
Clothing: Dressing for Success and Fun
When it comes to clothing, it's crucial to think about the diverse range of summer camp activities for kids your child will be participating in. From swimming and hiking to arts and crafts, summer camp offers a plethora of experiences. To make sure your child is prepared, pack:
Comfortable T-shirts and shorts: Aim for a mix of breathable materials like cotton and moisture-wicking fabrics to keep them cool and dry during hot summer days.
Swimwear: Pack at least two swimsuits for those refreshing dips in the pool or lake.
Long pants and long-sleeved shirts: for cooler evenings and protection against mosquitoes and other bugs.
Pajamas: comfortable sleepwear for a good night's rest.
Rain gear: A lightweight waterproof jacket and rain boots, because the weather can be unpredictable.
Footwear: Sneakers or hiking shoes, sandals for water activities, and a pair of comfortable shoes for leisure time.
Underwear and socks: Bring enough for the duration of camp, plus a few extra pairs just in case.
Hat: A wide-brimmed hat or baseball cap for sun protection during outdoor summer camp activities.
Laundry bag: A mesh or drawstring bag to keep dirty clothes separated and organized.
Toiletries: Staying Clean and Fresh
Proper hygiene is essential at kids' summer camp, as kids are continuously engaging in various activities. To ensure your child stays clean and refreshed, pack the following:
Toothbrush and toothpaste
Soap or body wash
Shampoo and conditioner
Deodorant
Comb or brush
Towels: One for bathing and one for swimming
Washcloths
Shower shoes or flip-flops
Sunscreen: A water-resistant SPF 30 or higher is recommended for outdoor summer camp activities.
Insect repellent: Opt for one with DEET or picaridin for effective protection.
Lip balm with SPF
Small first aid kit: Include adhesive bandages, antiseptic wipes, and any necessary personal medication.
Sleeping Essentials: Dreaming of Tomorrow's Adventures
A good night's sleep is critical for kids to recharge and be ready for the next day's summer camp activities. To ensure they sleep comfortably, remember to pack:
Sleeping bag: Choose one suitable for the climate of the camp location.
Pillow and pillowcase
sleeping pad or air mattress (if needed)
A favourite stuffed animal or blanket for added comfort
Gear and Equipment: Prepped for the Ultimate Summer Camp Experience
Your child's summer camp may have specific requirements, but here are some general items to consider packing:
Backpack or daypack: for carrying essentials during day trips and outings.
Water bottle: a reusable, leak-proof bottle to stay hydrated during summer camp activities.
Flashlight or headlamp: handy for nighttime activities and navigating around camp after dark.
Extra batteries: for flashlights, headlamps, or any other battery-powered devices.
Sunglasses: To protect your child's eyes from the sun's glare.
Swimsuit cover-up: For quick transitions between water activities and dry land.
Miscellaneous Items: The Finishing Touches
These additional items can help enhance your child's summer camp experience:
Stationery: Encourage your child to write letters or keep a journal during their time at camp.
Pre-addressed and stamped envelopes: So they can easily send letters home or to friends.
Books or magazines: For downtime and relaxation.
Snacks: Non-perishable, nut-free snacks like granola bars, trail mix, or fruit leather.
Wet wipes or hand sanitizer: For quick clean-ups and maintaining good hygiene.
Ziplock bags: For storing snacks, toiletries, or wet clothes.
In conclusion, a summer camp for kids is a time of exploration, growth, and pure fun. We cannot stress enough the importance of summer camp in a kid's life. Being well-prepared by packing the essentials will enable your child to fully embrace their summer camp adventure. From clothing and toiletries to gear and miscellaneous items, this guide has you covered. Keep these essential items in mind as you pack, and your child will be ready to embark on a memorable summer camp experience filled with endless summer camp activities for kids.
At EuroKids, we understand the importance of physical, mental, and emotional growth. If you want more such tips and tricks, head over to our blog section now!