Enhancing writing skills- A guide to improvement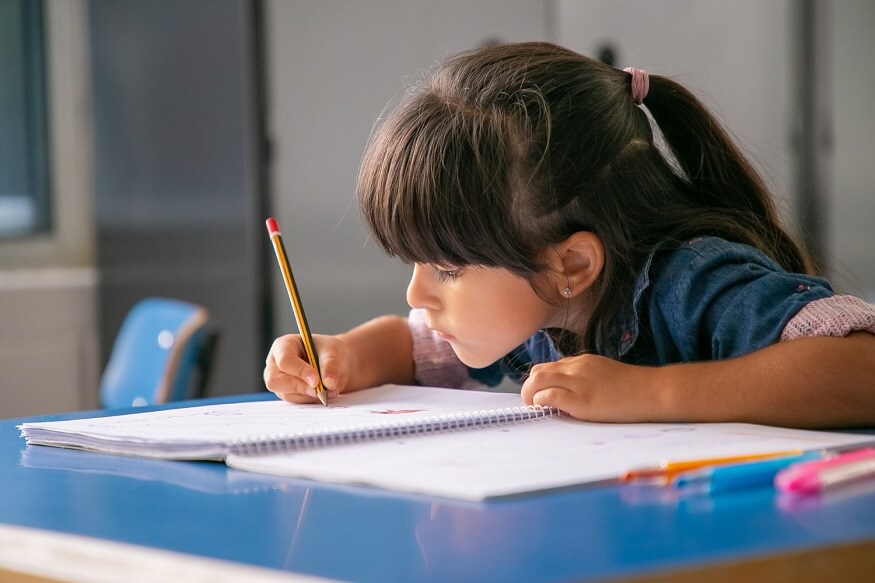 Master Writing Skills: Importance, Tips, and Books | Improve Your Writing Today
'There is nothing to write. All you do is sit down at a typewriter and bleed.'
~ Ernest Hemingway
Of course, the above statement from undoubtedly one of the world's greatest writers, is easier said than done. Only 'some' children have that rare quality of being great writers. Thus, unless they practice their writing skills, a lot of students find themselves unable to achieve good academic results.
In this article, you will learn all you need to know, to help you master writing skills. But first, a look at the importance of writing in our daily lives.
The Importance of Writing
Before we look at how to improve writing skills, let us take a few moments to peruse why exactly writing plays an important part in our daily lives.
It's practical. From filling out college applications to a form at the doctor's office, we need to be able to write in an organized manner.
It's an important form of communication. Whether writing letters or emails, we need to articulate our thoughts concisely through our writing. This helps us express our feelings well, and explain important decisions.
It serves as an outlet. There's a whole lot of people who find writing therapeutic, and a way to express feelings they cannot convey in person.
5 Ways to Improve writing skills
Looking to master those writing skills? Here are 5 ways to improve writing skills, for children and adults alike.
#1. Encourage the love of reading
Did you know that good writers tend to be good readers?
There's a good reason for this, too. The more a child reads, the more they will be exposed to new words. Once a new word is in their vocabulary, it's far easier to make the transition into its productive use. Further, reading also exposes children to a variety of sentence structures they can use in their writing.
#2. Proofreading
When looking to master writing skills, don't forget that all-important process of proofreading that begins when your writing is finished.
In today's advanced digital world, it's easy for students to fall into the trap of relying on various online platforms to proofread their essays. Make sure that you counter check that document for things like spelling mistakes and punctuation. Through the act of identifying and correcting your mistakes, you will be able to improve your writing skills by leaps and bounds.
#3. Teach the art of working in drafts
Looking for how to improve writing skills? Then you must understand that writing is a process that has several stages. Right from brainstorming, to checking the words for things like flow and structure, one must continually revise their work in order to make it shine. Children have to understand that a perfect sentence does not simply come out of nowhere. Rather, it's a continuous 'back-and forth' attempt at revising and rewriting, until you get it right.
#4. Thorough Research
Luckily for the children of today's world, the Internet has grown to include multiple academic databases that they can utilize for their research. Each time you research, you will benefit from new ideas that will aid your work. Further, you will learn new concepts that will help you expand your thinking capacity, and thereby, your writing skills, too.
#5. Encourage Free Writing at home and in the school
Practice makes perfect right? Well, not quite! Perfection is something that we must continually persevere to attain. Through the act of writing, children are honing their academic skills and also opening up a new avenue for self-expression. So, it's a really great idea to encourage them to make free handwriting activities. Tip: You can get your children to maintain a personal diary with a journal entry every day.
Books to Improve Writing
Do you have an aspiring writer in the house, or simply a child who has an important essay to submit? Here is a list of some great books to improve writing that will help provide them all the inspiration and practical advice they need, when it comes to all things writing.
Author: A True Story by Helen Lester
In this delightful book, the acclaimed Helen Lester shows us how she overcame her very own childhood struggles with writing, to become a 'real' author.
Highlights: The book is sprinkled with encouragement and humor, and is sure to enthrall and inspire even the youngest of writers.
Recommended for: Ages 5-8.
Q&A Day for Kids by Betsy Franco
As we touched upon earlier, keeping a journal is a great way for children to exercise their writing skills. However, it's not easy to know what to write at all times.
Highlights: This wonderful book helps solve the 'writer's block' dilemma many children out there face, with the help of a thoughtful question from the author on every page. Bonus: Even children that haven't started writing, can benefit from this book by answering questions and having an adult record them in their diary.
Recommended for: Ages 4-12.
Writing Magic by Gail Carson Levine
In this book, Gail Carson Levine, the author of Ella Enchanted, shares some invaluable tips and tricks to help get you to write better.
Highlights: This great book is packed with ideas about how to craft a story and develop characters. Oh, and it will help you overcome that worrisome writer's block, too!
Recommended for: Ages 8-12.
Spilling Ink: A young Writer's Handbook by Anne Mazer and Helen Potter, illustrated by Matt Phelan
Authors Anne Mazer and Helen Potter joined hands specially to create this handbook for young writers.
Highlights: The book is laced with lovely anecdotes and practical advice on how to develop your own writing voice, which is really important for your writing to stand out. Further, it will help you develop characters and plot, and make revisions, too.
At EuroKids we work really hard to introduce writing skills to your children in the most emphatic fashion. Since words need to be written down in a particular order and structure, learning writing helps children enhance problem-solving and critical skills.