10 yummy beetroot dishes perfect for your little one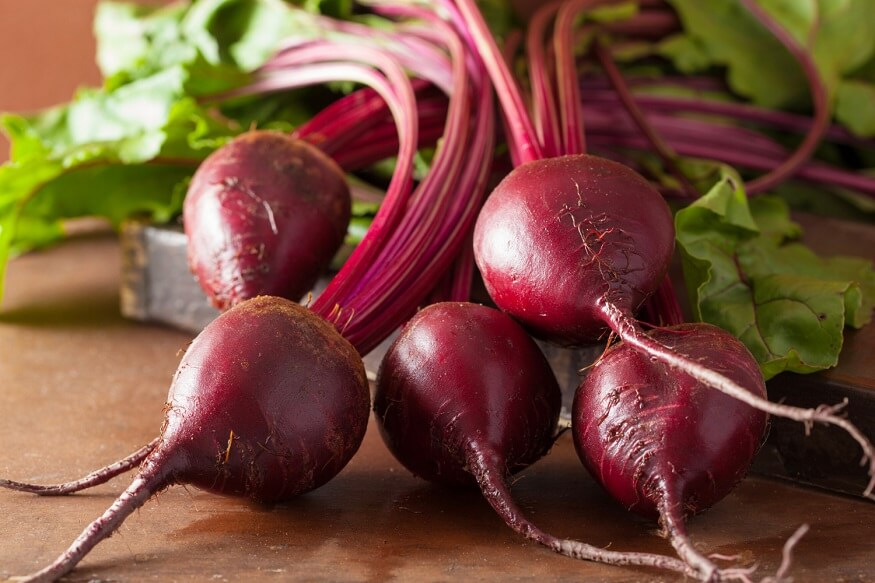 It is beetroot season!
Actually it might not be at the time you are reading this. But that should not stop you from looking up some crazy, cool and delish beetroot recipes for your kids right?
After all, these bright magenta tubes are packed to the hilt with nutrients! Think vitamin C, fibre, folate, potassium, iron, manganese. They have them all!
So why wouldn't you want to look up beetroot recipes for kids! We mean it only makes sense. So here 10 of them that are simple and scrumptious!
Grated beetroot pancake

Things you need
2 cups beetroot, peeled and grated
2 cups carrot, peeled and grated
1 onion, grated
1 egg
¼ cup oil
¼ flour
Salt to taste
Pepper to taste
Steps to make
Just mix all of the ingredients in a bowl barring the oil. Your mix should be even and thick. Now heat some oil in a non-stick pan and cook small rounded cakes of the mix on a low flame. Once golden and crisp overall, serve with a dip!
Beetroot soup
Things you need
3 beetroots, peeled and diced
1 potato, peeled and diced
1 onion, chopped
2 cups mixed veggies, diced
¼ cup yoghurt
Steps to make
This beetroot dish might just be the easiest one ever! You just need to let all the ingredients boil together till they are soft. Except the yoghurt of course. Once boiled, just puree all of them in a blender together. Serve fresh with a generous drizzle of yoghurt on top!
Beetroot and cheese bites
Things you need
Whole wheat/multigrain/sourdough bread, sliced
Beetroots, sliced and cooked
Cheese, sliced
Steps to make
For this easy-peasy beetroot dish, you can stir fry beetroot slices with a bit of salt till they are soft. Next, toast a couple of slices of the bread of your choice. The healthier the bread the better, we say! Now just add a slice of beetroot and a slice of cheese on top of the bread and serve! Use fresh greens for garnish.
Beetroot hummus
Things you need
½ cup chickpeas
1 beetroot, peeled
2 tbsp yoghurt
Salt to taste
Pepper to taste
Steps to make
A great way to make beetroot for kids because who does not love a good hummus? Anyway, first boil the chickpeas with salt and strain. Do the same to the beetroots. And then puree both of them in a blender along with salt, pepper and yoghurt. Make sure the hummus is of smooth and thick consistency. Serve fresh with a slice of pita!
Beetroot milkshake
Things you need
1 beetroot, grated
300ml milk
2 cups water
4 tsp sugar
A pinch of cardamom powder
1 scoop of ice cream, optional
Steps to make
Beetroot for kids should be appetising. And this milkshake does just that! Just boil the beetroot till it is tender to the touch. And then blend it into a nice, mushy, puree free of chunks and lumps. Now add the rest of the ingredients, and blend the whole thing one more time. Pour in a glass and it is ready to be slurped!
Beetroot patties
Things you need
½ cup beetroot, grated
½ cup bread crumbs
200 g black beans, soaked and kept overnight
1 cup oats
1 tsp cumin powder
2 cloves garlic, minced
¼ cup onion, grated
2 tsp salsa
Fresh coriander
Crushed ginger
Salt to taste
Pepper to taste
Oil for frying
Steps to make
First, soften the black beans by cooking them in a pressure cooker. Now grind the oats and bread crumbs together into a fine powder. Next, you have to blend onions, ginger, garlic, coriander, beetroots and the beans together. You can keep it slightly lumpy. Now throw in all the spices and mix. Next, mix in the salsa and roll the whole thing into a number of patties. Shallow fry the patties and serve fresh with a dip.
Beetroot casserole
Things you need
2 cups beetroot, sliced and cooked
3 cups brown rice, cooked
1 cup chicken, shredded and cooked
½ cup chicken stalk '
¼ cup yoghurt
1 onion, diced and sauteed
3 egg yolks
Salt to taste
Pepper to taste
Steps to make
This beetroot recipe is a proper meal. So to make it, you will need to start by mixing a few things together in a bowl, which are chicken, beetroot, onion and the rice. Now in this mix, add both the yolks and the yoghurt. Next, line a casserole dish and evenly spread the mix in it. Let it bake in the oven at 175 degrees for an hour. Serve hot!
Mashed beetroot
Things you need
4 chopped beetroots
1 chopped turnip
Butter
Water
Salt to taste
Pepper to taste
Steps to make
Boil both the beetroots and the turnips together. As soon as they become soft, strain the water and let them cool. Now mash both of them together, and in the salt and the pepper and the butter. Mix all three well and serve it to your toddler!
Baked beetroot
Things you need
5 beetroots, thinly sliced
Olive oil
Steps to make
As you can see, you do not need a lot for this beetroot recipe. And that includes time. Just use cookie cutters to slice your beets in fun shapes, and then let them bake on a baking sheet lined with olive oil. About 20 mins of baking at 175 degrees should make them tender and ready to munch on!
Beetroot soup with carrots
Things you need
¼ cup beetroot, chopped and peeled
½ cup carrots, chopped and peeled
Salt to taste
Water
Steps to make
Let the veggies cook in a pressure cooker with water till they become nice and soft. Now blend them till they turn into a thick and smooth puree. Next, strain the mix and let it boil in a pan. Once cooked to your preference, add salt to taste and serve.
Keeping your child healthy is so important! And fresh veggies are a great way to ensure your baby gets their fair share of nutrients everyday. Like they can with these healthy recipes! But that said, nourishing the mind is just as important. And for that you need a good preschool. Which you do not have to hunt for because EuroKids is at your service! Our award-winning preschool has a great and engaging curriculum in place. Come drop by any day at any of our branches to know more!