Delicious and Healthy Pancake Recipes for Happy Kids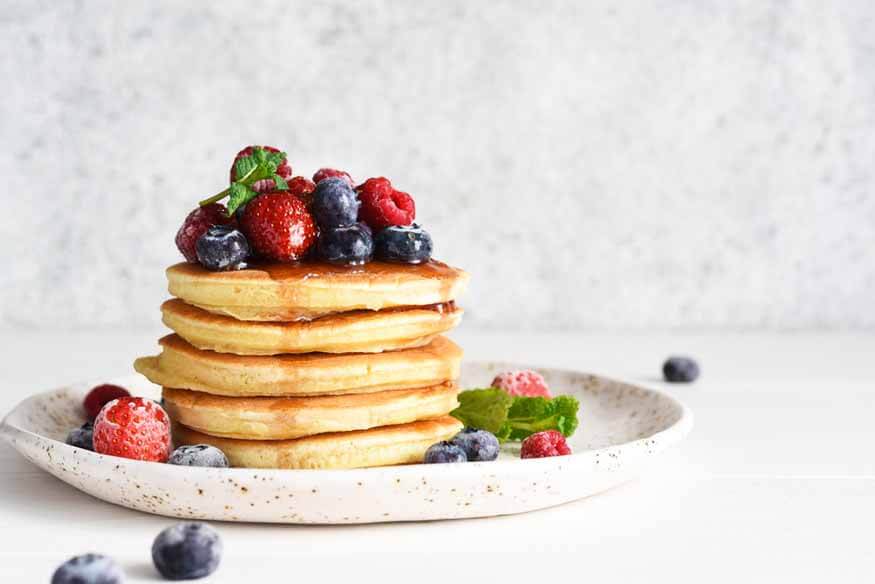 'Who's up for some Pancakes?'
'Me! Me! Me!' is probably what you will find in a group of Three Musketeers chorus, at the end of a hard day of Play. The scenario? Your child has called a couple of friends for a Sleepover! Chances are, they won't sleep all that well if you don't whip up some delicious breakfast ideas for them. And whoever said 'Pancakes are only Breakfast Food'?
It's little wonder that Pancakes are the go-to treat for most mothers looking to make their children Happy. While we're holding on to that thought, we might want to add the following: we would love to see our kids 'Healthy', too!
Looking for a Healthy Pancake Recipe for kids? We have Ten!
Pancake Recipes: Yummy and Healthy Recipes for Happy Children
Looking for an easy pancake recipe for kids, that will have them craving 'seconds', and quite possibly, 'thirds?' Choose from any of these lip-smacking, healthy recipes!
#1. Apple and Oat Pancakes
This simple Oat Pancake Recipe, infused with the goodness of Apples, is sure to keep the doctor away!
Ingredients
Milk
Rolled Oats
Maple Syrup
Apple Puree
Vanilla
Method
Put all the ingredients in a blender, and pulse until you get a smooth mixture.
Take some spoonfuls of the mixture, drop them on a greased pan and cook on medium heat.
When you notice bubbles appearing on the surface, flip the sides.
Serve, after allowing them to cool.
#2. Veggie Pancake
This simple pancake recipe will ensure your kids get their daily dose of veggies!
Ingredients
1 small onion
½ cup carrot
salt
1 large tomato
¼ teaspoon ginger
¼ teaspoon turmeric
½ cup oat flour
green chilli
Method
Using a grate, slice the veggies into small pieces.
Mix the salt, chilli, ginger and turmeric thoroughly with the vegetables. Adding an egg, blend all the ingredients.
Slowly mix the half cup of oat flour, with the veggie mixture.
Add a tablespoon or two of water, to thin the batter.
Melt a teaspoon of butter on a heated griddle. Then heat the batter on it for a few minutes, before flipping the side.
Voila! Your veggie pancakes are ready to serve!
#3. Lemon Zest and Blueberry Pancakes
Looking for the perfect idea for a Sunday brunch? This one's it!
Ingredients
1 egg
½ cup blueberries
1 ½ cup flour
1 lemon zest
1 tsp cream of tartar
1 ½ cup milk
1 tsp golden syrup
A bit of butter
½ baking soda
Method
Mix the flour, cream of tartar and baking soda, in a bowl.
Add blueberries, golden syrup and lemon zest to the mixture.
In a separate bowl, mix the milk and eggs until light and frothy.
Pour the wet mixture into the bowl with the dry mix. Mix until the batter is free of lumps.
Heating a pan, smear butter on it.
Cook those pancakes on both sides, till they are golden brown.
#4. Banana Pancakes
'Bananas' and 'Pancakes'. Foods that complement each other perfectly!
Ingredients
Banana
Coconut Flour
Milk
Eggs
Method
Mash the banana in a medium-sized bowl.
Cracking an egg into the bowl, whisk the egg-and-banana combination with a fork.
Add the coconut flour and milk, and mix to combine well.
Cook the pancakes on a nonstick griddle plastered with a light layer of butter, over medium heat.
Flip them over and cook the undersides, before serving.
#5. Vanilla Oat Pancakes
Yet another lip-smacking Oat Pancake Recipe, this one.
Ingredients
3 eggs
¼ cup melted coconut oil
¼ cup honey
2 bananas
½ tbsp pure vanilla extract
2 cups rolled oats
1 tsp apple cider vinegar
½ tsp baking soda
¼ tsp sea salt
1 tsp cinnamon
Method
Pulse the rolled oats in a blender, until you get a flour-like consistency.
Adding the remaining ingredients to the mixture, pulse again until you get a smooth mixture.
Pouring about ¼ of the battery on a hot griddle, cook for about 2-3 minutes per side.
#6. Plain Pancake
The best things in life are the Simplest things!
Ingredients
4 eggs
½ cup flour
2 tbsp butter
1 ½ cup milk
Vegetable oil
Method
Add eggs to the flour that has been sieved into a bowl, and mix thoroughly.
Gradually pour milk, whilst continually whisking the batter.
When the batter is lump-free, add the melted butter to it, and mix well.
Cook the batter on a nonstick pan over a medium flame, on both sides.
If need be, serve with any healthy topping of your kid's choice.
#7. Banana Oat Pancakes with Greek Yogurt
The Goodness of Oats and the Probiotic Punch that Yogurt delivers, all in a single package!
Ingredients
Rolled oats
Bananas
Egg
Maple Syrup
Cinnamon
Greek yoghurt
Vanilla essence
Method
Pulse all ingredients in a blender until you get a smooth batter.
Cook the batter on a lightly greased pan, on medium heat.
After bubbles appear on the surface, flip the pancake sides.
Cook until golden brown.
#8. Beetroot Almond Pancake
Making pancakes can be a most inventive process, like with this recipe.
Ingredients
100g grated beetroot
1 1/3 cup almond flour
¼ cup almond milk
2 eggs
1 tsp jaggery powder
1 tsp vanilla extract
1 tsp baking powder
salt
Method
Blend the above ingredients thoroughly, into a smooth batter.
Cook the batter on a nonstick griddle
Serve those Red pancakes to your kids!
#9. Whole Wheat and Apple Pancake
Yet another pancake, infused with the goodness of apples.
Ingredients
1 cup whole wheat flour
1 cup refined flour
1 cup grated apple
1 cup pureed apple
1 cup curd
2 tbsp honey
1 tsp cinnamon powder
2 tbsp butter
Method
Whisk the flour and cinnamon powder in a large bowl.
Add the buttermilk, honey and pureed apple to the dry mix. Mix well, until you get a lump-free mixture.
Add the grated apple.
Cook on a griddle on medium flame.
#10. Oatmeal Strawberry Pancakes
Everything tastes better with Strawberries, Pancakes included!
Ingredients
Oats
Egg
Greek Yoghourt
Honey
Vanilla
Baking Soda
Strawberries
Method
Whisk the egg, yoghurt and honey in a large bowl.
Adding the oats, vanilla and baking soda to the batter, mix well again.
Cook on a nonstick pan, on medium heat.
Garnish the pancakes with strawberry slivers.
Flip the sides, cook until golden brown, and serve!
At Eurokids we believe that eating a nutritious meal is especially important for young children, whose bodies are not yet fully developed. The healthy recipes outlined in this article, will give your kids all the Nutrients they need, no Fuss involved. After all, No Child can say No to Pancakes!