10 Lines on National Sports Day For Preschoolers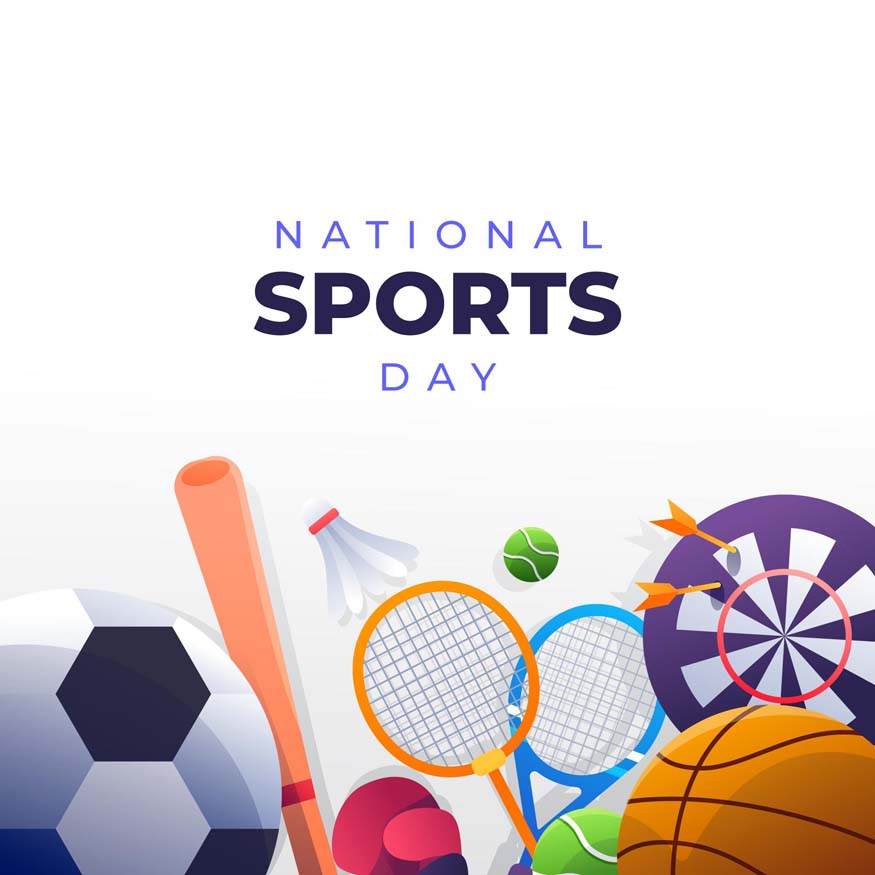 Celebrating National Sports Day: Facts, Significance & Impact
Want some information about National Sports Day, but don't know where to look?
Rest assured you've come to the right place!
In this article we have especially curated for you, some key tidbits of information on National Sports Day. After reading them, you will have all the pertinent information you need to know, about one of our country's most special days.
Without further ado, let's take a look at some significant facts pertaining to National Sports Day.
A day we must celebrate as fiercely, if not more, than the other special days of our country.
10 Lines on National Sports Day (h2)
Here are 10 lines on National Sports Day that will spark your interest in this glorious day. Not only for yourself, of course. For your little champion, too!
In India, National Sports Day is celebrated each year on the 29th of August.


The day marks the birthday of the Indian hockey player, Dhyan Chand.


Dhyan Chand was a legendary hockey player.


Dhyan Chand is also known as the Hockey Wizard of India.


The day is primarily celebrated to make the youth of the country aware of sports.


It is on this day that the President of India presents the prestigious Rajiv Gandhi Khel Ratna and Arjuna Awards, to athletes who have excelled in their respective sports.


On this day, people from different age groups take part in various sporting activities – like kabaddi, hockey, marathon, etc.


The day is a prime opportunity to recognize the achievements of Indian sportspersons and to encourage children to take up sports.


The day is also celebrated across various schools and colleges, through conducting various sporting activities.


The people of India are extremely sport-savvy, and indulge in different games like cricket, hockey, badminton, etc.
Some Lines on Sports
Now that you've gotten a whiff of what National Sports Day is all about, there is undoubtedly one word that is on the top of your minds. Needless to say, that word is 'Sports!'
To that effect, here's a look at some lines on Sports, that will take your enthusiasm for sports to another level altogether.
Sports play a crucial role in promoting Physical Fitness and Overall Health among individuals of all ages.


From ancient times, sports have been an important component of people's lives.


Sports provide a vital platform for individuals looking to showcase their talents.


Sports are very important for both our Physical as well as Mental Fitness.


Sports help foster social connections and bring about a sense of Community, by bringing people of different backgrounds together.


Sports help greatly in enhancing the power of making quick decisions in Real Time.


It is through playing Sports that individuals learn several vital lessons, like Discipline, Perseverance and Resilience.


Playing Sports goes a long way in enhancing the Personality and Character of people.


Participating in a sports activity is an excellent way for people to lose weight.


A good sport is a great source of Entertainment for both the participants and the spectators.
Sports Day Notice Writing
In the Age of Gadgets, it becomes absolutely imperative for all schools to ensure they send out notices pertaining to their Sports Day.
Here is a sample of Sports Day Notice Writing, that is aimed at encouraging parents to nudge their children towards playing Sports.
Dear Parents and Guardians,
We are thrilled to announce that our Annual Sports Day will be held on (date) at (location). Please note that the event will begin at (time) sharp and will encompass a variety of athletic competitions and activities for students of all ages.
The list of events is as under:
100 meters race
200 meters race
Long Jump
High Jump
Gymnastics
Throwing Games
Kindly note that all students are required to wear their school uniforms and appropriate athletic footwear. Also, please make sure your child carries a water bottle, so they can stay hydrated throughout the day.
We encourage all you lovely parents to come out and support your children, as they take part in the activities of their choice. If you have any questions pertaining to the event, please feel free to get in touch with the school at (contact details).
Looking forward to the grace of your presence at the event.
Sincerely,
(Name)
Principal/Sports Day Organizer
Additional 10 Lines on National Sports Day
By now you must have gotten a keen sense of the importance of sports in the lives of your precious children.
That being said, we are not leaving any stone unturned when it comes to drilling the importance of National Sports Day, firmly in your minds.
To that effect, here are an additional 10 lines on National Sports Day!
National Sports Day is celebrated on 29th August, the birthday of the legendary Indian hockey player Dhyan Chand, who won several gold medals for India.


Major Dhyan Chand is the only Indian sportsperson who has won the Padma Bhushan.


The 'Fit India Movement' campaign, conceived by our Prime Minister Narendra Modi, was launched on the National Sports Day in 2019.


The National Sports Day Theme for the year 2022 was – Meet The Champion.


This is a day for reminding us all of the need for Physical Activity in our lives.


The National Sports Day has been celebrated since the year 2012.


In many schools across our country, the National Sports Day is also celebrated as Annual School Sports Day.


Apart from winning gold medals for India, Major Dhyan Singh also served in the Indian Army.


Observing National Sports Day is a great way to boost the economic growth in India, which has the potential to become the number one sporting country in the world.


The day is also celebrated as a means of boosting the morale of all of India's sportspersons.
At Eurokids, we are of the firm opinion that National Sports Day is a reminder to never underestimate the importance of Play. As Play comes naturally to preschoolers, it is only natural that we strongly encourage them to participate in Sports of all kinds.