Transform Your Home into a Festive Wonderland with Navratri Decoration Ideas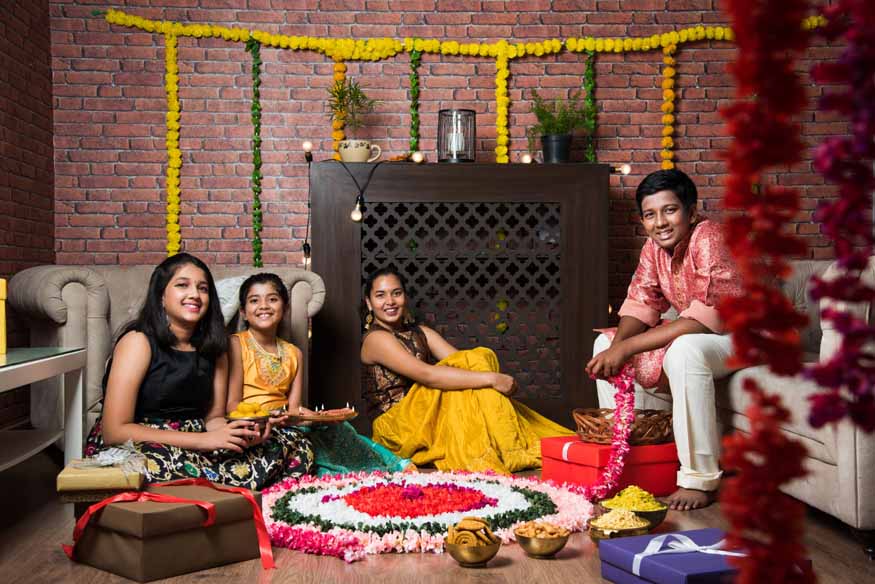 The fragrance of incense, the rhythmic beats of the dhol, and the vibrant colours of the rangoli—Navratri is a festival that fills our hearts with joy and our homes with festivity. I remember, as a child, eagerly waiting for Navratri, not just for the dance and the music, but for the chance to decorate our home. My mother and I would spend hours brainstorming Navratri decoration ideas, and the house would transform into a festive wonderland. Today, as I look around my own home, I'm reminded of those cherished memories and the simple Navratri decoration at home that made the festival so special.
Incorporating these Navratri decoration ideas at home will undoubtedly fill your home with a festive atmosphere. From traditional to contemporary, here are some Navratri decoration ideas that will make your home radiate with festive vibes.
Traditional Rangoli Patterns
Rangoli is an integral part of Indian festivals. Using vibrant coloured powders, create intricate designs at the entrance of your home or in your living room. You can opt for traditional patterns or even depict scenes from the life of Goddess Durga. To add a modern twist, incorporate flower petals or diyas into your design. Experiment with geometric shapes or freehand designs, and perhaps even involve neighbours or friends for a collective rangoli masterpiece.
Navratri Light Decoration Ideas
Lights play a significant role in Navratri. Illuminate your home with a mix of traditional diyas and contemporary LED lights. Consider string lights in different colours and shapes, or even lanterns, to create a warm and welcoming ambiance. Remember, the idea is to make your home glow, reflecting the inner light of the festival. Fairy lights draped around windows or balconies can add a magical touch, while patterned lampshades can cast mesmerising shadows.
Festive Wall Hangings and Torans
Torans, or decorative door hangings, are a must-have for Navratri. Made from flowers, beads, or even mango leaves, they are believed to bring in positive energy. Complement these with wall hangings depicting scenes from the life of Goddess Durga or even simple motifs like lotus or peacock feathers. You can also explore handmade paper cuttings or embroidered fabric panels to enhance the festive look.
Colourful Cushions and Drapes
Navratri is all about vibrant colours. Swap your regular cushions and drapes for ones in bright hues like red, yellow, green, and blue. Opt for fabrics with traditional Indian prints or embroidery to add an ethnic touch. Layering different textures and patterns can create depth, while tassels or pom-poms can add a playful element.
Navratri Decoration Items: Idols and Figurines
Place beautifully crafted idols of Goddess Durga in your puja room or living area. Surround them with fresh flowers, diyas, and incense sticks. You can also consider figurines of dancers in traditional attire, representing the spirit of Garba and Dandiya. Incorporate brass or wooden stands to elevate the idols, making them the centrepiece of your decor.
Earthen Pot Decor
Earthen pots, or matkis, are synonymous with Navratri. Paint them in bright colours, decorate with beads, sequins, or even mirror work, and place them around your home. You can also use them as candle holders or to store fresh flowers. Stacking them in varying sizes or hanging them with jute ropes can create a dynamic visual appeal.
Create a Festive Corner
Dedicate a corner of your home to Navratri. This could be a space where you display all your Navratri decoration items, from idols and rangoli to lights and wall hangings. It can serve as a focal point and a conversation starter for guests. Incorporate plush floor seating with cushions and throws, making it a cosy spot for family gatherings.
Personalised Decor Touches
Every family has its own Navratri traditions. Incorporate elements that are unique to your family into the decor. Maybe it's a special type of rangoli or a unique lamp that's been passed down through generations. These personal touches will make your Navratri decoration resonate with warmth and nostalgia. Consider creating a memory wall with photos from past celebrations, evoking cherished moments.
Eco-friendly Decor
In today's times, it's essential to be mindful of the environment. Opt for eco-friendly Navratri decoration items. Use natural materials like clay, wood, and organic fabrics. Not only are they sustainable, but they also add a rustic charm to your decor. Recycled or upcycled items can be creatively repurposed, merging sustainability with style.
Collaborate and Create
Navratri is a time for togetherness. Involve your family, especially children, in the decoration process. Brainstorm ideas, create DIY crafts, and decorate your home together. The joy of creating something beautiful as a family is unparalleled. Set up craft stations with materials and let everyone's imagination run wild, blending individual creativity into a collective masterpiece.
Still thinking of simple Navratri decorations at home? Incorporating these Navratri decoration ideas at home will surely make your space radiate with festive vibes. But remember, the essence of Navratri lies not just in the external decor but in the internal celebration of good over evil, of light over darkness.
Speaking of involving children in the festivities, it's essential to provide them with an environment where they can learn and grow, even beyond the festival season. EuroKids is one such place that offers a nurturing environment for children, fostering creativity and holistic development. As we decorate our homes this Navratri, let's also invest in creating a bright future for our little ones with EuroKids. To learn more about the specially crafted curriculum, visit the EuroKids website today!
In the heart of Navratri, we find the essence of joy, unity, and the celebration of the divine, highlighting the importance of festivals. As we adorn our homes with these decorations, we're not just setting up objects but weaving stories of traditions, memories, and love. Let each corner of your home echo with laughter, dance to the beats of the dhol, and shimmer with the glow of festivity. As we embrace the spirit of Navratri, let's also cherish the bonds we strengthen, the memories we create, and the love we share. Here's to a Navratri filled with beauty, both within our homes and in our hearts. Happy Navratri!