Top Theme Parks Around the Globe for Unforgettable Adventures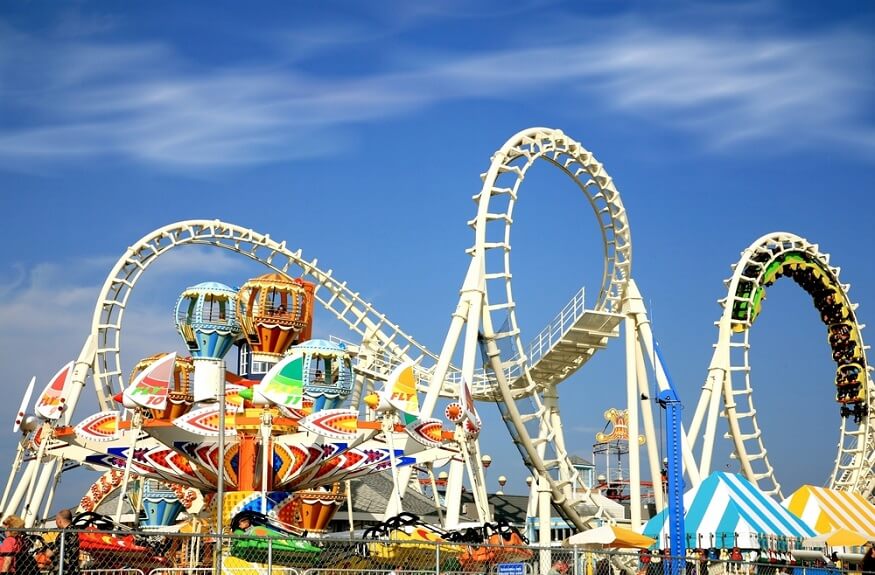 It doesn't matter whether you are a solo traveller looking for the ultimate adrenaline rush or a family planning a joyous vacation filled with fun and magic for parents and children alike. We have just the thing for you with our list of the most incredible and exhilarating best theme parks in the world. Whether you are planning a vacation to historic Europe or the mystic Middle East, you are sure to find some of the best theme park attractions in the world anywhere you go.
Hold your breath and prepare to embark on an extraordinary journey of thrill and adventure. We present to you a plethora of exciting water rides, hair-raising roller coasters and captivating attractions and rides. The attraction of these amusement parks goes much beyond these rides as it is their unique atmosphere that is its main allure.
Walt Disney World
The biggest theme park in the world, this park is an experience of a lifetime for Disney fans. Located in Orlando, Florida, Walt Disney World is teeming with visitors throughout the year. It comprises 4 separate theme parks — Magic Kingdom, Epcot, Hollywood Studios and Animal Kingdom. Each of these parks has exciting shows, rides and attractions based on popular Disney stories and characters. It also has 2 exhilarating water parks — Disney's Blizzard Beach Water Park and Disney's Typhoon Lagoon Water Park. There are also several shops, restaurants and hotels and you can easily spend a few days exploring this amusement park. The top attractions of this park are Space Mountain, Pirates of the Caribbean and Haunted Mansion.

Tickets can be booked in advance to avoid long lines and the Disney Genie Lightning Lane option is also available to skip the lines.
Universal Studios Osaka
This movie-themed amusement park in Osaka, Japan is one of the top ten theme parks in the world. Visitors get the chance to experience Hollywood at its best up close. This amusement park features several movie-themed areas of which Wizarding World of Harry Potter, Jurassic Park: The Ride and Hollywood Dream – The Ride are the top attractions. Visitors can also explore the various movie sets or watch live shows and entertainment and the nightly parade and fireworks show. Several dining and shopping options are available and if you get an Express Pass you will have much shorter wait times.
Europa Park
This European-themed amusement park is the largest theme park in Rust, Germany with 15 themed areas, each depicting a different European country. The rides and shows of each area are based on the country which they represent. Some of the most impressive roller coasters and water rides in Europe can be found here. The Silver Star, Wodan – Timbur Coaster and the Blue Fire Megacoaster are the main attractions of this park. If you are looking for a truly immersive experience, you can stay at the park's themed hotels.
Cedar Point
If it's sheer undiluted thrill and excitement you are looking for, where your heart is in your mouth, then Cedar Point in Sandusky, Ohio is the place to visit. One of the oldest amusement parks in the United States, this popular park boasts of more than 70 rides which include some of the fastest and tallest roller coasters in the world. It also has live shows, water rides and several dining and shopping options. The top attractions of this thrill-themed amusement park are Steel Vengeance, Maverick and Breakwater Pay.
PortAventura World
Known for its Mediterranean inspired ambience, this popular amusement park is located in Salou, Spain. The park also includes a Polynesian and a Sesame Street area along with myriad rides and attractions as well as live shows and entertainment. It's a good idea to stay at one of the resort's 6 themed hotels and watch some of the daily shows and events. The most popular attractions are the Shambhala, Dragon Khan and Furius Baco.
Universal Studios Hollywood
Located in Universal City, California this movie-themed amusement park has some of the best theme park attractions in the world. The magic of Hollywood can be experienced thanks to several movie-themed areas like The Wizarding World of Harry Potter and The Walking Dead. Visitors can explore the various movie sets, enjoy The Simpsons Ride or venture on the Jurassic World roller coaster. Recently, the much anticipated Super Nintendo World has opened here too. The less adventurous have the option of watching live shows and entertainment. It also has several dining and shopping areas.
Tivoli Gardens
Tivoli Gardens in Copenhagen, Denmark is a charming historic theme park and offers a blend of classic and modern attractions. It has several themed areas which include a fairy tale-inspired area, a Chinese garden and a unique, world famous wooden roller coaster. Visitors can watch live shows and entertainment and indulge in a variety of dining and shopping options. During the Christmas season you can enjoy the popular Christmas market. The top attractions at this historic theme park are The Demon, The Roller Coaster and The Flying Trunk.
Six Flags Magic Mountain
Among the top ten theme parks in the world, this amusement park in Valencia, California is packed with thrills and is known for its fascinating collection of over 19 roller coasters. It also has several shopping and dining options, live shows and entertainment. The top attractions at this park are Twisted Colossus, X2, Tatsu and Full Throttle.
Efteling>
Efteling in Kaatsheuvel, Netherlands is an extremely popular fairy tale-themed amusement park and offers a blend of classic fairy tales and more modern attractions. The rides and attractions are based on Dutch myths and legends but also includes thrilling roller coasters and water rides and live shows. Every night there's a spectacular water and light show, Aquanura. Some of the most popular attractions are Baron 1898, Joris en de Draak and Droomvlucht.
Lotte World
This indoor amusement park in Seoul, South Korea offers visitors a unique blend of indoor and outdoor attractions with over 40 rides. These include exhilarating roller coasters, a folk museum, indoor aquarium, an indoor ice rink and a monorail that goes around the park. Lotte World also has a good variety of shops, restaurants as well as a nightly parade and a water fountain show. The main attractions are the Flume Ride, Atlantis Adventure and French Revolution.
We hope you have enjoyed reading about some of the best theme parks in the world and it will help in planning your next holiday. If you are travelling with children you will invariably have to think of ways to keep them entertained and these offer you the best theme park attractions in the world. There are a plethora of options ranging from fun aquatic parks to thrilling themed rides and cater to all age groups.
Visit EuroKids for more such exciting blogs!