Tips to Plan the Perfect Lunch Box for Kids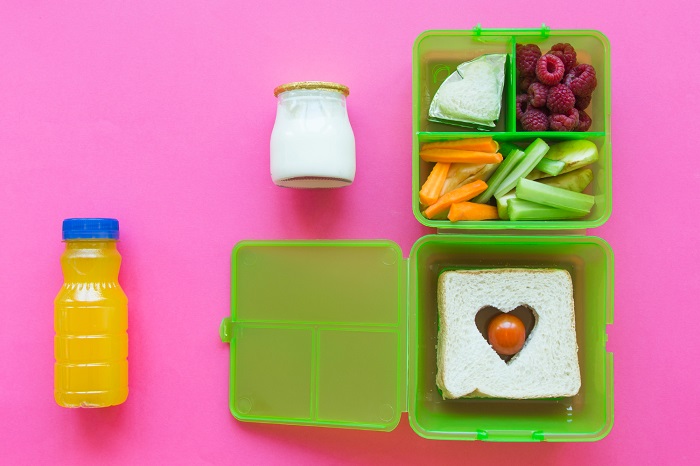 Planning the perfect lunch box for kids can be a daunting task. You want to pack something that will fill them up, but you also want to save time in the kitchen. Not to worry! We've got some advice and resources for your ideas to help make packing a perfect lunch box a breeze.
First, think about your child's favorite foods and include at least one of their favorites in their perfect lunch box each day. If they're not too picky, get them involved by letting them choose their lunch items each week. This will help ensure they're excited to eat their lunch daily.
Another thing to remember when packing a lunch box for kids is the portion size. You don't want to pack a huge lunch that will leave them feeling stuffed by noon. Try packing smaller meals and snacks that will give them enough energy to get through the day without spoiling their dinner. Aim for a lunch box that is no larger than two cups.
Finally, remember the variety! A little bit of everything will keep your child's lunch box exciting and help them stay excited about eating healthy foods.
Why Packing the Perfect lunch box is essential.
It's no secret that packing a healthy lunch is essential for kids. But what might be less noticeable when packing a lunch box for kids is what effect it can have on their overall physical and mental development.
That's why packing the perfect lunch box is so important. It can help ensure that your child receives the minerals required for growth to thrive. Plus, it can help them stay on track with their eating habits and make good choices when it comes to food.
Here Are a Few Lunch Box Ideas to Help You Get Started
1. Packing a Lunch Box for Kids with Nutritious Food
Think about packing your child's lunch box with nutritious food. This means including food items from all the food groups. Think fruits and vegetables, whole grains, lean proteins, dairy, and healthy snacks, and try to include a protein, a carbohydrate, a dairy item, a fruit, and a vegetable.
If your children struggle to eat, attempt to sneak some of their favorite healthy foods into their perfect lunch box. For example, if your child loves strawberries, put a few in their lunch box. If they love cheese, put it in a slice or two. And if they love peanut butter sandwiches, make sure to pack one for them! By filling a lunch box for kids with nutritious food, you are ensuring they receive the nutrition they require to develop and thrive. Read more about healthy nutrition tips for kids.
2. Make Sure It's Kid-Approved
Get your child involved in the lunch box packing process. Let them choose their favorite foods and help you pack their lunch box. This will make them more excited to eat their lunch and less likely to complain about it. Start by making a list of your child's favorite foods. This will make it easier to plan out their lunches for the week. Try experimenting with leftovers instead of cooking new meals each day. This is not only easier, but it's also the best method to encourage your child to try new food combinations.
3. Think Sustainability
Use reusable containers and resealable bags to pack your child's lunch box. This will not only help reduce waste but also save you money in the long run. Ensure your perfect lunch box is well insulated and keeps food at the appropriate temperature. Remember to pack a napkin!
4. Look for Interesting and Healthy Food Combinations
Try to balance nutrition and taste to succeed in the packed lunch box. Try to pack foods that are low in sugar and unhealthy fats. The goal is to make sure your child gets enough vitamins and minerals while also being excited about what they are eating.
Consider making fun food combinations like pairing a hardboiled egg with banana slices, whole-grain crackers with hummus, or fruit salad with bean burritos. Kids love colorful foods, so get creative and have fun preparing their meals.
One of the best lunch box ideas is to create a mix of nuts, dried fruits, and dark chocolate chips for a tasty crunch. If your family members are picky eaters, remember to pack a small treat they will enjoy, like an apple or granola bar – this will keep them motivated to eat their lunch!
Another lunch box idea for kids can include a sandwich made with their favorite type of bread and filling, some fresh fruit like apples or oranges, an easy-to-eat vegetable like carrots or celery, yogurt or cheese as a snack, and a treat they will enjoy such as a small cookie, with everything packed in an insulated lunch bag to make sure it stays cool until lunchtime!
5. Don't Forget to Include Snacks in the Lunch Box
Most of us know that packing a healthy lunch is vital to keeping our kids full and energized throughout the day. But what about snacks? Pack a healthy snack, such as nuts or seeds. Kids need to have a little something to munch on between meals, and the best way to ensure they're eating the right stuff is by including snacks in their lunch boxes.
It is essential not to go overboard with snacks, especially if your child's school has strict rules about no sweets. But if you pick healthy options like fresh fruit, whole-grain crackers, raw veggies, or yogurt, you can be sure your kids will be getting healthy midday snacks.
Make it fun! Many products specifically designed for kids (veggie chips or whole-grain crackers) make snack time all the more enjoyable.
If your children are picky eaters, offer plenty of variety but keep them manageable. It is ok if they still need to finish everything on their plate. Add cut-up fruits and veggies to the same container for some extra nutrients. Crunchy snacks like air-popped popcorn or roasted chickpeas are usually hit too!
6. Keep the Lunch Box Safe and Clean
Safety should always be top of mind when it comes to lunch boxes, especially when you're packing for children. Always ensure food is stored at the correct temperature: cold perishable foods should be kept cool with an ice pack or frozen bottle of water in the insulated lunch box.
Make sure that any food packaging or containers you use are BPA-free or microwave-safe. Also, avoid using plastic wrap or plastic bags, as these can have harmful toxins. Before packing a new lunch box, please scrub it with warm, soapy water.
Check for any tears or rips in the fabric, and ensure all zips are working correctly before use. Once the meal is over, wash the lunch box as soon as possible with a mild dishwashing liquid and warm water to remove bacteria. If you're in a rush, you can wipe it down with antibacterial wipes instead.
7. Include a Drink, Such as Water or Milk
Send a reusable bottle with water for hydration throughout the day. Include other healthy drinks such as milk or juice. Read more about the best health drinks for kids.
8. Add Some Fun
Get creative with your lunch box ideas and devise fun and exciting ways to pack their food. Label their lunch box with their name and the date. Use cookie cutters or sandwich molds to create shapes out of sandwiches and cut up fruit into fun shapes. Try mini pizzas made with muffins or sandwich cut-outs in the shapes of their favorite cartoon characters. You can make boxes using compartments to separate food and try different ideas to keep lunches interesting.
9. Prepare the Lunch the Night Before
To save time in the morning, preparing lunch the night before will give you more time to spend with your child in the morning and reduce the stress of trying to pack a lunch while rushing out the door or getting them ready for school.
Remember, packing a lunch box for kids doesn't have to be complicated.
These are just a few tips to help pack the perfect lunch box for kids. Try out different lunch box ideas and find one that works best for your child's needs. Packing a lunch box full of nutritious and delicious options will help to keep your child energized and focused throughout the day, and by following these tips, you can create the perfect lunch box for kids to help them stay healthy and happy while they are away from home.
With time, effort and planning, lunchtime can be an enjoyable part of the day for children!
In addition to creating a well-balanced lunch box for kids, you must talk with your child about healthy eating habits and encourage them to make their own lunch choices. This will help instill healthy eating habits and empower them to choose healthy eating. Read more about healthy breakfast ideas for kids.
Happy lunch box packing!
Visit the EuroKids Blogs for more such information.