How to Keep Your Kids Safe in Daycare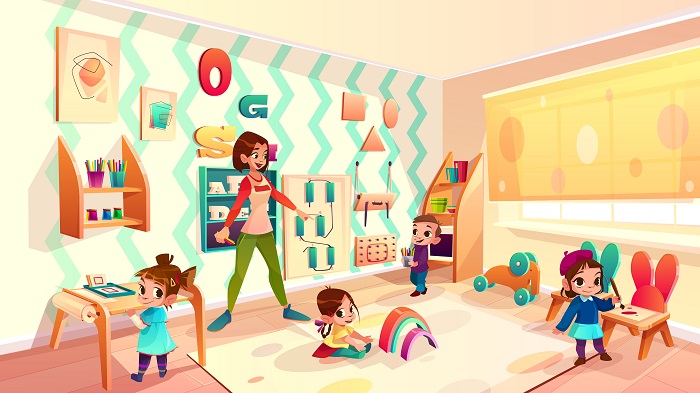 The concept of daycare is a very old one. However, even today, deciding to enroll your child in daycare can be challenging. The reason is that parents have to cross an ocean of obstacles before making this decision. It might range from financial worries, separation anxiety, and familial taboos to concerns for your child's safety and well-being. Additionally, recurrent waves of infectious diseases like Measles, COVID-19, and HFMD add to parents' stress factors concerning daycare safety.
The fear is not unfounded because when your child is spending significant time at daycare, the only question in a parent's mind is, is daycare safe for my child?
So, this blog will ease your worries regarding daycare safety by giving you practical inputs on how you can ensure that your child is safe there. What can you do to ensure they are healthy, happy, and secure?
Here is Everything You Should Look for Before Enrolling Your Child at Daycare
Daycare Safety Check 1 – Licensing, Registration, and Clearance
When choosing a daycare, you should inquire about their registration and licensing details. A good daycare centre will display its certifications at the reception or lobby. But remember that holding all the licenses or clearances still does not make it the best daycare for your child. However, it does establish that the setup abides by specific standards.
Some of the points that child care licensing ensures are:
Child and caregiver ratio.
The daycare building's general security, including its emergency exits, upkeep, repairs, and potential hazards
Vaccinations, handwashing, changing diapers, and other preventative measures against disease
Nutrition chart to be followed
The adult employees in the childcare program are likewise subject to training, health, and other regulations.
Child Care Licensing also includes regular monitoring and follow-up inspections to ensure that the daycare centre continues to meet the standards. In case of any violations or concerns, the daycare centre may face penalties or even lose its license. This ensures that the daycare centres are held accountable for the safety and well-being of the children while in their care.
Daycare Safety Check 2 – Background Verification
Before enrolling your kids at daycare, ensure that the facility does background verification on the staff they hire. These checks are conducted to ensure that all employees and volunteers who work with children have no history of abuse or neglect. This is important because it helps minimize the risk of children being harmed while in daycare centres.
Background checks typically include criminal background checks, sex offender registry checks, and child abuse and neglect registry checks. These checks are conducted at the state and national levels and are designed to identify individuals with a history of abuse or neglect. In addition, daycare centres also conduct reference checks to ensure that individuals have a good reputation and are suitable for working with children.
It is also important for daycare centres to conduct regular training for their employees and volunteers on child safety. This includes training on how to identify and report abuse and neglect, as well as how to implement safety protocols to protect children.
Daycare Safety Check 3 – Health and Safety
Nothing is more important than the well-being and security of your child. Some crucial points to ensure that your child at daycare is safe is by looking into these:
The daycare should mandatorily clean and sanitize all surfaces and items. Particularly for high-touch sites, this should be done regularly and properly (like light switches, door knobs, and chairs).
Toys should be cleaned and disinfected after each usage and each day.
If cots are used, they should be cleaned frequently.
If bedding is required, you should send your bedding to your child.
Each child has to have access to their supplies to reduce touch, and sensory play (water tables or sandboxes), soft toys, and other items that can't be easily cleaned should be avoided. For instance, it would be more challenging to clean shared crayons or scissors while doing an activity.
Kids at daycare are usually very young, so choose a centre with child-proof edges/surfaces/walls for their safety.
Additionally, it's essential to teach kids and staff members to wash their hands frequently, especially before meals and after using the restroom. You should also maintain your child's immunization records current.
Apart from this, daycare centres should perform daily health inspections and record any injuries, including cuts, bruises, broken bones, and markings. Parents should do similar reviews daily at the start and end of the day. By doing this, you can make sure that there are no misunderstandings between you and the daycare provider. Immediately report any suspicions of neglect or abuse, remove your child from school, and contact the relevant authorities.
Additionally, you should meet with teachers and administrators frequently and voice any issues.
Daycare Safety Check 4 – Overall Information & Details
Other things to look for before enrolling your child at daycare are:
Class size – Consider a daycare with fewer children or a place with smaller class sizes. This improves your child's overall safety and reduces the likelihood that they will get sick.
Allergy prevention – Your child might not be allergic to anything, but it's a growing and changing body. So it's best to be prepared in case of a trigger.
Recommendations and reviews – Talk to parents who have been sending their kids there. Ask about the daycare's pros and cons and assure them about it staying confidential.
Daycare safety is paramount for every parent. To lessen stress, choose from well-established and reputed daycare facility centres like EuroKids, which check all the above points.
Because we know that only if your child is safe at the daycare and you know it can you focus on anything else.