Best Cooking Shows for Kids to Watch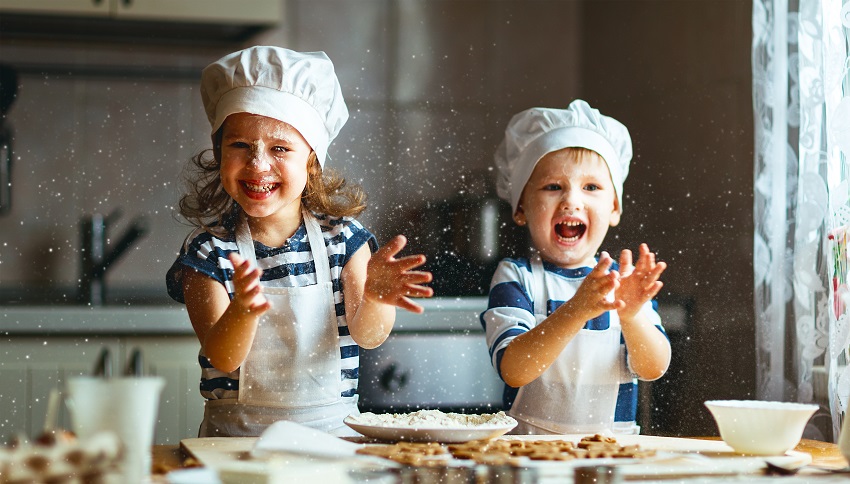 One of the things the lockdown taught us was this: everyone has the potential to be a chef. MasterChef? Not quite. You'll need a good amount of lessons for that. If your child is evincing interest in your cooking in the kitchen at a young age, though, they might just become one someday!
This is the time to have those budding sous chefs garner all the culinary inspiration they need. The best way to do that, is to get them to watch the very best kid-friendly cooking shows that will certainly go a long way towards helping them maximize their culinary skills.
The Best Cooking Shows for Kids to Watch
Here's a compilation of the best cooking shows (although not in a particular order) that showcase the culinary skills of some of the savviest chefs around the world.
The Great British Baking Show
One of the best cooking shows for kids.
Show highlights: Cooking is done in accompaniment with calming music and friendly banter, which makes it all the more endearing to little children. What's more, there are different dessert-themed episodes and the stars compete in the tent each week, for the highly coveted title of Star Baker, and that elusive slot in the Grand Finale.
Where to Watch: Netflix
Good Eats
Cooking shows for toddlers that have an element of Science to them? What better way to start those young Einsteins (and Bourdains) early?
Show highlights: Alton Brown's culinary show is an entrée of engaging demonstrations and explanations that hit the spot thanks to their wondrous simplicity. It's served with a side of delightful humor. This show is one you don't want to miss if you want your children to learn and laugh their hearts out in equal measure!
Where to Watch: Food Network Go, The Roku Channel, Prime Video, amongst others.
MasterChef Junior
Remember how you were enthralled watching MasterChef Australia when it first aired years ago? MasterChef Junior's like that for children. Certainly one of the top cooking shows for kids.
Show Highlights: When you have teen and pre-teen children trying to undo one another in the kitchen, whipping up the most creative fare they can think of for powerhouse chefs like Gordon Ramsay, it's sure to be a thrilling experience.
Where to watch: Fox and Hulu (for all past seasons)
The Big Family Cooking Showdown
There's another pleasure altogether in cooking with the family, and what greater delight for cooking buffs, than watching families of different backgrounds pitted against one another in a culinary faceoff? Certainly a great tv show for kids to learn cooking.
Show highlights: The very essence of the show is that of embracing cultural diversity, and holding onto family values that are undoubtedly the most important 'ingredient' for our lives' foundation. In a nutshell, a feel-good show that will have you at the edge of your seats with the fierce (but not too harsh) competition it engenders.
Where to Watch: Netflix
I Draw, You Cook
Cooking shows for children are great when there's interaction with people who form the audience of the show – kids themselves!
Show highlights: This multi-episode culinary series features two 'Tasty chefs' who are seen going head-to-head with one another, to come up with the better version of a dish inspired by the drawing of a child.
Where to Watch: YouTube
Nailed It!
Cooking is best when performed without pressure. If you're having a bad day, it will show in the food you create. In this show, every day is a bad day! One of the best cooking shows for kids focused on fun!
Show highlights: Home chefs have to create their versions of 'professional desserts', that they never quite seem to 'nail'. If you're looking for a cooking show that will elicit laughs, this one's it. Even the contestants laugh at themselves, and what's more, this light series encompasses 7 whole seasons of watching pleasure.
Where to watch: Netflix
Kids Baking Championship
Baking is probably the very reason young children gravitate towards the love of cooking. This is one of those cooking shows for children about just that – the joy of baking!
Show highlights: Duff Goldman (Ace of Cakes fame) and Valerie Bertinelli (actress-turned-cooking personality), divide 10 baking-savvy teens and pre-teens into 2 groups for the ultimate baking faceoff.. The goal: To create the best pies, desserts and cakes, in an attempt to secure the whopping championship prize of $25,000.
Where to watch: Food Network Go, Apple TV, Vudu, etc.
Zumbo's Just Desserts
One of the things most kids have right from a tender age, is that sweet tooth. No wonder, then, that one of the best shows for toddlers is one that focuses on sugar delights!
Show highlights: Contestants have to try their best to recreate some of famed pâtissier, Adriana Zumbo's, mouth-watering desserts. While this might seem a gargantuan task, what with the desserts seeming more like showpieces than actual dishes, chefs are given leeway to create their own sweets, too.
Where to watch: Netflix
Chopped Junior
If you've watched the original show 'Chopped', this one's pretty similar, except the judges opening the baskets aren't able to vote yet.
Show highlights: Every episode has four little chefs competing for the chance to win $10,000 and a Chopped Junior chef's coat.
Where to watch: Discovery Plus
Chef's Table
This one's a tv show that certainly brings a lot 'to the table'.
Show highlights: Kids get to travel around the world with every episode that unfolds, meeting a new chef and listening to their stories of grit and accomplishment. A wonderful way to learn the nuances of different cultures through food.
Note: There's smoking, drinking and even profanities that appear in varying degrees through the episodes of this show, so ensure only older kids watch it.
Where to watch: Netflix
What the best cooking shows for children do more than anything, really, is whip up their appetite for learning how to make food themselves. The creative and fun shows listed herein, might just seal their ultimate career choice. Enroll your Child with EuroKids now and give them the right start, flying start they deserve.