Baby Bathtubs: All You Need to Know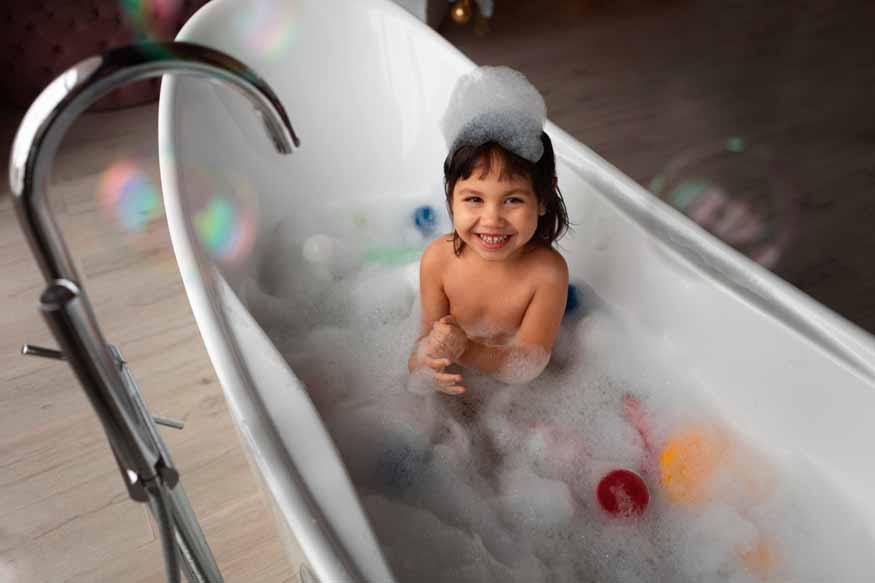 As first time parents, we are excited about the experience of having a baby and taking care of it. However, we have a lot to learn about taking care and bringing up our new born, and are going to face many struggles and difficulties. The thing is, with the increase in nuclear families and new families settling away from their ancestral homes, it is not always possible to have a grandmother or an older family member around to guide and help us so very often we are left to our own devices.
One of the challenges we will face is keeping our baby safe while cleaning them. Some parents may prefer a tub to bathe their baby as it is unhygienic to use a sink, while other parents prefer to use the sink to avoid tub accidents. Whichever method you decide to use it is important to weigh out the pros and cons as well as to explore new options, after all there are new products being introduced in the market on a very regular basis designed to make things easier for parents. One such product for keeping your baby safe and clean is the bath tubs for babies.
Let us now try and answer some of the questions that might come to mind –
How necessary is a baby bath tub? Do we really need one?
The good thing is that babies don't move around too much so they don't get very dirty. Other than a spit up, food spills, some drool and the regular toilet clean up, they just need a quick wash with some warm water and maybe a bit of soap. Having an already dedicated setup wash area makes this process easy and convenient.
Bath tubs for babies are readily available and are not very expensive, even setting up the tub is very simple. While cleaning your baby can be done in the sink or a tub, having a baby bath tub will be more convenient as it is designed keeping your needs as well as those of the baby in mind, the various safety features will definitely give you some relief.
One of the benefits of having a baby bathtub is that both your hands are free to take care and clean your baby rather than one hand being constantly occupied by holding or carrying the baby
What type of bathtub for babies should we get?
As with any equipment, there is a wide variety of Bath tubs available for babies. Take your time looking at different types of baby bath tubs, check out your local store that keeps these baby products and also have a look at what is available online.
You will find baby bathtubs that fit directly into your sink, or one that fits in your bathroom, some baby bathtubs are kept directly on the bathroom floor while others may have an additional sturdy stand. You can even find compact ones if you are short on space or baby bathtubs that can be easily collapsed and tucked away. Make a note of the different features each one has to offer and then select the one that best suits your needs and budget.
When do we buy the baby bathtub?
While it is ideal to have the bathtub already installed as soon as the baby is born or when it arrives home from the hospital, getting one a few days later is also okay. The first few weeks with a newborn can be very tiring, so having the bathtub and bath accessories ready definitely helps.
Another benefit of having a baby bathtub reduces the stress of bending and squatting on new moms, especially those who have had a C-section type delivery. As your baby grows older, they will become heavier and a lot more mobile, which is a bit risky when giving them a bath. Having them sit in a suitable tub will keep them safe while giving you the ability of using both your hands to bathe them.
Things to keep in mind while buying a baby bathtub
A baby bathtub is not one of the essential things required when you have a baby, but having one will definitely make your life a whole lot easier. Here's what you need to keep in mind-
The bathtubs should be made out of BPA free materials.
It should be slip resistant to keep your baby safe.
There should be contours to support your baby's head.
If you can then go for a baby bathtub that has a built-in digital thermometer to help you ensure that the water temperature is just right for your baby.
Look for a bathtub that can be converted appropriately when your baby grows older. The benefit of having a bathtub like this is that you won't need to buy another one when your baby grows older, or you can even use it for a smaller baby or a toddler interchangeably. Tubs for very young babies have nets and slings that you can place your baby on while bathing them since they cannot sit up by themselves. Older babies and toddlers don't need these slings and nets.
The tubs with a drain plug make it easier to empty out the tub, It removes the strain of lifting, tilting and emptying the filled tub and helps prevent water spillage.
Some tubs also come with overflow vents that prevent the tubs from getting over full, thereby reducing the chances of accidents and water wastage.
Baby bathtubs with built in showers are again not a necessity but they simplify the bathing process. The showers have the spray adjusted so that it is comfortable for the baby, the ones with detachable shower heads help reach difficult places without having to move the baby around too much. They also have the added benefit of making bath time more fun.
No matter which type of bathtub you choose for your little one, the most important thing to remember is that while using the baby bathtub, never leave your child unattended, constant supervision is necessary.
EuroKids, is one of the leading and trusted names in early childcare and education in India. We pride ourselves in not only the education we impart to the children, but also our infrastructure and facilities. Along with the research being done for the academic part. EuroKids also makes sure that the equipment used is child appropriate and safe. Click here to find a centre near you, take the time to visit the centre and enrol your child with ease.