Comprehensive Guide to Baby Bathing Accessories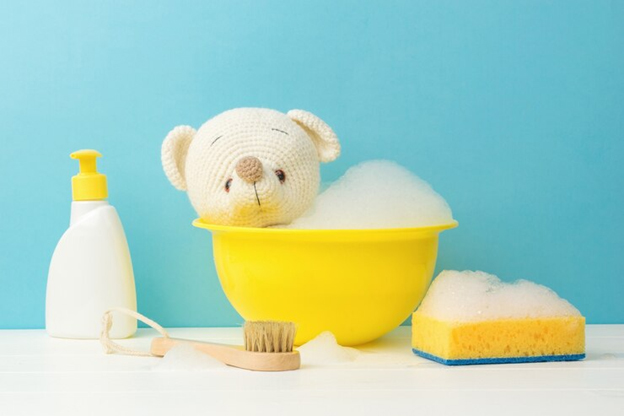 Essential Baby Bath Accessories for a Fun and Delightful Bath Time
Among the several things in your child's routine, Bath Time can be especially tricky. The good news is, as time goes on and you begin to understand your little one's needs, it can make for a truly delightful experience.
The trick lies in having the best bathing accessories that will make the process of bathing your little one, ever more fun for both you and them. Before learning more about these cool baby bath accessories, let's start with a look at the best bathing tips for your precious newborn child.
Bathing Tips for Newborn to make bath time fun
Here are some really wonderful bathing tips to make bath time stress-free and fun!
#1. Delay that first bath! The WHO (World Health Organization) recommends delaying that first bath until at least 24 hours after the baby's birth. This is done to maintain the smell of the baby's first environment, allowing for a more natural transition to the extra-uterine environment.
#2. Bathe them 1 to 3 times a week. Any more than that, and it will only serve to leave their skin dry and irritated.
#3. Steer clear of harsh products with chemicals. These include parabens, sulfates and added perfumes and fragrances, that might only serve to irritate your baby's skin. Instead, look for products that are tear-free and formulated for sensitive skin.
#4. Use a Sponge earlier on. Sponge baths are the best in the beginning, before your baby's umbilical cord stump falls off. While there are many reasons for this, the most important of them is preventing infection.
#5. Keep your baby covered during the bath. Even when they are bathing in a warm bath, they are prone to losing heat quickly. Ensure you cover them with a warm washcloth while bathing them.
#6. Go slow and be calm. It's important to take your time while bathing your kids. Further, you have to be calm yourself to help them feel relaxed.
The Best Bathing Accessories for your Baby
Looking for the best baby bath items for your little one? Here's a look at the top baby bath accessories you can use, to make bath time an even more joyous experience.
Hairbrush Set
Here's a really cool fact: you can start brushing baby's hair any time after their birth! Note: Since your baby might not have much hair yet, it's important to use a simple, 'soft-bristle' brush to groom them.
Thermometer
Placing your fingers in the bathtub to see if the water is the right temperature, will not suffice. Luckily, there are thermometers that are designed to be submerged in water and gauge the temperature accordingly!
Bath Toys
Bath Toys are a perfect way of making bath time for baby, even more interesting. Tip: Try choosing toys that resemble creatures like a fish, frog or even turtle. Or you could simply stick to the age-old 'Rubber Duckie'!
Baby Bath Tub
You might feel it's all right to bathe your baby in the bathtub you have your bath in, but a tub that large can make for a rather strenuous bathing experience. Tip: You want to choose a bathtub with padding at the backrest. This will assist your baby in sitting upright and also offer much-needed support for their head.
Baby Washcloth
In the case of sensitive areas, you might wish to use a washcloth over that sponge. This is because newborns tend to shed their skins during the first few months of their lives. Tip: You want to use washcloths made of premium cotton, that are soft and delicate for your baby's skin.
Hooded Bath Towels
Looking to dry your little one safely and comfortably after you have bathed them? In that case, we highly recommend using a bath towel with a built-in hood. What this does is, it enables you to wrap their body and head without them getting cold.
Oil, Lotion, Powder
A good baby cream is perfect for moisturizing your little one's skin effectively. This will help prevent their skin becoming dry after bath time. Massaging your baby's muscles and joints is also the need of the hour. You can use baby oils for this purpose. Also, make sure you use some good old talcum powder in the hotter months. This will help prevent babies from sweating profusely.
Accessories Storage
Last but not the least, you need to have a designated space to store those baby bath accessories. The last thing you want is for them to get mixed up with adult products. Further, you don't want the bathroom to be cluttered with things lying all around.
We at EuroKids cannot stress enough the importance of selecting the right baby bath accessories. We believe that proper bathing can help maintain the health and texture of your baby's skin, while at the same time making for a fun bathing experience.