15 Safety Tips For Taking Baby To The Beach & Things To Carry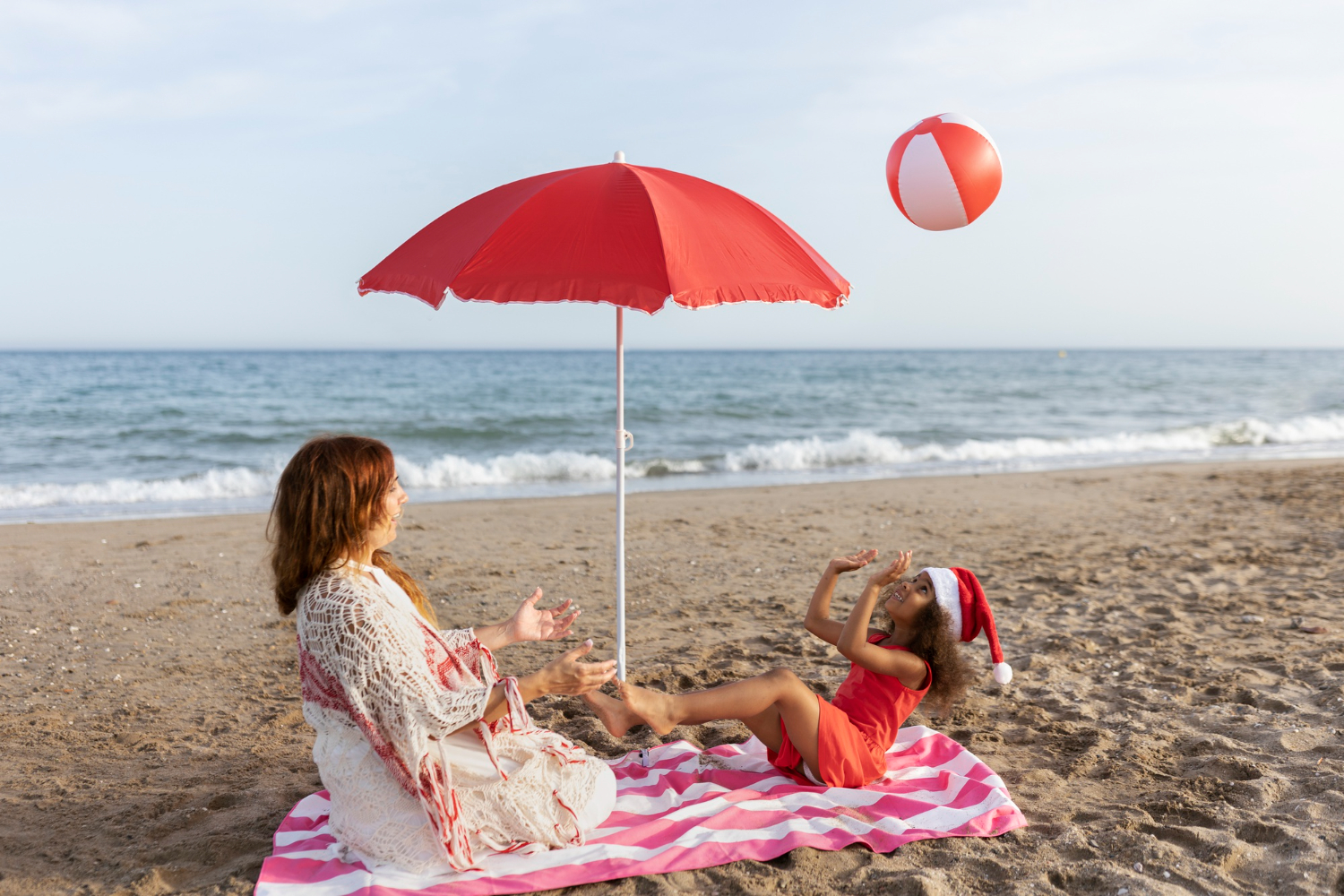 Beach Safety Tips for Kids
Picture this: a family of three, wearing brightly coloured swimsuits and sunglasses, lounging on a beach towel and sipping cool coconut water. As the birds fly overhead, the sound of waves crashing against the shore fills the air. All of you are having the time of your lives at the beach this summer. There's something magical about spending lazy days by the ocean, feeling the warm sun on your skin and the sand between your toes. Summers are when you relax, unwind, and make memories that will last a lifetime. In fact, we know of many people who would say that a beachside gateway is a summer necessity! Take it from us, beach holiday with babies are super fun
Wait. A beach holiday with babies? Is it safe? Hhmm.. There is no straight answer to that. There are many things to be considered before you hit the sun and sand environment! You should think about your baby's age and how safe the water is, as well as how long you'll be in the sun. Things like how close you are to a place where you can get out of the sun if your baby gets too hot and if you're willing to clean sand-filled diapers also come into play. Think carefully about how a beach trip with your baby might go, especially if you'll be with other kids or won't have anyone else around to help.
Already planning to cancel the trip? Nope. You need not. Some planning and forethought is all that is needed to have a great day at the beach. Let us look at all the beach safety tips for kids in this blog. Listed below are some tips for taking kids to the beach if you're ready to enjoy some fun in the sun.
Guide to a Fun and Safe Day at the Beach
Pick the Right Time of Day

When planning a beach trip with a baby, it's important to choose the right time of day. The midday sun can be too hot and uncomfortable for your little one, so opt for early mornings or late afternoons instead.

Apply Sunscreen

Kids tend to have sensitive skin. Before heading out of the resort or hotel, apply sunscreen to protect them from harmful UV rays. Use a sunscreen with at least SPF 30, and reapply every two hours or after swimming.

Bring a Hat

Remember the harmful UV rays? Hats (preferably wide brimmed ones) protect your baby's head and face from the sun. Choose a wide-brimmed hat that provides ample shade.

Dress Your Baby in Appropriate Clothing

Choose lightweight and breathable clothing for your baby, and avoid dark colors that can absorb heat. A rash guard and swim diapers are also a must for beach trips.

Pack Plenty of Water and Snacks

While playing outdoors, kids tend to get dehydrated quickly. So make sure to pack plenty of water and snacks for them and yourselves. Opt for easy-to-digest snacks like fruit and crackers.

Bring a Shade Tent

A shade tent is a great way to provide your baby with a cool and shaded area to rest in. Make sure to anchor it securely to prevent it from blowing away in the wind.

Keep Your Baby Hydrated

Make sure to offer your baby water frequently to prevent dehydration. If your baby is breastfeeding, offer them the breast more frequently than usual.

Keep Your Baby Away from the Water

Kids are curious creatures. This curiosity can lead them to trouble. Little kids or babies can drown in just a few inches of water. Let there be a designated guardian who is alys with the kids. Someone who will make sure to keep them away from the water's edge. Taking kids to the beach is a huge responsibility, isn't it? So, never let them get out of sight.

Bring a Life Jacket

If your child will be near or in the water, make sure to bring a life jacket that fits well. Make sure to test the life jacket beforehand to ensure that it fits snugly and securely.

Keep Your Baby Cool

Babies can get too hot very quickly, so keep them cool. Use a spray bottle to mist them with water, and make sure to take frequent breaks in a shaded area.

Pack a First Aid Kit

Accidents can happen, so make sure to pack a first aid kit. Include items like bandages, antiseptic wipes, and tweezers.

Keep Your Baby Comfortable

Make sure to bring a comfortable blanket or towel for your baby to lie on. Consider carrying your trusty baby carrier or stroller to the beach. As you must already know, it makes life easier 🙂

Bring Beach Toys

Taking kids to the beach means playtime! Toys for the beach are a great way to keep your baby happy and busy. Choose toys that are easy to clean and don't have small pieces that a child could choke on.

Check the Weather

It is prudent to check the weather forecast just before leaving the resort. If there are signs of thunderstorms or strong winds, it is best to stay put at the resort and carry out some fun summer activities with your little ones.

Pack a Trash Bag

Make sure to pack a trash bag to dispose of any trash or diapers. The beach should be kept clean and free of trash.
Things to Take to the Beach for Kids:
Sunscreen with SPF 30 or higher. This also depends on the skin type. Check with the pharmacist/ dermatologist.
Wide-brimmed hats
Lightweight and breathable clothing
Rash guard and swim diapers
Plenty of water and snacks
Shade tent or umbrella for a cool and shaded area. Check with the resort/hotel if they provide the same. If yes, it is one less thing to carry 🙂
If the resort/hotel doesn't provide life jacket, take or rent a properly fitting life jacket if your child will be in or near the water
First aid kit with bandages, antiseptic wipes, and tweezers
Comfortable blanket or towel for your child to lie on
Baby carrier or stroller to transport your child easily
Beach toys that are easy to clean and safe for your child to play with
Cooler to keep drinks and snacks cool
Beach bag to carry all your essentials
Extra clothes for your child in case they get wet or dirty
Insect repellent to protect your child from bug bites
Waterproof phone case or camera to capture memories without damaging your electronics
While not exhaustive, the list pretty much covers most of the things to take to the beach for kids.
Parents, you know your child better than anybody else. While taking kids to the beach, pick up everything that you feel will make them comfortable and happy.
Taking kids to the beach is one of the most memorable family experiences. Once you ensure that proper safety precautions are in place, you just need a well-stocked beach bag. There are endless opportunities for fun and relaxation at the beach. You could be building the best sandcastles, playing in the water, or simply enjoying a sip of coconut water in a shade. Just follow all the beach safety tips for kids, and you are sure to have a great time. So grab your sunscreen, pack your bags, and prepare for a memorable beach adventure with your child. Let's create some memories to last a lifetime! Visit EuroKids to learn more.