Exciting Preschool Activities for Independence Day in India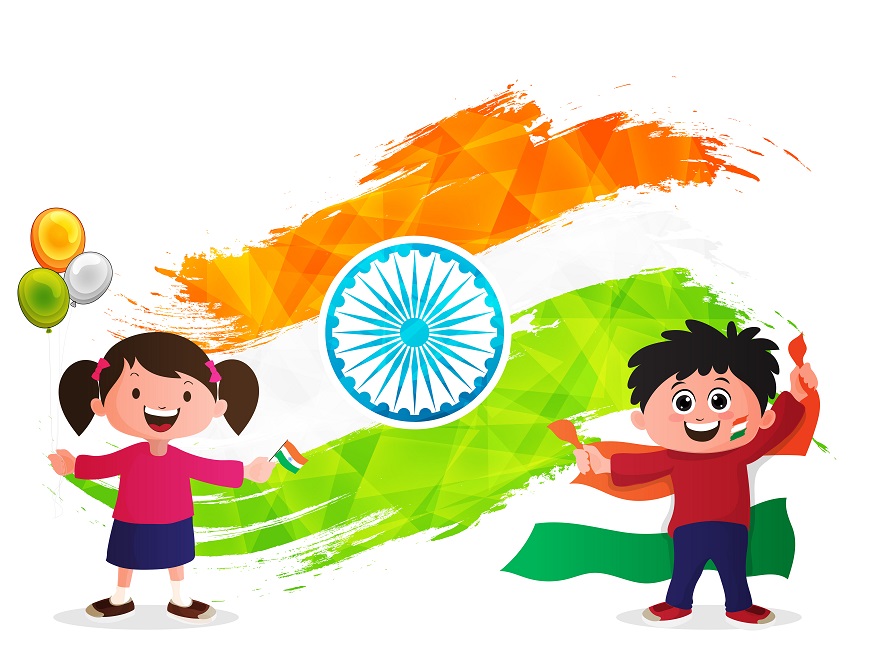 As India's Independence Day nears, it's time to introduce our little ones to the rich heritage and cultural significance of this day. By weaving the theme into preschool activities, we make the learning experience interactive and fun. Here are 20 specially curated Independence Day activities for students in India, perfect for building patriotism and teaching children about the country's past.
Independence Day Activities for Students
Independence Day Craft: Flag Bookmark

Kickstart your celebration with a simple yet effective preschool Independence Day craft activity. Have your preschoolers create their own bookmarks inspired by the Indian flag. They'll need strips of saffron, white, and green coloured paper, a small navy-blue circle, and a glue stick. Have them glue the strips onto a rectangular piece of cardboard, with the blue circle in the middle. Not only does this Independence Day activity for preschool engage their fine motor skills, but it also creates a memento they can use year-round.

Map of India Puzzle

Build your students' geographic knowledge by having them assemble a jigsaw puzzle of the map of India. You can easily find pre-made puzzles online or make your own using cardboard and markers. As they place each piece, teach them about different states, their cultures, and their contribution to the nation's independence. This independence day activity for preschool will enhance their knowledge on the Indian map.

The National Anthem Sing-Along

Familiarise your students with our national anthem, 'Jana Gana Mana'. Start by slowly singing the anthem, explaining the words and their meanings. Gradually, make it a daily routine leading up to Independence Day, fostering a sense of national pride and unity.

Tricolour Fruit Salad

Incorporate the Indian flag's colours into a healthy snack. Choose fruits like oranges (saffron), bananas (white), and kiwis (green), and invite children to help you arrange them into a tricolour pattern. This interactive activity is not only fun but also introduces kids to healthy eating habits.

DIY National Symbols

Introduce your students to India's national symbols. Provide them with craft materials to create their own Lotus (national flower), Peacock (national bird), or Tiger (national animal). This hands-on activity helps children learn and remember national symbols, fostering their national identity.

Tricolour Balloon Volleyball

Create a fun, indoor game using balloons in saffron, white, and green colours. Divide the kids into two teams and let them play volleyball. One of the most fun Independence Day games activities, it enhances their coordination skills while making them understand the significance of the tricolour.

Independence Day Storytelling

Reading and storytelling are fantastic ways to teach history. Read them engaging stories about India's freedom fighters and the struggle for independence. Choose books with illustrations to keep their attention.

Kite Decoration

Kite flying is a popular preschool Independence Day craft activity in many parts of India. Provide kids with plain paper kites and encourage them to decorate them using colours of the national flag or draw their favourite freedom fighter. This craft stimulates their creativity and motor skills.

Tricolour Paper Chain

Involving kids in decorating the classroom boosts their excitement for the upcoming event. Guide them to make a tricolour paper chain to hang around the room. This activity promotes teamwork and motor skills.

Tricolour Sensory Bin

Sensory bins are excellent tools for children's exploration and learning. Fill a bin with tricolour-themed items like pom poms, buttons, or coloured rice, and let the children explore. This interactive activity is fantastic for tactile learning and fine motor skill development.

Flag Hoisting and Parade

Simulate a flag hoisting ceremony and parade at school. This hands-on experience gives the children a taste of the official Independence Day celebrations, introducing them to important traditions and rituals.

Freedom Fighter Dress-up

Organise a dress-up day where children can come as their favourite freedom fighters. Encourage them to learn and present a few lines about the personality they've dressed up as, boosting their confidence and public speaking skills.

National Emblem Clay Modeling

Provide children with clay and guide them to model the National Emblem of India. This activity is an excellent opportunity to explain the emblem's significance and symbolism.

Independence Day Skit

Organise a simple skit retelling significant events from India's struggle for independence. This activity is a great way for kids to learn history, develop their memory and presentation skills.

Handprint Indian Flag

Conclude your celebration by making a handprint Indian flag. Children dip their hands in saffron, white, and green paint and print them onto paper. This activity is not only fun but also creates a keepsake to take home.

Picture Collage: India Through the Years

Transform learning history into a visual journey by encouraging kids to create a picture collage showcasing India through the years. Provide them with pictures from different eras – the freedom struggle, post-independence era, and modern India. Guide them in arranging the pictures chronologically on a large chart paper. This activity nurtures their cognitive skills and piques their interest in history.

Freedom Songs Rhyme Time

Introduce your preschoolers to popular patriotic songs. Explain the lyrics and their meanings and encourage them to sing along. Over time, these songs become a part of their repertoire, fostering a sense of patriotism.

Role Play: A Day in the Life of a Freedom Fighter

Encourage your preschoolers to role-play 'a day in the life' of a chosen freedom fighter. This imaginative play will enable them to empathise with the hardships faced by these heroes and appreciate the sacrifices they made for the nation.

Drawing Competition: My India

Organise a drawing competition theme "My India". Let children express their feelings and perceptions of India through their art. This creative activity helps in enhancing their imaginative skills while making them think about their country.

Tricolour Origami

Teach the kids basic origami using saffron, white, and green colored papers. They could make simple shapes like boats, birds, or flowers. This hands-on craft not only develops their fine motor skills but also encourages focus and patience.

On a concluding note, incorporating these activities for Independence Day for preschoolers into everyday preschool activities enhances children's understanding and appreciation of this historic event. Remember, the key is to keep the activities fun and engaging so that learning becomes an enjoyable process. Celebrate India's Independence Day with enthusiasm and joy, instilling a sense of patriotism in the young minds from an early age.

Explore more such activities and learning modes for preschool kids with EuroKids today.