The Benefits of Pottery for Kids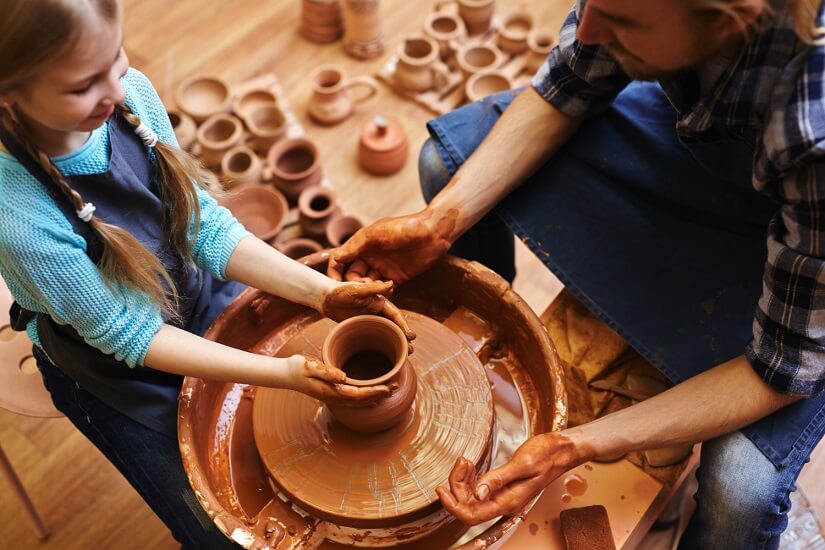 'All the world's a stage, and all the men and women are merely players.'
As You Like It (Act 2, Scene 7), William Shakespeare
Shakespeare certainly knew what he was talking about. If 'playing those roles' in our lives is important, why not start those budding performers early when it comes to regaling others with their talents? Involving children in The Performing Arts can have some most wonderful benefits, not only in the classroom but outside it, too.
The importance of drama in education cannot be stressed enough. Here's a look at the top reasons Drama and Arts are essential for kids.
It hones their self-confidence
Ever felt the jitters when you might have been called on stage to say something? The key to drama for kids, increasing the self-confidence of those little performers, lies in the fact that it whisks them out of their comfort zones.
Learning to appraise new situations and think outside the box, they find themselves able to express their thoughts and ideas in a safe environment. These vital tools they garner, will last them their entire lifetime.
They learn the art of Improvisation
The importance of performing arts also lies in the ability it fosters in kids to stay calm and carry on, despite something going wrong. This helps them avoid a small error from building up to a situation gone terribly awry. Your child learns that even if they do end up making mistakes, they can cover up for the same and lead the audience to believe that they have not made a mistake at all.
This ability to expect the unexpected and then make the situation right, helps them believe that 'messing up' is really not all that bad, especially when you have the willingness to try something new.
It improves their Communication Skills
An improvement in theircommunication skillsmight just be one of the top reasons you encourage drama for kids at an early age. For instance, if they wish to improve their acting skills, you will find yourself honing their presentation skills, vocal projection and even, articulation.
Furthermore, 'listening' is also a most important part of communication and this skill is sufficiently enhanced through children taking stage directions from teachers, collaborating with peers and working in tandem with their fellow students towards a common goal.
Gives them a chance to express new emotions
One of the wonderful things about being a performer is that you get to be in someone else's skin (namely, the character you play) for a brief period of time. This is indeed a most secure way for children to try and experience emotions they have not experienced before.
Moreover, by putting themselves in another person's shoes, even though that person might be nothing short of a fictional character, they learn about empathy and what it feels like to think from another person's point of view. Yet another great benefit of drama for kids.
A higher level of academic achievement
If you're looking for any one major importance of drama in education, it is this. There is ample research to back the claim that creative thinking,problem-solvingand reasoning skills are bolstered in children when they get an education in the Arts. For instance, learning an instrument improves their mathematical proficiency and reading music goes a long way in improving their performance in tests.
Besides these, there are several connections between the performing arts and reading, verbal and math skills, and creative thinking.
They see the world in a whole new way
Drama for kids, especially when indulged in at an early stage in their lives, helps them see the world they inhabit in a whole new way, and that is reward enough. They grow out of the limited, confined ways they erstwhile thought and open their minds to the possibility of new experiences, apart from seeing things from a different perspective now and again.
They have been exposed to a new way of thinking and doing, and that itself will go a long way in fostering their sense of independent thought.
They have a great deal of fun
Having fun is essential for everyone, and especially so for kids! This importance of performing arts, really, cannot be stated enough. Whether it is singing, dancing or even acting your child might be into, immersing themselves in any of these activities will see them take great relish in expressing and improving their talents.
Besides this, a lot of the performing arts programs enhance kids'sense of balance, coordination and flexibility, and this makes for some really fun workouts, too!
It helps them soothe those frayed nerves
Drama for kids helps children deal with stressful situations that they will inadvertently see plenty of, in the years following their education. That is, when they find themselves exposed to the vagaries of the real world. It's important to normalize children's feelings of anxiety, and drama is an effective way of doing just that.
Children learn through drama that there is nothing wrong with feeling anxious, and after they have performed well, they will carry that experience forward and perform well under pressure in the future, too.
It helps them understand the importance of teamwork
Drama activities for kids are perhaps one of the best possible ways to inculcate in them the importance of team work. When they work together on something like a play or a dance performance, they see that there is less focus on winning and losing. Rather, it is coming together to make something truly beautiful that matters most.
Rudyard Kipling's quote comes to mind here.
'For the strength of the pack is the wolf, and the strength of the wolf is the pack'.
Enroll your child withEuroKidstoday and give them the 'The Right Start' , 'Flying Start' they deserve.