Ten Paint Colors for Rooms That Influence Children's Emotions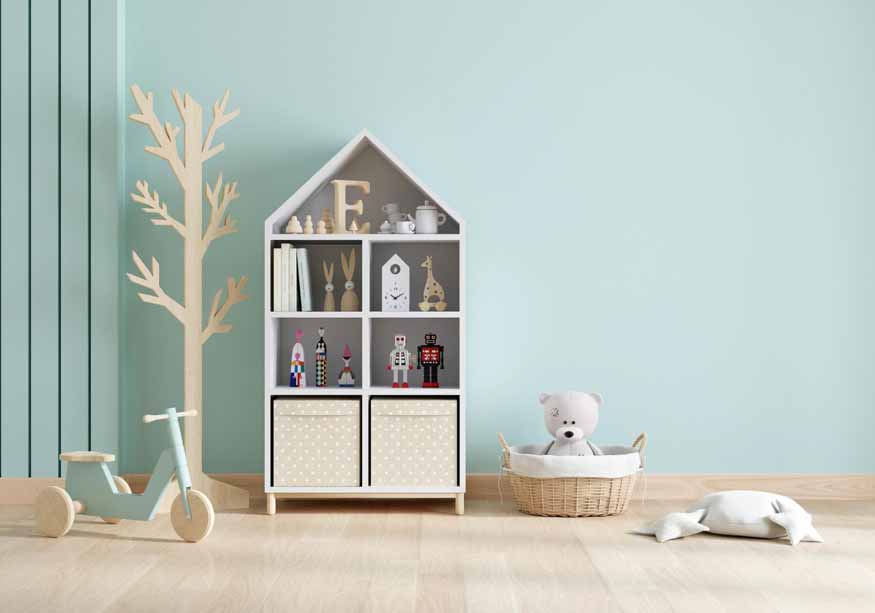 Have you ever been calmed by the Blueness of the Ocean, or the sight of a Verdant Green landscape?
That's only because there is a Science to Colour!
A lot of Doctor Waiting Rooms have walls painted in a soothing Green. No prizes for guessing why! Whether you are setting up a nursery, or simply giving a makeover to your child's room, the colour of walls is probably the first thing that comes to your mind.
The relationship between Bedroom Colours and Moods, is very real. Studies have shown that colours can stimulate different parts of the brain, and have a marked effect on one's mood.
This blog post proposes to show you some of the 'Feelings' that are supposed to be associated with different colours. Of course, you might have your own choices of colour when it comes to painting your child's bedroom. However, it might help to read this blog post to the end, before that Paint Job gets underway!
Bedroom Colours and Moods: The Underlying Science
What makes colour trigger any sort of emotional response in people, children included?
Colours have a huge impact on our feelings, the moment we enter a room. Certain shades are known to induce feelings of warmth and comfort, and even establish a soothing ambience.
It all boils down to how human beings perceive colour. The thing is, each Colour has its own Frequency, that seems to blend with our personal energies. In fact, the reason different people prefer different colours is because we all respond to different visual stimuli in different ways.
That being said, while our responses to colour are inherently Psychological, they can also be influenced by the experiences that shape us, and the Cultural Environment we grow up in. No matter what the prime reason, colours do play an important role in influencing our moods.
In the following section, we will see how we can harness the powers of colours, to foster certain moods.
The Kids Room: Paint Ideas for Girls
Paint Ideas for Girls must bypass the stereotypical route of choosing only Pink. When doing up a kids room for a girl, you might want to try these ideas.
Yellow
The use of Yellow for girls' rooms is great, especially because it is such an invigorating colour. What's more, it is a great gender-neutral shade that does not conform to any stereotype!
Effect: Happiness, excitement and enthusiasm
Green
Who says you have to only use one colour for a child's bedroom? Paint one wall a Vibrant Green, and the others a Soft Sky Blue. That blend of Vibrancy and Calmness will surely be appreciated by your little angel!
Effect: Refreshment, peace and rest
Pink
As much as we don't want to go the traditional route, you cannot avoid Pink if your baby girl can't get enough of it! As in the earlier example, a good idea would be painting only one wall Pink, and the remaining three Off-white.
Effect: Calming emotional energies
White
This is probably the perfect colour to paint the walls of your girl's bedroom with. Not only is it calming, it is the most flexible colour. As she grows up and her room fills up with photos and books, it will give the room a distinct character.
Effect: Quietness and Concentration
Lavender
If your little girl loves Pink, there are good chances she will love Lavender, too! This colour is great for lending a 'Soft' touch to your girl's bedroom.
Effect: Relieves stress and promotes sleep
Kids Room Ideas: Colours for Boys
While Blue might be a classic choice for a boy's bedroom, there's other colours that can work wonderfully well, too.
Choosing Colours for Boys for a Kids Room, can be a whole lot of fun!
Grey
Your boy will love walking into a room that is painted in Grey! This earthy colour with warm properties, will bring him a sense of calm and contentment.
Bonus: Grey is even a great, neutral choice for siblings of different genders that share a bedroom.
Effect: Balance
Blue
No matter what, you cannot rule out the Classics! Like when it comes to the colour of boys' rooms. One of the calmest colours, Blue has even been said to lower blood pressure and slow the heart rate.
Effect: Calmness and relaxation
Orange
If you're looking to add a little bit of warmth and sunshine to your daughter's room, this is the perfect choice. Moreover, there's a variety of cool Orange options to choose from, ranging from Warm Terracottas to Soft Pastel Tones.
Effect: Optimism, confidence and warmth
Brown and Beige
The best part about using these colours, is the fact that there are so many variations you can select from. These work especially well in the case of bright bedrooms where plenty of sunshine comes in.
Effect: Organic, wholesome feelings
Purple
Purple is a colour that parents might want to think twice about, but well worth it if you choose the right shade. Associated for long with royalty, it's the perfect choice for your Little Prince!
Effect: Harmony of the mind and emotions
Paint Colours for Kids: Some additional Tips
Here are some further recommendations, when it comes to choosing paint colours for kids in their bedrooms.
For Nurseries, choose Soothing colours. Pastel yellows, soft blues and pale greens, are all great choices.
Paint a fun Mural. This will lend additional character to their room.
Ask them what they want. Slightly older kids will appreciate your considering their inputs. After all, it is 'their' room!
Use Glitter Paint. You might want to restrict this to only one wall, though.
Protect their Health. Use a low- or Zero-VOC paint, to ensure their safety.
We at EuroKids know well how very important it is to paint your child's room in the right Colour. After all, it's a proven fact that the colour of paint in a child's room can affect their mood. No matter what their age, their Bedroom plays an important role in harnessing the Imagination and Creativity.