Superhero Crafts for Kids – Over 30 Fun and Easy Ideas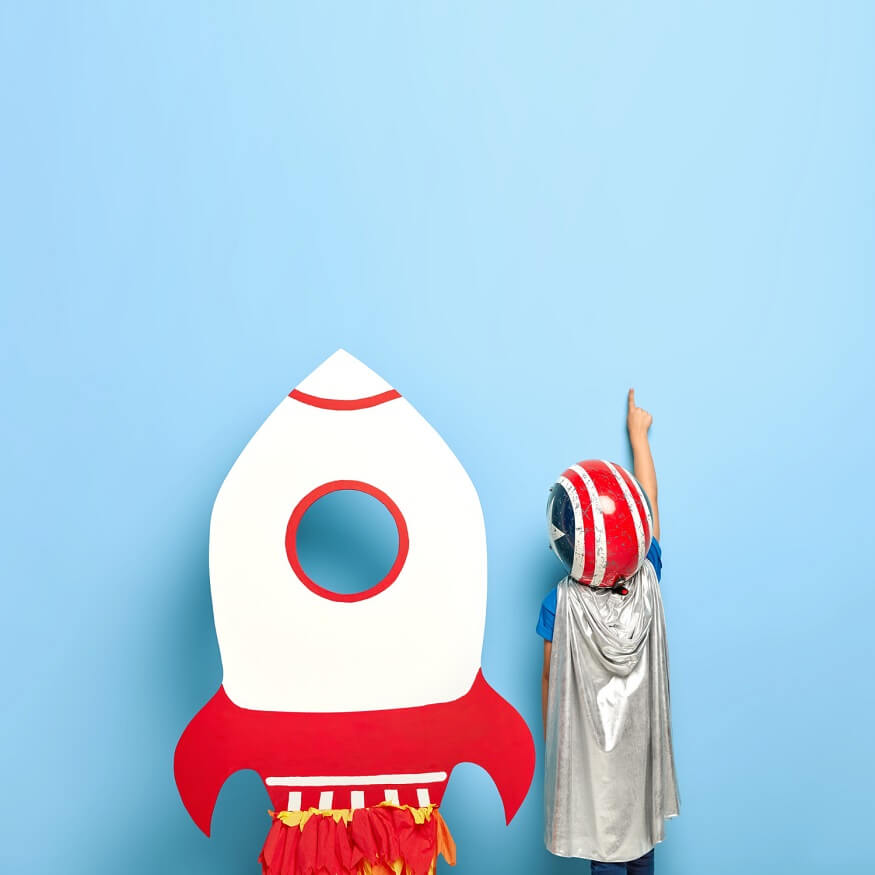 Fun and Easy Superhero Crafts for Kids
Let's face it – every kid wants to be a superhero! Sooner or later you will find them behaving as though they might indeed be one. For instance, lifting their wrists to spin an imaginary web like their favourite Spiderman!
It's best to harness those untamed imaginations and put them to some constructive use, through the use of some fantastic Superhero Crafts ideas for kids. Instead of flying like Superman, children will find themselves content expressing their love of superheroes in a completely different fashion.
Over 30 Fun and Easy Ideas for Superhero Crafts for Kids
These Superhero Crafts for Preschoolers, are perfect for kids of all ages. Are you ready to 'fly' through the best superhero crafts for kids?
#1. Paper Bag Superhero Puppet
One of the coolest superhero crafts for kids, this one.
Take three craft sticks (one per superhero) and glue them together to make a triangle.
While they are drying, grab some card paper and cut out a triangle that will fit inside the card stick's design (for the body of the superhero).
With another sheet of paper, trace a handprint cutout (for the cape).
Cut out the legs, arms, etc. from the remaining paper, and glue all paper pieces on the craft stick along with wiggly eyes!
#2. Batman Handprint Craft
Who isn't a fan of Batman? An example of craft ideas using easy superhero drawings!
Make a black handprint and leave it to dry.
Use a black pen to add ears and to outline Batman's cape.
Paint Batman's 'face' on the palm of the hand, with yellow eyes and badge.
Using a white pen, add a mouth to the face.
With a black marker, add a 'bat' to the badge.
#3. Marvel Avengers Printable Masks
For all young Avengers Fans!
Start by cutting the pieces of the mask using templates (you can find these online.)
Glue the 'A' sign on the middle of the headpiece of the mask.
Glue both wings on 2 corners of the head piece.
Take a wooden craft stick according to the length needed for the mask.
Finish by gluing the stick on one side of the mask.
Repeat for that 'Iron Man' mask.
#4. Hulk Handprint
Who wants some of Hulk's amazing strength? Making a superhero drawing for kids on their hands? What fun!
To do:
Paint your child's hand with green paint, only leaving 2 or 3 fingers. Color them purple.
Make that 'green handprint' on white paper and leave it to dry.
Using white paint, add Hulk's eyes and mouth.
Using a black pen, outline Hulk's face and arms, and other details.
#5. DIY Iron Man Gloves
All kids are fascinated with gloves. Imagine having 'Iron Man' Gloves!
To do:
Put batteries in Red LED Push Lights. Remove the sticker from the adhesive part of the back of the light to expose the white foam piece. Apply a generous amount of adhesive to this.
Place the light directly inside each glove and let the adhesive dry for around 45 minutes.
Place those gloves on the hands of young Iron Man!
#6. Superhero Father's Day Card
Because 'daddy' is their first hero.
Secret: Every day is Father's Day!
Download and print out a Superhero Father's Day card template.
Let your child dip their feet into paint and make a 'footprint' on the printed template.
Add a picture of their daddy's head on top of that foot and draw a red cape behind his head!
#7. Captain America Paper Plate Shield
Captain America to the rescue, yet again!
From a paper plate, cut out a ring shape and from the middle, a circle. Taking another paper plate, cut out a star.
Paint a third paper plate completely with red paint, and the cutout circle blue. Leave these to dry a while.
Glue the white circle hoop on the red plate, and the blue circle in the middle, with the white star on top of that.
Taking a strip of cardboard, glue it on the back to use as a shield!
#8. Superhero Puppets
Puppet play is always fun for little ones!
Download and print out copies of superhero masks and badges.
Cut some oval head shapes from card paper around the same size as the badges.
Glue the superhero mask printouts to the head shape and draw on eyes, mouth, etc.
Glue the heads and badges onto a craft stick.
#9. Toilet Paper Roll Superheroes
Superheroes with Toilet Paper Rolls? Yes!
Paint the top third of your toilet roll beige or pink (for your superhero's head.)
Cut out emblems and logos and glue them on (like a paw print emblem for Cat Girl.)
Add googly eyes.
Glue on superhero masks (like that pink Cat Girl mask.)
Use a marker to give your superhero facial expressions.
#10. Split-Pin Spiderman
Want a Spiderman that really moves?
From card paper, cut out Spidey's leg, arms, head and body.
Make small holes for where the split pins go in.
Paint the card blue and red, before drawing on spider webs using a black marker.
Put Spidey together using split pins before watching him 'move'.
#11. Superhero Masks
Hiding behind masks is always fun!
To do:
Print out free basic mask templates, in A4 size.
Cut out circles and stars out of card paper, for the eyes.
#12. Superhero Cuffs
Yet another great craft idea using toilet paper rolls
Cut a slit all the way down one side of 4 toilet paper rolls.
Flattening 2 rolls, cut superhero shapes from them like stars and lightning bolts.
Paint the remaining 2 rolls (the cuffs) and the 'shapes' in different colours.
Once dried, glue the shapes to the top of the cuffs.
Make a few holes down each side of your cuff openings and lace them up by threading them with yarn.
#13. Batplane
A plane for Batman to fly in? Fabulous!
Draw a bat shape onto cardboard before cutting it out.
From the center of a toilet paper tube, cut a hole large enough for your 'Batman'.
Paint the toilet roll tube and the cardboard bat shape, black. When the paint dries, glue the toilet roll tube onto the bat shape.
Print out and stick on Batman logos, before putting Batman in the pilot's seat.
#14. Superhero Blocks
Have some old Jenga blocks you don't use?
Download images of Superhero logos you wish to use, and size them to fit those Jenga blocks.
Using a pencil, shade the back side of the logos so you can trace them onto the blocks.
Fill in the transferred images using paint pens.
#15. Paper Plate Batman Craft
Paper plates are so versatile!
Paint a paper plate entirely in blue, after making a slit in its center.
Print out a Batman skyline template and use it to cut out 'Gotham City' out of black card paper. Glue it on the paper plate, just above the slit.
Cut out tiny white 'windows' from the printer paper before gluing them onto the black apartment flats.
Cut the Batman sign out of yellow card paper. Colour the craft stick with a black marker before gluing the Batman sign at the top of the stick. Placing the stick inside the slit, move it from behind the paper plate.
#16. Superhero Goggles
Superhero goggles with egg cartons!
Cut out sections from an egg carton so that you have 2 shapes that resemble 'mountains with craters'. Punching a hole on both sides, cut out eyes from the bottom of the carton.
Paint and decorate your 'goggles', before letting them sit out to dry.
Fold a large pipe cleaner in half. Then fold it around itself before guiding one end through the hole you punched. Twist to secure before doing the same on the other side.
Put on those 'goggles' and get the bad guys!
#17. Iron Man Toilet Paper Roll Craft
Iron Man is back in the spotlight!
Measure red construction paper, cutting out enough to go completely round the toilet roll tube.
Cut out the shape of Iron Man's face (you can use Google Images) and a nickel-sized circle out of yellow construction paper.
Cut out small white rectangles and a dime-sized circle out of white construction paper, for the eyes and core.
Paste the red construction paper around the toilet paper tube, before gluing the other pieces on.
#18. Cardboard Tube Superman
ou can't keep Superman out of the picture for too long!
Using a glue stick, cover a 4-inch cardboard stick with blue paper.
Cut out the 'head' section from white paper. Color the face peach before colouring the remaining area (the hair) black. Use black markers to add the eyes.
Cut out 'pants' from red card paper and glue them around the tube. Also glue a strip of yellow paper (the belt) above the pants.
Cut out a superhero emblem from yellow paper. Drawing a red outline around this emblem and an 'S' in the middle, glue it to the chest.
Cut out a 'cape' from red paper and glue it to the back.
#19. Thor Helmet
Superheroes need protection. Even Thor!
Cut out wing shaped 'side pieces' from paper plates.
Cut out a long strip from cardboard to make the headpiece. Note: This needs to go down slightly to where your child's nose will be.
Paint all the pieces before leaving them to dry overnight. In the morning, paste them to get armed and ready with that protective helmet!
#20. Paper Bag Batman
You only need the simplest things like paper bags, to create stellar superhero crafts.
Cut out Batman's 'ears' that will go at the top of a brown paper bag.
Paint the paper bag black at the top and bottom, before painting it white in the middle (for Batman's face.)
Draw Batman's eyes on white paper, before cutting them out and gluing them on top of the paper bag.
Glue a Batman logo on the bottom of the paper bag, before using a black marker to draw Batman's mouth.
#21. Superhero Slime
Superhero Erasers and slime make for this wonderful Superheroes Craft Idea.
Pour 3 tablespoons of liquid starch in a glass, and swish it around to prevent it from sticking.
Pour some glitter glue in the mixture and mix it well. Note: If the slime is too sticky, add more starch. In case it is too runny, add more glue.
Throw superhero erasers in the mix. Stretch or bend the slime for a wondrous tactile experience.
#22. Superhero Strawshooters
Simply too much fun, this one!
Using online templates, print out, colour and cut out the superheroes of your choice.
Cut a 2-inch by 2-inch square out of a piece of paper, and fold it over one end of a straw. Wrapping the sides around, tape it into place. Note: You want this to fit closely, but be able to slide it on and off.
Tape your superhero to the paper cap you just created, before having your child blow on the other end and have their favourite 'hero' fly.
#23. Teenage Mutant Ninja Turtles Handprints
One of the cooler Handprint Craft ideas.
Painting your child's hands green, make handprints on white card paper.
Use a single finger or thumb to create 'legs'.
When it is dry, mix a little yellow and orange paint to make the shell colour. This can be painted by making four connecting circles on what will be the 'tummy area' of those turtles.
When it is dry, paint a bandana on the head (Red for Raphael, Blue for Leonardo, etc.)
After adding a second coat and letting it dry, use puffy paint for the eyes.
#24. Spiderman Grass Pot
Let's take that fun with crafts outdoors, shall we?
Print out the logo and face of Spiderman, cut them out and place them on the pot to outline.
Paint the background of the pot blue. Use a black sharpie for the Spider Web and red and white acryclic paint respectively, for Spiderman's face and eyes.
Fill up the pot with soil and plant those seeds!
#25. Capes for Stuffed Toys
Want to turn your favourite stuffed toy into a superhero?
Take felt paper and cut it in the shape of a cape.
Cut out a large hole big enough for your stuffed toy's head to fit into, at the top of the cape.
#26. Thor Stormbreaker Axe Bookmark
Great to use when reading books about superheroes!
Paint a craft stick brown and allow it to dry completely.
Trace the top part of Thor's Stormbreaker, using pencil on gray card paper, and cut it out.
Using hot glue, attach the Stormbreaker piece on the top of the craft stick.
Take DMC floss and wrap it around the top of the Stormbreaker piece, using a bit of hot glue to secure it on the back.
#27. DIY Superhero Teacher Appreciation
What better way to show appreciation for their teacher, than with something handmade?
Cut a 5-inch by 5-inch square out of red card paper.
Wrap the square around a candy bar of your choice, to make a cape. Make a crease down the sides to help show you where to add tape, before removing the candy bar.
Rolling a few pieces of tape to make both sides sticky, place a small piece at each of the top corners and in the middle at the top.
Place the candy bar back inside the card paper and press the tape down to put it in place.
Decorate that 'superhero face' and you're good to go!
#28. Cardboard Tube Batman
Why only Superman? Batman wants that cardboard tube fun, too!
Using a glue stick, cover a cardboard tube with light blue paper.
Cut the mask section from black paper. Cut a piece of white paper to fit around the mask, making sure you leave a little excess around it so you will be able to glue it to the back of the mask.
Coloring white paper with peach crayon, glue it to the back of the mask.
Cut out small eyes from yellow paper and glue them to the front of the mask. Then glue the mask to the cardboard tube.
Cutting out a strip of yellow paper for the belt, glue it to the top of the pants. Then glue the bat to the chest and cape to the back.
#29. Hulk Slime
Yet another 'slimy' craft idea!
Placing glue in a large bowl, add 8-10 drops of food colouring until you reach the shade of green that you desire.
Mix well, before adding shaving cream and baking soda. Then, mix again.
Add saline solution and mix.
Knead until you have a slimy, puffy consistency.
#30. Batman Cork Figure Craft
Those cork figures are great to play with, and how!
Start by making ears for Batman's mask out of card paper.
Cut off 2 small pieces of pipe cleaner and fold them in half. Then, make 2 small holes in the top of a cork using a skewer. Putting a bit of glue on the ends of the pipe cleaners, insert them into those holes.
Use acrylic paint to paint the cork. You can use dark grey for the bottom, for Batman's body, and peach for his face. When the paint dries, color those ear cutouts black and paste them onto Batman's head (after you have painted Batman's 'mask' black, too.)
After the black paint has dried, use yellow paint to add Batman's eyes and badge.
Finish off by sticking a piece of felt to Batman's back, for his cape.
#31. Captain America Mask
A cool mask with tissue paper!
Print a Captain America mask template on white card paper. Note: You want to use the 'fit to page' option, to ensure the mask is child-sized.
Cut along the outline of the mask and inside the two eyeholes.
Punch 2 small holes into the circles beneath the wings.
Measure your child's head and cut the elastic to that length, so that your mask is ready to use!
At Eurokids, we believe that any kind of Superhero Play allows children to develop detailed storylines and narratives. Besides presenting children with opportunities to problem-solve and resolve conflicts, these wonderful superhero craft ideas outlined here will also go a long way in helping them explore the triumph of good over evil.