15 Easy Craft Ideas and Activities for Kids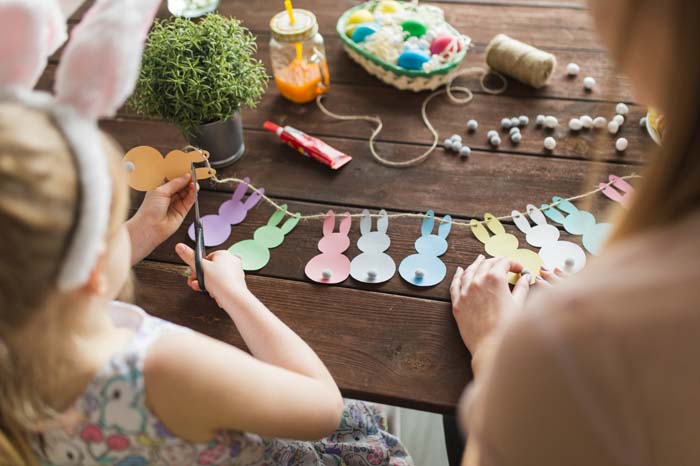 If you're looking to keep your toddlers engaged without ordering tons of stuff on Amazon, you can explore the vast gamut of craft ideas outlined here. Introduce these to your kids; you will have all you need for a rainy day. And sometimes, when the sun is shining, too! Enroll your kids in preschool for learning fun creative activities.
Here are the 15 Easy Craft Ideas and Activities for Kids
1. Paper Plate Ice Cream
Who wants ice cream?
Requirements: Paper plates, brown paper, crayons, sprinkles, glue, and scissors.
Cut out ice cream scoop shapes from the paper plates and cone shapes from the brown paper. Color the scoops with the desired flavor and stick the cones to them. Add sprinkles, and you have ice cream that's ready to serve!
2. Moon Sand
No need to go to the beach to build a sand castle!
Requirements: Flour, oil
Have your toddler create their own 'sand' by simply combining flour and oil. One of the craft activities that make for a great tactile experience.
3. Paper Flowers
Time to bring out the budding florist.
Requirements: Card paper of different colors (white included), glue, scissors.
Trace six circles, one each on differently colored card paper, and cut them out. Fold them in half. Then stick these 'petals' alongside each other on white paper and add a green 'stem' with a marker!
4. Painted Pasta
You can eat your food and wear it, too!
Requirements: Watercolours, plenty of string, pasta (preferably rigatoni).
Let your kids use all the colors they like to color the pasta. Leave the pasta overnight to dry, and the following day, pass strings between several sets of pasta pieces to make exquisite pasta necklaces.
5. Paper Plate Donut
Ask your children what they need to do to turn a paper plate into a doughnut. No prizes for guessing! One of the coolest craft ideas.
Requirements: Paper plate, acrylic paints, rainbow sprinkles.
Cut a hole in the centre of the paper plate, then paint it with brown paint to resemble a chocolate doughnut. Don't forget the icing with pink paint! Leave to dry and garnish with rainbow sprinkles!
6. Squirt Gun Paint Fun
One of those easy craft ideas best taken outside.
Requirements: Squirt guns, watercolor paper, liquid watercolors, and an easel.
Attach a couple of watercolor papers to either side of an easel. Then have your kids go to town with that squirting madness.
7. Paper Rainbow and Cloud
Create personal rainbows with one of the cooler easy craft ideas.
Requirements: Coloured paper (all colors of the rainbow and white), scissors, black marker, and glue.
Cut the colored papers into long strips. Cut out a cloud shape from the white paper and stick the rainbow-colored strips to its bottom. Use the black marker to add 'cloud eyes'.
8. Fingerprint Daisy
A cool way to make an 'impression'! One of those timeless craft ideas.
Requirements: White paper, ink pads, washable markers, green markers and most importantly, fingers!
Gently stamp the index finger on the white paper to create the daisy centre, and then 'stamp' the petals around it. Using a green marker, draw the stem and leaves.
9. Toilet Paper Man
Chances are your kids have heard of the Boogeyman. What about Toilet Paper Man?
Requirements: Toilet Paper roll, white paper, black marker, glue.
Draw a face in the centre of a sheet of white paper with a black marker. Then stick the paper around an empty toilet paper roll. A straight line for a constipated face is a bonus! One of the fun activities to keep your child engrossed.
10. Magic Milk Fun
Milk can be magical, too. Craft ideas like this never go out of style.
Requirements: Milk, a bowl, food colors, dish soap, and a toothpick.
Add food colors to milk in a bowl. Dip a toothpick in dish soap, put it in the milk, and watch the colors swirl 'magically'.
11. Ice Cream Stick Kitty
Hello Ice Cream Stick Kitty!
Requirements: 5 ice cream sticks, a black marker, and some glue.
How to: Glue three ice cream sticks alongside each other. Paste two beneath them for the cat's legs, and one diagonally underneath the two, for the tail. Use the black marker for the eyes, nose, and whiskers. One of the fun activities for pet-loving kids.
12. Liquid Chalk
Spoiler Alert: Things are going to get messy.
Requirements: Cornstarch, vinegar, water, baking soda, and food coloring.
Mix a large batch of the ingredients and let your kids go haywire, creating art on the sidewalk.
13. Paper Plate Pizzas
What's better than pizza on a paper plate? A paper plate pizza!
Requirements: A paper plate, red paper, paintbrush, colored paper, black felt, and scissors.
Paint the paper plate red for the pizza sauce. Add generous toppings in the form of thinly cut bits of colored paper. Top it off with black felt for olives!
14. Toilet paper Ladybug
Want to create a ladybug?
Requirements: An empty roll of toilet paper, red, white, and black paper, glue, and scissors.
Paste black paper around the empty toilet roll. Paste small oval white paper cutouts on it for the eyes. Cut a large circle out of red paper. Further, cut it into two semicircles for wings. Using a black marker, draw large black spots on the wings and attach them to the main 'body'. Finish with two thinly cut 'antennae' from black paper pasted inside the roll.
14. Egg Carton Crabs
Crab curry might do the trick for you, but this is the real deal for kids.
Requirements: Empty egg carton, acrylic paint, glue, scissors, and acrylic paint.
Cut a cup from the empty egg carton, and paint it red for the crab's body. Use pipe cleaners for the legs and claws. Watch Crabzilla come to life!
Arts and crafts skills go beyond merely keeping your kids busy. They develop their analytical and reasoning skills, apart from tickling their curiosity. Use the craft activities listed herein to keep your children happily busy for hours.
Visit EuroKids Blogs for more such information.