Stimulation programs for toddlers: boosting cognitive development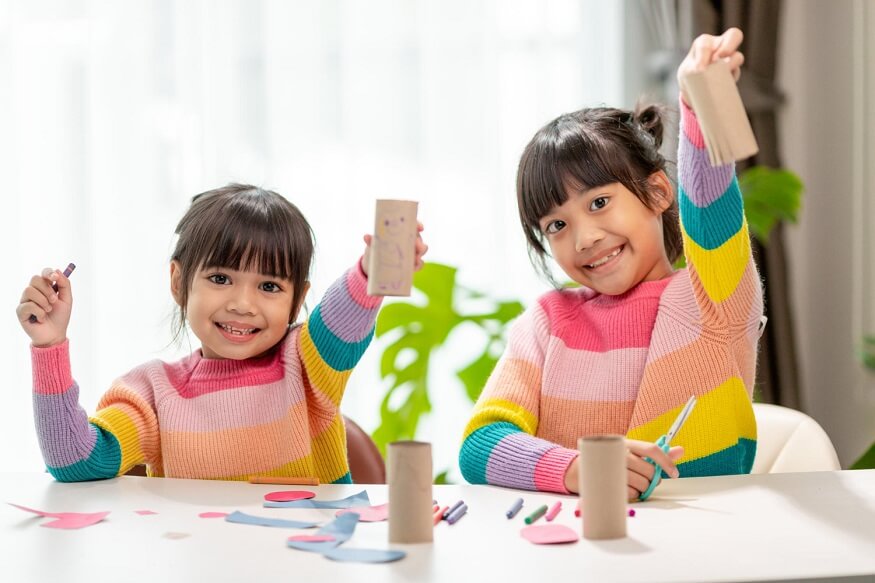 It will not be entirely wrong to say that toddlers need sensory stimulation all of the time. Except when they are resting or sleeping of course.
During toddlerhood, their brains and bodies are rapidly evolving, being rife for the right the kind of stimulation that can actually aid in their overall development.
Now as parents you might be constantly on the hunt for exciting, easy and achievable at-home sensory activities for your baby, but sometimes the simplest solution is to let the professionals handle it!
We know that with a 9 to 5 job-oriented lifestyle, it can become increasingly difficult to constantly find ways to engage your child in activities that boost their sense and define their skills. However, at EuroKids, we have got the perfect fix for your problem.
Improving infant and toddler development through EuroKids' stimulation programs
Presenting EuroTots! Our toddler transition program has been made to offer your child a safe space to learn, play, grow and get ready for the era of preschool that is the next step in the pipeline.
There is more! Not only is it the perfect transition program, but it is also replete with activities that stimulate the senses of your child and help unlock their potential to develop their fine motor and cognitive skills to the fullest.
In fact, to ensure that your child gets the perfect avenue to learn via play, we have come up the following stimulation activities as a part of our early learning program for toddlers:
EuPhonics

Designed to aid in infant and toddler development, EuPhonics is our language learning program that helps your kids build a strong foundation of English vocabulary. Through this toddler program, we teach them the sound of every single alphabet before teaching them words that begin with said alphabet.

By involving their auditory senses in the sounds of each letter, toddlers are better able to string together individual alphabets to form simple two-three letter words on their own. This program's goal is to give kids the autonomy to figure out simple words on their own simply on the basis of the sound of each letter.

We make use of audio-visual lessons in the classroom, making use of engaging animations in bright colours so kids are drawn towards learning their alphabets in a fun and unique way.

EuroFit

We believe toddler development should be geared towards building auditory and visual perceptions and we use our EuroFit program for that!

Each of our franchises spread across different cities come with a dedicated indoor and outdoor play area where kids can harness the power of their newly developing motor skills.

For example, we conduct yoga time once a week wherein we teach toddlers basic yoga poses, which can help calm any anxiety they may feel while offering them the chance to creatively express themselves through movement.

We also spend a day each week developing your child's visual perception and gross motor skills through colourful toys such as bumper cars which give them a sense of control and direction, thus improving their hand-eye coordination.

What's more, outdoor free play helps kids exercise their bodies and develop new skills such as running, catching and more!

EuroMusic

Inculcating spatial relationships is such an important part of toddler development. To teach our kids about the concept of spatial relationship, we conduct EuroMusic classes once a week!

Through this class, we make it a point to develop an ear for music in children. We bring different musical instruments to class ranging from the tambourine to drums, bells, whistles and more so kids can pick an instrument of their choosing and develop interest in it.

We also use music to make learning a thoroughly enjoyable process. For example, we combine movement with music so kids can improve their coordination skills. We also play thematic music to teach kids about things like nature, animals and the world in general.

MathLab

Think sensory bins, abacus, sorting games, toys of different shapes and sizes more. These are just some of the things we use in our MathLab class to teach kids the basic concepts of numbers, addition, subtraction, and distances among other things.

By making maths fun and colourful, we lay a strong foundation of numbers in our students so they can grow up to be adept at basic addition, subtraction, division and multiplication. Plus, a strong foundation ensures that they will be better equipped to grasp complex maths problems as they grow older.
Know all of the features of our toddler transition program
As we have said before, we aim to improve cognitive development in toddlers among other things. Our EuroTots has been carefully conceptualised by leading experts of the education industry, and has several features to boast of.
By following a well-defined timetable of learning activities and play-time, we are able to build a sound routine for your child – one they can get comfortable with so they can make the habit of following routines.


Through initiatives such as partnering students up, teaching dance and music among others, we are able to build confidence among our kids, which they require to attend preschool.


We also help develop the interpersonal and social skills of our students by regularly conducting group activities during classes.


Through the use of colours, textures, sounds and more, for the purposes of learning, we ensure your kids all-round sensory development.


Our EuPhonics program has been specifically designed to build and improve your child's linguistic skills.


We conduct plenty of arts and crafts activities throughout our program, giving your kids a chance to exercise and develop their fine motor skills.


Our programs are also geared towards improving your child's visual and auditory skills as well as to teach about spatial relationships.
EuroKids is your best bet to ensure your child has an easy time transitioning from home to school. We ensure your kids get the kind of individual attention they deserve by maintaining a healthy teacher-to-student ratio. If you want to know more about our EuroTots program, just drop by at one of our centres throughout the country.