Nature Crafts for Kids: Creative Art Inspired by Nature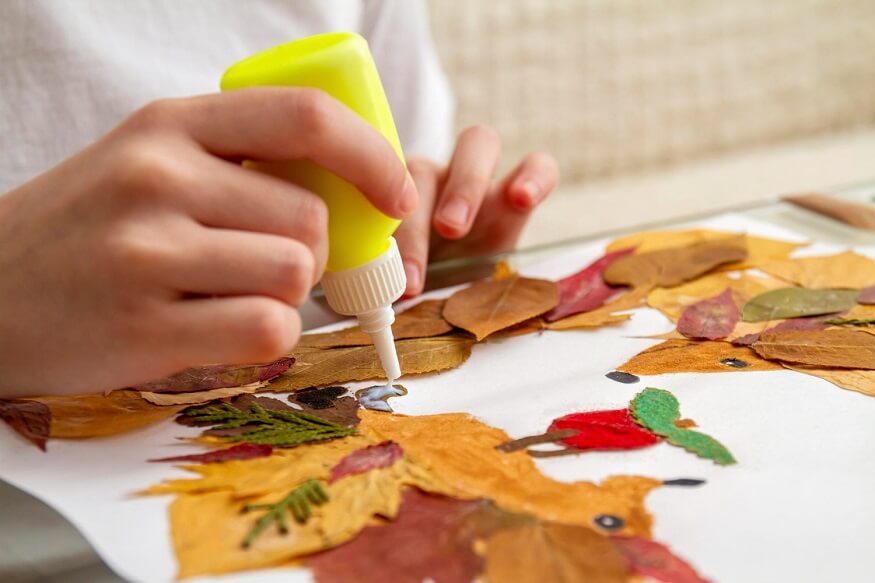 There's no Art that can beat the Masterpiece that is Nature!
From Serene Oceans to Resplendent Mountains, nothing can take away from the splendour of Nature's Creations. It is little wonder, then, that Nature is the best place to turn to, when looking for inspiration to create stunning Art.
Plenty of artists over the passage of time have found inspiration in Nature's Wonders, and so can your little ones!
In this article we have specially curated for you, some Nature Craft Ideas that are sourced from Nature. When it comes to choosing the perfect Nature Crafts for your kids to create, you need look no further.
From Nature Crafts for Kids to Nature Activities, we have it all covered here. Read on for some cool, Nature-inspired Craft Fun!
Fun and Easy Nature Crafts and Activities for Kids
It's time to encourage your kids to go on an adventure, and collect some natural objects that will make for some beautiful pieces of Art.
Leaf Faces
The simplest things in life are also the most beautiful!
To do: Have your child collect things from nature, like the following.
Leaves in all sizes, shapes, colours
Sticks
Pine Cones
Flowers
Let them use large sheets of white paper, to make 'faces' from the objects they have collected. This is one of those Nature Crafts that is not only extremely addictive, but can be played by kids both big and small.
Rock Painting
Perhaps one of the best parts of this wonderful activity is collecting the rocks that are to be painted!
To do: Have your child go out in nature, to gather some rocks that are smooth and flat. They have to wash them and let them dry completely, before painting them. Then let them go ballistic, painting those rocks in all the colours and designs that they wish.
Clay Imprints
Looking for some good Nature Craft Ideas? Try one that makes a good Impression!
To do:
Have your child collect some flowers, They can do this in the backyard or anywhere outdoors.
They have to take a large lump of clay and break it into a few pieces. Then, they have to roll those pieces of clay flat.
After that, they must place a flower on a bit of clay and roll over it gently with a smooth water bottle.
When they remove the flower, Voila! They have a beautiful Flower Impression in Clay!
Leaf Puppets
Again, this is one of those Nature Crafts for Kids that can be created using leaves.
To do:
Go with your child for a walk, and have them collect as many leaves as they possibly can. Then, get to work making those Leaf Puppets!
You want to begin by using some chalk pens, to draw on those leaves.
Once they have dried, stick them to the top of craft sticks.
Add googly eyes so that those puppets can 'see!'
Bug Hunt
Those tiny bugs that you ordinarily deem as pests, might actually be the very creatures your little ones will cherish! If you're looking for Nature Activities, this is one you don't want to miss out on.
To do: All you need to do is give your little Bug Explorer a magnifying glass, and set off with them to find bugs. You will be surprised at the myriad bugs you might discover in your backyard itself. This is a great exercise to help children discover all the different colours bugs come in, and even things like how they build homes.
Nature Frame
This great craft idea will help kids preserve the beautiful memories of times they have spent frolicking in Nature's lap.
To do:
Firstly, of course they must collect those 'Bits of Nature.'
Take a cardboard piece, trace the outline of a photo in the middle and then cut it out. From this, trace out another smaller photo and cut it out to make that photo frame.
Taking some tape, secure some twine to the frame.
Gently pull up the twine, to insert things like flowers and ferns in it.
Place a piece of wax paper on top of the flowers and frame, and place a heavy book on it. Then leave it to dry.
Check back in a week. Your flowers should be dry, and the wonderful detailing would have made for a great picture frame.
All that is missing is a lovely picture to go with the frame!
Backyard Plant Identification
If you're looking for one of those Nature Activities your child can indulge in at home itself, this one's a classic example.
To do: Simply go out to the backyard with your little one, telling them they have to identify as many different types of plants as they can. Ask them to point out all the differences between the different flowers on the trees. This wonderful activity will get them thinking about the shapes of the branches and stems, and even how tall and short those plants are.
Nature Paint Brushes
Creating Paint Brushes using items found in Nature? Yes, it's possible!
To do:
Have your child collect a few twigs that are commonly found in all backyards.
You will need a stick for each paintbrush that you will create by adding something to the top of each stick. Things that will create different textures using paint, like flowers, feathers and moss.
Let them dip their paintbrushes in paints of their choice, and have a ball painting!
Float and Sink Experiment
Science Experiments make for some fun Nature Activities, too!
To do:
Let your child collect an assortment of items from Nature. Like twigs, leaves, feathers.
Let them place the items they have collected, one by one, in a tub of water. They will come to see which float, and those that don't.
At EuroKids we believe that exploring Nature through Arts and Crafts, is a fine way for children to develop an appreciation for the world they live in. Let your kids have a blast, while creating Art that is inspired by Nature.