Road trip preparation checklist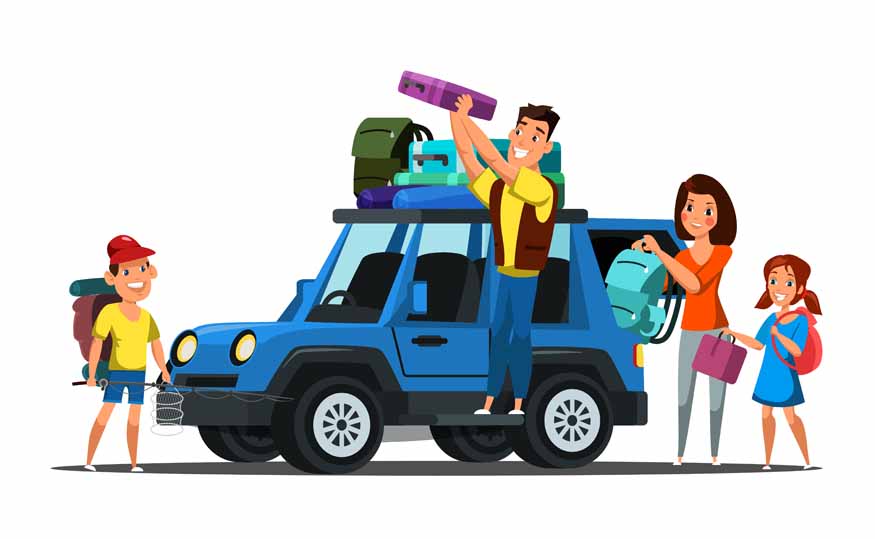 Do you know what time it is? It is time to plan a roadtrip with your kids! Hooray!
A road trip can be such a great opportunity to bond with your kids, fuel their curiosity and thirst for adventure and teach them all about being a team together. Not to mention it gets the kids away from their screens, so that is a big bonus! That said, a lot goes into planning one perfectly so there are minimal instances of those occasional and excusable hiccups, especially if you are planning a road trip.
The good thing though is that you are in luck! We have prepared a long road trip checklist for you so that there are no misses, only hits during your family vacation.
Get your car in order before you hit the road

You do not want it to break down, run out of gas or lose a tire in the middle of the trip, do you? Prepping your car before your trip is one of the first things you should do.

A week or so before the trip, send in your car for maintenance in your local garage shop. Get it thoroughly checked inside-out to ensure it is running well and get it fixed if your mechanic finds any faults whatsoever. After all, safety comes first. Be sure to get an extra tank of gas, a spare tyre and a bottle jack too. You never know when you may need these during your road trip.

Pick out snacks for the trip

And make sure they are healthy! Food is an essential part of a road trip packing checklist.

That said, while it is okay to pick up a couple of guilty treats here and there, ensure the majority of the snacks you get for the ride are made of healthy ingredients. Unhealthy, fried or sugary snacks can sap the energy out of your kids. Not to mention the sugar crash that comes after, and you know that kiddie tantrums are coming your way. Healthy snacks such as nuts, fruits, protein bars, energy bars etc. can give your kids a good dose of nutrition and energy while keeping their tummy full. You can involve your kids in the shopping process so they can get snacks they like too.

Organise your ride

Once you are done shopping, scope out the insides of your car. Do you see it piled with a lot of things you forgot were there? Well, it is time to clean them out!

Get your kids to join up in the clean-up process. Discard any junk you find and remove any other item of use that you will not need during your road trip. Trust us, you will need all the space you can find to pack in your luggage, snacks, drinks and any other additional gear you may need for your destination. As soon as you are done, clearing it out, have some fun washing the car and vacuuming its insides with your kids.

Pre-install any apps you may need for your trip

This is a road trip checklist time that is often saved for the last minute. But that is not a good idea. On a road trip, there is no way to determine if you will get good enough reception which allows you to conduct data-intensive tasks such as downloading or updating your road trip-essential apps.

Instead, we suggest downloading anything you need before your road trip. Whether it is music for the ride, games for your kids, audiobooks for your family to enjoy or destination-related apps that help you better explore the neck of the woods you are in.

Carry all your necessary tech

We are talking flashlights, chargers, adaptors, cables, headphones, cameras and their spare batteries and any other portable tech you may need to have a complete and hassle-free road trip experience with your family. Throw in a compass too! You never know you might need it while hiking or walking on a forest trail.

We also suggest updating your maps app beforehand because that is one app we are sure you will be using a lot. Probably the most of them all. Also, since it is likely you will be carrying a lot of gadgets, get a two-port car charger too so you can charge multiple devices at the same time. We suggest investing in a power bank might also be a good idea.

Make sure there is an emergency kit too

God forbid an emergency arises, but just in case there is an emergency type situation, it is better to be well prepared. Here is what should be a part of your emergency kit:
Crepe bandages
Antiseptic lotion
Antiseptic cream
Medicines for fever, headache and stomach upset
Mosquito repellent lotion
Ointments for cuts and scratches
A roll of clean, sterile cotton
A pair of scissors
A pair of sterile eye dressings
Safety pins and tweezers
Sterile gloves that are disposable
Thermometer
Different sized plasters
Skin rash cream
Antihistamines for possible allergies
Distilled water for cleaning any wounds
Do not be intimidated by the list. Being well prepared is actually a wise thing to do. And you never know when there is an attack of mosquitoes or an innocent while out and about and exploring.
Some extra tips for family road trip checklist
Let us do a round-up of all the things we suggest you must have while going on your family road trip. Here is a list:
Disposable cutlery – plates, forks, knives, spoons, bowls etc.
Ziploc bags
Tissue boxes and paper towel rolls
Wiper fluid
Extra can of gas, petrol or diesel – whatever your car runs on
A gallon of water
A pair of warm blankets
Hand sanitiser
And some activity books for your kids to prevent them from getting jumpy or anxious during long hours on the road
Phew! That was long, was it not? But the good thing is now that you know about everything you need to possibly pack for your road trip, there are lower chances of forgetting to pack something vital. Which means you will be all set for a successful, happy and memorable family road trip!
At EuroKids, we believe that travel can be a very enriching experience for a child. Especially in the form of a road trip, where they get the chance to explore nature and learn how to work together as a team with their family. We try to inculcate the spirit of teamwork by frequently conducting team-based classroom activities. We also try to develop an appreciation for nature in our students by having outdoor lessons such as gardening, bird watching and more. To know more about our intuitive learning process,