The Top Toddler Coloring Books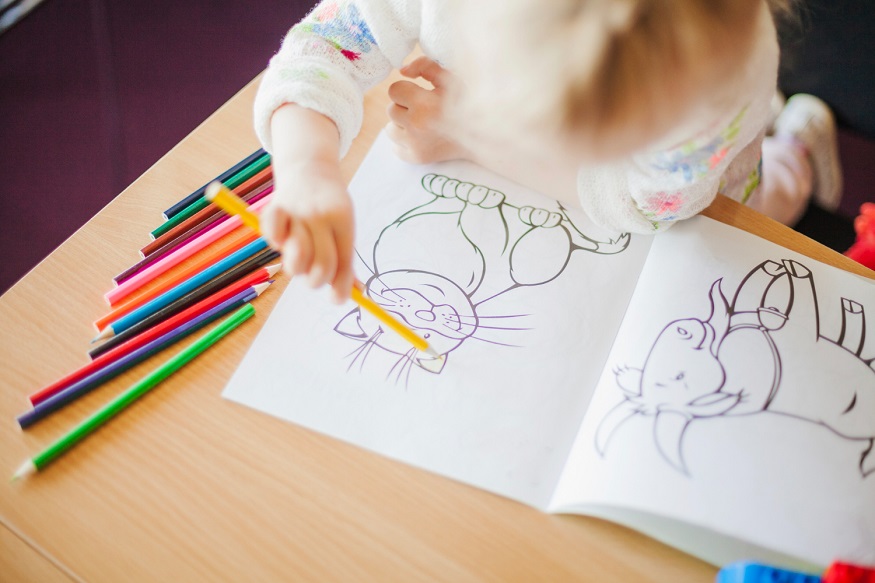 The Top Toddler Coloring Books
Aren't those cute little coloring books for toddlers beautiful? Children are always attracted to colors, so what could be better than a baby coloring book to keep them engaged and give them an interactive space to explore their creativity? There are a lot of coloring books for 2-year-olds available in the market, which makes it confusing for parents to decide which one to buy for their little one.
Let's deep dive into the best coloring book for toddlers and color activities for preschoolers. Are you seeking an engaging way to develop your toddler's motor skills and spark their creativity? Look no further than a high-quality baby coloring book!
Why Are Coloring Books Important for Toddlers?
Before diving into the best coloring books for toddlers, let's explore why color activities for preschoolers are so valuable.
1.Developing Fine Motor Skills
Coloring is a fantastic way to help toddlers develop their fine motor skills. The simple act of holding and manipulating a crayon helps them to practice their hand-eye coordination and refine their dexterity.
As they color, toddlers learn to control the movement of their hands and fingers, which is essential for developing the fine motor skills necessary for writing and drawing.
2.Encouraging Creativity and Imagination
Coloring is a beautiful way to encourage your child's natural creativity and imagination. Not only do they get to choose the colors they want to use, but they can also create their unique designs and patterns as they color.
Additionally, coloring can be an excellent way for toddlers to express their emotions and feelings. By providing them with a safe and creative outlet, you can help them to process their challenges and stress. It will also help them healthily cope with their emotions.
3.Improving Focus and Concentration
Coloring requires focus and concentration, essential skills for young children to develop. Through the simple act of coloring, toddlers learn to concentrate on a single activity for an extended period, improving their attention span and ability to focus on tasks in the future.
Furthermore, coloring can be a calming and meditative activity for young children. By focusing on the task, they can learn to regulate their emotions and reduce feelings of stress and anxiety.
Top 5 Toddler Coloring Books
Coloring books for toddlers are a great way to keep young ones entertained while also helping them develop skills like hand-eye coordination, color recognition, and creativity. It can be confusing to pick the best from all the options available in the market. Here we are compiling a list of the top five coloring books for toddlers.
1. Tany Emelyanova My First Toddler Coloring Book– Best for Animal Lovers
This delightful baby coloring book is perfect for toddlers who love furry and feathered. With more than 50 unique animal designs, your child will love exploring the colorful world of big and small creatures.
The book also includes fun facts about each animal, helping your child learn as they color. Your child will love discovering many fascinating facts while coloring their favorite animals.
The quality paper ensures that the designs stand up to repeated coloring, while the sturdy binding means the book can be enjoyed repeatedly. Plus, your child will never get bored with so many animals to choose from!
2. Silly Bear Unicorn Coloring Book- Best for Learning Shapes and Colors
This is the perfect choice if you're looking for a baby coloring book to help your toddler learn as they play. Each design in the book focuses on a different shape or color, helping your child understand these crucial concepts in a fun and engaging way.
As your child colors in different shapes and colors, you can talk to them about what they're doing. "Can you find all the circles?" "What color is the sun?" This type of interactive play helps reinforce what they're learning and makes it more fun for both of you.
3. Little Bee Books My First Big Book For Coloring– Best for Creative Expression
This is the best coloring book for 2-year-olds, and it encourages your child's creativity and imagination with a diverse range of designs to choose from. From fantastical creatures to imaginative landscapes, the book is designed to inspire your child to create unique designs and patterns.
As your child colors in the designs, encourage them to think outside the box. "What color would an elephant be?" "Can you make the flowers rainbow-colored?" Such questions will keep them engaged in open-ended questions and enable their creative streak.
The high-quality paper and sturdy binding ensure the book can be enjoyed for years, while the educational content helps your child learn as they play. Perfect for encouraging your child's natural talents and individuality.
4. Di Books 100+ Characters Coloring Book for Kids – Best for Character-Based Fun
Searching among the best coloring books for 2-year-olds? Look no further; this coloring book is based on popular children's characters and is perfect for toddlers who love their favorite TV shows and movies. With familiar characters to color, your child will love exploring the world of their favorite shows and movies in a new and exciting way.
The book includes characters from various popular shows and movies, so there's something for everyone. Whether your child loves Paw Patrol, Frozen, or Sesame Street, they'll find something to enjoy in this coloring book.
5. Happy Toddlerz My Best Toddler Coloring Book– Best for Travel and On-the-Go
Perfect for busy families, this coloring book is designed for on-the-go fun. The small size means that you can easily take these coloring books for toddlers on trips or outings, while the sturdy binding and quality paper ensure that the designs are inevitable to wear and tear for travel.
Among all the coloring books for 2-year-olds, this book includes a range of themes and designs to keep your child engaged and entertained, making it an excellent choice for long car rides or plane trips. Whether your child loves dinosaurs, princesses, or outer space, they'll find something to enjoy in this coloring book.
Conclusion
With so many great options available, choosing the right coloring book for your toddler can be daunting. By keeping the essential features in mind and considering the top books available, you can ensure that your child is engaged, entertained, and learning color activities for preschoolers as they explore their creativity.
Keeping kids engaged in fun activities like coloring and painting is a part of the diverse curriculum at Eurokids Preschool. Contact us today or visit the nearest Eurokids center to learn more about our programs and curriculum.