Mango for Babies – Health Benefits and Recipes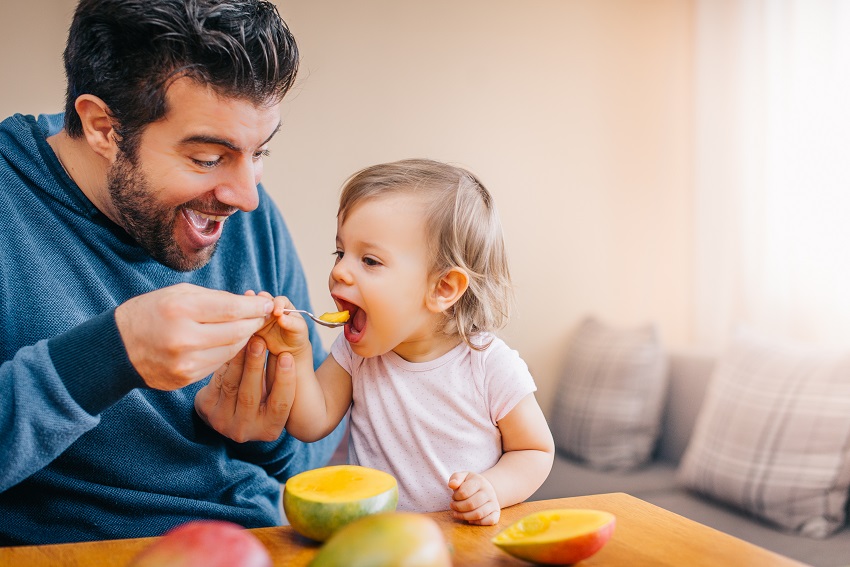 It's that time of the year again! When you're flocking to the vendor to get the best possible price for those tasty, tropical 'mangoes'. This time round, you might want to get some more for the baby! Mangoes can, after all, confer them with several wonderful benefits.
When is it right to give Mangoes to Babies?
Mango is an excellent choice of fruit for babies, but only from 6 months of age when they are eating solid food. What you want to do is first start them off by having them eat it in pureed or mashed form. Once they are 9 months old, you might then consider giving them bite-sized mango pieces. In the case of baby-led weaning, you can even give them thinly sliced wedges without the peel, to hold and eat.
What is the nutritional value of a mango?
Before we get into the many wonderful benefits of eating mango for babies, here's a look at all the nutrients this wonderful fruit is laced with.
One mango contains:
Vitamin A – 210 mcg
Protein- 0.5g
Calories – 55
Carbohydrates- 11.3g
Folate- 90.43ug
Vitamin B6- 0.1mg
Vitamin C – 29.08mg
Copper – 0.07mg
The Health Benefits of Mango for Babies wellHealth
There are several wonderful benefits of mango for kids. Here's a look at some of them.
Better Digestion
If your baby is having mango, you can rest assured it will help them avail of benefits like better digestion, zero constipation and a far lesser risk of developing acidity.
How: Mango is packed with fiber and digestive enzymes.
Better Vision
One of the greatest health benefits of mango lies in its ability to prevent multiple problems related to the eyes, like dryness, itching and even refractive errors. The more tangible benefit, of course, lies in its boosting vision.
How: A small bowl of mango takes care of a fourth of the daily vitamin A requirement of your baby.
Boosts Immunity
Move over, apple! A mango a day for kids goes a long way in boosting their immunity. All the more essential, as the immunity in children is inherently not as b as it is in adults.
How: Mangoes are rich in vitamin C, besides being high in carotene and beta-carotene.
It can help cure Anemia
One of the greatest health benefits of mango for kids, is that it can prevent unwanted anemia in children.
How: Mangoes are iron-dense. In fact, one mango contains 0.5mg of iron, which serves to boost the number of RBCs (red blood cells) in children.
Good for the brain
Certainly one of the more important health benefits of mango, is the fact that it ensures proper overall functioning of the brain, including better memory, too.
How: Mangoes contain an amino acid that is crucial for brain development – namely, glutamine. They also contain Vitamin B6 in good quantities – a vitamin that, like glutamine, also helps improve the functioning of the brain.
Mango Recipes for Babies
While mango in itself is a fun food to eat for babies, you can get them even more interested in eating our wondrous national fruit, through these lip-smacking recipes.
Mango Shrikhand
A creamy Indian dessert that's a hot favourite with adults – and babies, too!
Ingredients
500ml yogurt
Pulp from the variety of mango of your choice
2 tsp sugar
1 tsp elaichi (cardamom) powder
Method
Hang some tightly packed yogurt in a thin cloth for 2-3 hours. You could even keep it overnight in the refrigerator till all the liquid drains out. You are left with around 400ml thick hung curd. Then, gently mix that hung curd with the mango pulp, sugar and cardamom powder, and set it to chill.
Simple Mango Puree
Certainly the simplest mango recipe for your mango loving baby!
Ingredients
1 ripe mango; peeled, its stone removed.
Method
Just add that mango to the blender and puree it to the consistency the baby is most fond of.
Tip: Alternatively, you can freeze some of that puree in an ice tray and serve it as a frozen dessert!
Mango Ice Popsicle
What's more delightful than an ice-cold, homemade mango lolly on a sultry summer day? This treat takes that frozen iced tray puree above, to a new high!
Ingredients
1 cup yogurt
1 ripe mango (chopped and peeled)
2 ripe peaches (chopped and peeled)
Method
Blend all the ingredients together until you get a smooth, creamy mixture. Then, all you have to do is pour that delectable concoction into popsicle molds and freeze them overnight.
Papaya Mango Smoothie
If you're looking for a drink for your kids that's packed with antioxidants, fiber and folate, this one's it!
Ingredients
½ cup papaya cubes
½ cup mango cubes
½ to 1 cup yogurt
Method
Blend the above ingredients until you get a mixture that has a smooth consistency. Then, chill and serve!
Tip: If you're looking to make mango milkshake instead, drop the papaya and replace the yogurt with half a cup of chilled milk.
Mango Rice Pudding
Let's go tropical! Indeed one of the mango recipes for babies that culminates in spectacular dishes!
Ingredients
1 ripe mango (peeled and chopped)
2 cups coconut milk
¼ cup rice
½ mashed banana
½ tsp vanilla extract
Method
Bring a mixture of rice, coconut milk and vanilla extract in a saucepan, to a boil. Allow it to simmer around 25 minutes, stirring the mixture to prevent it sticking to the saucepan. If necessary, add more coconut milk. Add that chopped mango and cook until the rice is mushy. Then, allow it to cool before adding in the mashed banana. Serve warm or cool – according to the baby's preference, of course!
Make sure that you make the most of this sweet and luscious fruit, that only appears at this particular time of year. Most parents are mistakenly skeptical of feeding mango to their little children, even though it's perfectly harmless. Let alone harmless; it's one of those wonder foods for your children, and what's more, versatile in its ability to be included in delicious recipes, as essayed here.
Enroll your child with EuroKids now and give them the right start, flying start in their educational journey that they deserve.