International Student's Day : Date, Theme, History, Significance, Celebration & More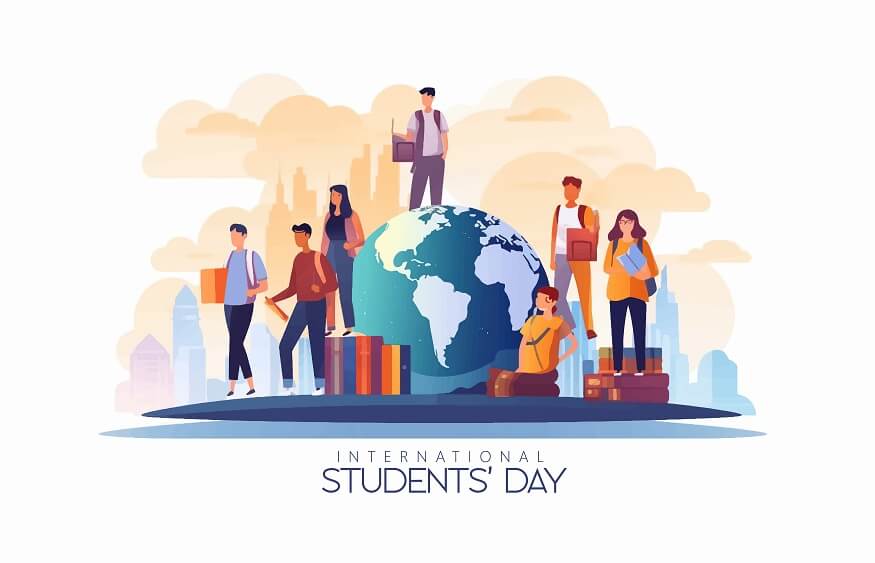 International Student's Day was originally started to commemorate the 1,200+ students of the University of Prague who lost their lives in WWII. They had got together for a demonstration against Nazi occupation on 17th November in 1939, highlighting both cultural awareness and resistance. These students were detained by the Nazis who shut down the university and tortured and executed many of them. November 17 is now celebrated as International Students Day to honour these students and to spread awareness of the difficulties faced by international students.
It also celebrates the achievements of students all around the world. Students from different cultures come together to share and learn from each other's experiences. Universities around the world over use this day to celebrate their international students and acknowledge the good they do for the community. International Students' Day is observed to stress on the value of education for all students and honour their contributions and accomplishments all over the world. This day was especially picked to showcase the ability of international students to move ahead of obstacles and form bonds across various cultures.
History of International Student's Day
International Students' Day started as a day to honour the 1,200+ students of the University of Prague who perished in World War II at the hands of the Nazis. Today, it's a day when universities all over the world celebrate their large international student populations and the amazing work they do in the local communities. Students put in a lot of hard work to achieve their goals and make an impact on the world. These students have left their families and homes to study at a university and achieve a better life for themselves and their families. It is a celebration of diversity, multiculturalism and teamwork among students. These students are the future and should be celebrated for their pursuit of knowledge, irrespective of their field of study and background.
Student life is never easy but international students have it really hard. They have to negotiate cultural differences and homesickness as well as financial troubles and language barriers. International students have to overcome many other challenges apart from their studies and making new friends. They are not able to always go back to their families during holidays or get financial aid like home students. Also, in countries where wages are low, it can become a huge financial burden for students studying in a more expensive country. All this can be stressful for students and explains why students who go to such lengths for their education should be celebrated.
Significance
Some of the appropriate international students day quotes aptly depict the significance of this day.
"Dream is not the thing that you see in sleep but is that thing that doesn't let you sleep"—Dr APJ Abdul Kalam
"The object of education is to prepare the young to educate themselves throughout their lives"—Robert M. Hutchins
To be a successful adult who can handle various issues and come up with viable solutions, they must be respectful of the diversity of others and accept their differences. Diversity is what defines us and that's why it's so important to celebrate International Students Day.
Celebrates Cultural Diversity
International students bring a rich treasure of cultural diversity to the campuses and communities. Celebrating this day provides an opportunity to recognise and felicitate the plethora of cultures that international students bring to schools and colleges and their contributions to the academic and social life of their institution.
Promotes Global Awareness
Celebrating International Student's Day helps to forge a better understanding of different cultures. Students from all backgrounds get an opportunity to learn about different customs, cultures, customs and values practised around the world which results in better understanding and respect among them.
Encourages Civic Engagement
International students have a unique perspective when it comes to engaging in civic dialogue and participating in local community initiatives. By celebrating International Student's Day, we can encourage international students to participate in classroom discussions, volunteer opportunities, political rallies and voting initiatives. These collective efforts will help build bridges across cultures while also creating stronger ties between the host country and its international students.
International Students Day Activities
Educational institutions organise International Students Day activities like food stalls, carnivals, sporting events and cultural performances. They also announce schemes on financial aid and scholarship opportunities.


Events like workshops, lectures and cultural festivals are organised. Students can also take part in essay writing competitions, discussions and other activities.


The day is celebrated with lectures from dignitaries that examine problems and solutions of the student community. Universities globally host activities that call for youth involvement.


Potlucks are a great way to integrate cultures as it brings cuisine and stories from all over the world that can be shared together. It's the ideal way to learn about each other's traditions and cultures.


A cultural exchange can be done where one group of international students host another group in their country and vice versa. This gives them an opportunity to experience different cultures and customs.


Set up a movie night with international films or documentaries and some snacks. This is a great way to familiarise oneself with different cultures and have discussions about them.


You can just spend some time interacting with international students and appreciate their involvement and good work in the local community to raise their morale. The idea is to make them feel special and at home.


You can put a hamper together with some traditional food and gifts from their home country. This can really do wonders for the spirits of international students.


If you have the means, you can be a host family for an international student. This helps them settle down and feel less alienated. You could also help them with the language if required.


You could organise a fundraiser for students with learning disabilities or those whose family situation does not allow them to reach their full potential.
You could use this day to create awareness about International Student's Day through social media by sharing interesting information and facts about this day.
International Students Day reaffirms our commitment to making international students feel accepted and part of the local community and ensuring that everyone has access to the education they want. It is also appropriate to use this day to honour the 1200+ students who fought for their right to education and lost their lives to atrocities in Prague.
For more such exciting blogs, please visit the EuroKids website.