Fun Diwali Activities And Crafts To Do With Your Kids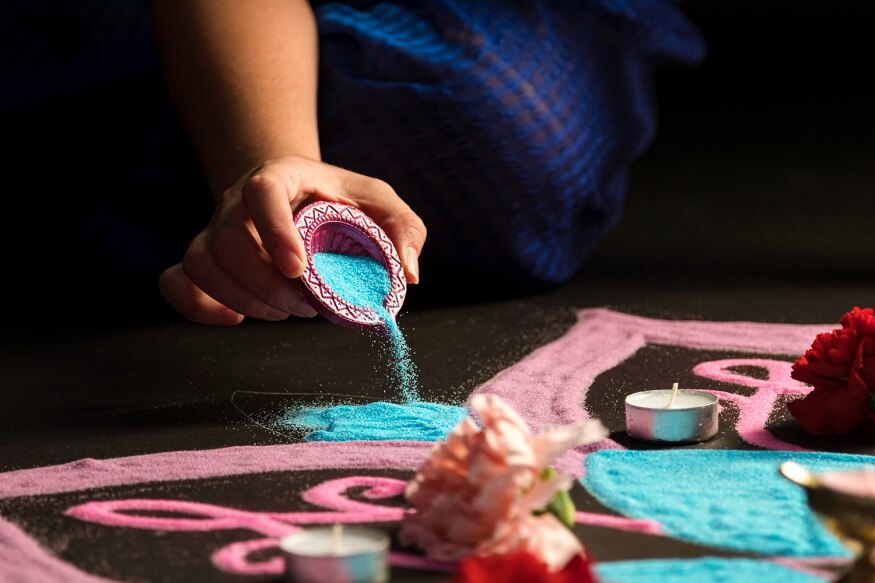 Diwali, as a festival of lights, originates in India, and is celebrated by millions of people from across the world. It is a festive and joyous time to come together, celebrate, exchange gifts, and indulge in festive sweets and food items. There is a cultural vibrance and history to this festival. It serves as a perfect opportunity to spend quality time with your kids and engage them in educational and fun-filled Games right at home or the neighbourhood with other kids and their parents. There are numerous Diwali activities and crafts that you can enjoy with your kids that will create a lasting impression in your kids' minds.
Diwali activities and crafts with your kids is a good way to ensure that they learn about the historical and cultural significance of the festival of lights. Here are 10 Diwali activities and crafts that can enhance your bonding together while teaching them valuable lessons.
Rangoli Creation: Rangolis are a big part of most Indian festivals. They are made in the house to welcome guests, and to make the houses appear more festive and colourful. Creation of rangolis is a traditional Diwali craft for k ids. Here's how to get started:
Provide flower petals of different colours, coloured sand, and/or coloured rice.
Draw the design of the rangoli freehand, or use a stencil to sketch it.
Encourage your kids to get creative with the colours and content provided to them. Encourage them to get creative with the patterns of the rangoli as well.
It serves not only as one of the most festive diwali crafts for students, but also helps enhance fine motor skills and artistic expression.
Diya Decoration: Earthen or oil lamps, which are called "diyas," are an integral part of any Diwali celebration. Decorating diyas around the house and neighbourhood is one of the most meaningful diwali activities for students.
Purchase diyas or make them at home with clay or salt dough.
Allow your kids to colour the diyas using vibrant paints, glitters, or sequins.
While at it, explain the significance of lighting diyas to your kids. The lighting of diyas symbolises the victory of light over darkness.
Lighting the diyas will certainly fill your home with love and warmth.
Paper Lanterns: If you want to bring a touch of magic into your homes this diwali, crafting with paper lanterns is one of the festive diwali activities for students.
Provide your kids with coloured paper, a pair of scissors, glue, and string for hanging.
Allow your kids to cut and design the coloured paper with their own designs. Traditional motifs can also be used as designs for the paper lanterns.
Help them fold and glue the paper into the shape of lanterns.
Fix a small light inside the lantern so that it gives out an ambient glow.
Diwali Greeting Cards: During Diwali, or any festive occasion, sending and receiving greeting cards has a traditional significance. Encourage your kids to make their own greeting cards for their family members, friends, relatives, teachers, or anyone else they hold dear to them.
Provide your kids with coloured paper, markers/sketch pens, glitter, and stickers.
Ask them to draw, sketch, or paint anything that comes to their mind when they think of the person they are making the greeting card for. Furthermore, teach them the importance of certain Diwali symbols like diyas, rangolis, and sweets.
Assist them in writing out greeting messages to their loved ones on the inside of the greeting card. Encourage them to be creative in their ideas and thoughts.
This is one of the most interesting ways for Diwali crafts for kids. It will enhance their sense of community and help them know the value of gratitude and love for their dear ones.
Clay Modelling: Clay modelling is one of the most enjoyable Diwali activities for students and Diwali crafts for kids since it is a versatile activity. A person of any age can enjoy doing this.
Assist your kids in sculpting idols of Lord Ganesh and Goddess Lakshmi.
Encourage your kids to mould the clay into patterns of a diya.
Craft tiny sweets like laddoos and jalebis.
Clay modelling has many benefits, creative prowess and enhancement of motor skills being two of them.
Diwali Storytelling: The historical and cultural significance of Diwali is rich in myths and legends. Share the stories behind Diwali with your kids and indulge in diwali arts and crafts.
Narrate the epic of Lord Rama's return from exile and his victory over Ravana.
Explain the significance of Goddess Lakshmi's visit to home during Diwali.
Share the story of Narakasura's defeat by Lord Krishna.
Storytelling is a very old activity. Storytelling helps kids and students understand the historical and cultural significance of a famous festival like Diwali.
Traditional Sweets Making: Diwali is quite famous for its sweet delicacies. Involve your kids in making traditional sweets which can be counted as Diwali crafts for kids.
Try making easier-to-make sweets like nariyal ladoos (coconut laddoos), besan barfi, and'or jalebi.
Teach them about the significance of sharing sweets with loved ones, which is to spread love and happiness.
Cooking together with kids will foster bonding.
Cooking or just showing them how to cook certain delicacies will introduce the kids to Indian culinary traditions.
Jewellery Making: Diwali arts and crafts will be incomplete without hand making jewellery that they can wear during the occasion.
Hand them paper and beads, along with strings to tie them with.
Allow them to cut the paper into smaller shapes and tie them with the strings. Allow them to use coloured paper, glitter, and sequins to decorate them.
Supervise them on how to place the string through the beads according to the pattern that they want.
You can also run a DIY YouTube video and learn together to make more exquisite jewellery together that you can all wear with pride.
Dressing-up in Traditional Attire: Diwali, amongst other Indian festivals, is a great opportunity to dress up in traditional Indian attires.
Allow your kids to pick and choose their own attires. They will try to mix and match, and that is a wonderful way to boost creativity.
Teach your kids about the significance of different traditional attires and colours.
Capture the lovely memories of the family in a photograph and frame it. The kids can later also paint and decorate the photo frame, which can be another Diwali arts and crafts episode.
Dance and Music: Festivals are the times to groove to lively music together. Organise a dance and music episode during your Diwali with your kids.
Play traditional Diwali songs and Bollywood tunes
Teach your kids some traditional dance moves which are simple to pick according to their age.
Dancing together is not only fun but also a great way to bond with your kids.
Dancing to music also helps your kids stay active.
Diwali arts and crafts are not limited to these examples. Another important example can be Green Diwali. Although it could be easy to get firecrackers and burst them in Diwali, you can teach your kids about the necessity of going green during festivals like Diwali. You can teach them that there is a lot of fun in lighting diyas, putting fairy lights, and having a great time with friends and family. Teach them young how important Green Diwali is and how firecrackers-free alternatives can help save the environment.
Diwali is a time for families to come together in all energy to celebrate the triumph of light over darkness. Engaging in Diwali arts and crafts with your kids not only enhances your bond together, but it also imparts valuable lessons on history, myths, legends, stories, culture, and festivals. This Diwali, explore Diwali crafts for kids with us at EuroKids, and have a lovely time celebrating the festival of lights.
For more information, please visit EuroKids, or visit a centre nearest to you.