Fun Activities to Celebrate Dussehra with Kids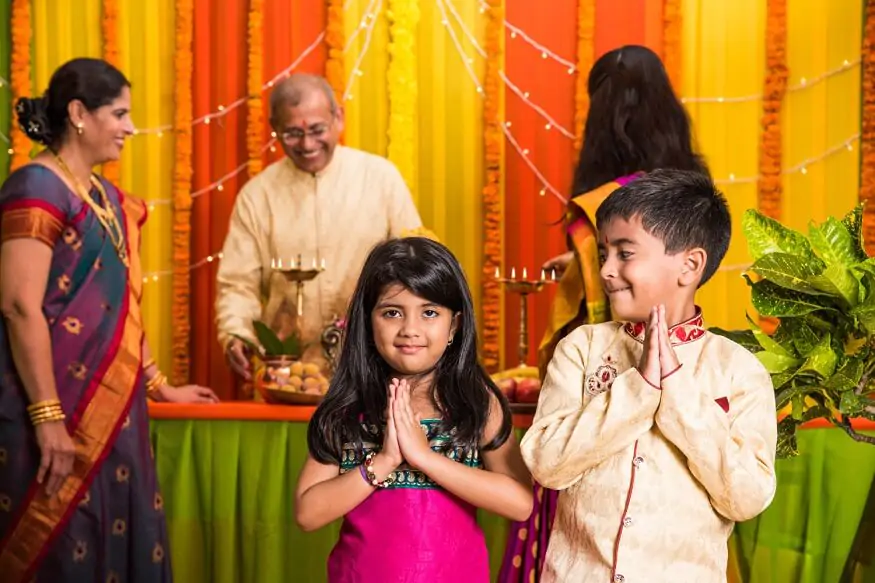 Performing some traditional rituals can make Dussehra activities for kindergarten children loads of fun and something to look forward to. Dussehra or Vijayadashmi festival is considered to be one of the most auspicious and holiest Hindu festivals. It is celebrated at the end of 9 days of Navratri when the idol of Goddess Durga is immersed in a river or water body. It is a day filled with fun, happiness and excitement and heralds good luck, peace and prosperity. Dussehra celebrates the triumph of good over evil and honours the victory of Lord Rama when he slayed Ravana. It also signifies the victory of Goddess Durga over the demon Mahishasura.
It's important for kids to celebrate this festival with constructive activities that help them to understand the festival better and enjoy it to the fullest. We have brought together some fun activities and Dussehra decoration ideas that will not only keep your kid occupied but also be a great learning experience about this great festival.
Making an Effigy of Ravana
One of the highlights for kids during Dussehra is watching the shooting of larger than life effigies of the demon king, Ravana, with bows and arrows. The significance of doing this is to destroy all the bad qualities in oneself and let goodness reign. The effigy of Ravana epitomises all negative qualities. You can help kids make a small cut-out effigy of Ravana with his 10 heads and get a simple bow and arrow. Each child can be asked to paint or draw one head of Ravana.This Dussehra craft activity for kindergarten children is a great deal of fun and also teaches them teamwork and cooperation. Gather all family members and give them a chance to shoot the effigy. Explain to them why this activity is so significant. In some cities of India, it is possible to buy ready-made Ravana effigies which you set up for children to shoot.
Story Telling
You can organise a storytelling session with your kid and their friends and tell them the story about why Dussehra is celebrated. You could also ask each child to write down and bring a story from home, related to Dussehra festival or Ramayana and narrate it to their friends. You could also play a video so they learn how Dussehra is celebrated in different parts of our country. This helps them to stay in touch with their culture and traditions.
Making Rangoli
This Dussehra craft activity for kindergarten children can be used to rope in kids to make beautiful, traditional rangolis with powder colours, paste or flower petals. Children love this activity and it is believed that rangoli invites peace, prosperity and happiness in the house.
Visiting a Fair
Fairs are organised all over the country during Navratri and Dussehra is the last day of this fair. Take to the neighbourhood fair where they can enjoy various cultural and traditional things which are very different from what they would usually see. They can have fun on various rides and eat different food made especially during this festival.
Exchanging Apta or Bauhinia Leaves
Exchanging Apta or Bauhinia leaves is one of the oldest traditions of Dussehra and involves all friends and relatives signifying values like respect and service. These leaves symbolise gold and are exchanged in the memory of great Maratha warriors who distributed gold won in wars amongst the people.
Making Sweets
Sweets are an integral part of any festival in India and kids can be involved in making simple sweets like kheer or shaping laddoos. This leads to a lot of excitement and they make memories that last with them forever.
Packing and Giving Gifts
You can make the festival even more special by giving simple gifts like a pen or a diya or sweets to friends and relatives. Let your kids choose the gifts and they can also help you to pack them. This Dussehra activity for kids makes them feel more involved and they really enjoy the ritual of giving and receiving gifts.
Dressing Up in Traditional Clothes
One of the great Dussehra creative ideas to make Dussehra even more exciting and colourful is by dressing up in traditional clothes. A girl could dress up in a colourful saree or lehenga and a boy could wear a kurta pyjama or dhoti kurta. If families are from different regions, they can dress up in traditional clothes of their state and show that there's unity in diversity.
Decorating a Kalash
A kalash or earthen pot is used during most pujas and for Dussehra you can ask your child to decorate the kalash. Give them different decorative materials and glue and allow them to use their imagination and creative skills and you will find that such Dussehra creative ideas make the festival all the more real for them.
Puppet Show
You can organise a puppet show or make hand puppets with the help of children based on the story of the Ramayana. This Dussehra activity for kids makes it simpler for them to understand the story and they enjoy it immensely. You can also use music and other props to make it more exciting for them.
Perform a Ramleela
You can help children to organise a skit based on the story of Ramayana. Explain the story to them and the role of each character. Children can pick the character they want to depict and perform this skit on the day of Dussehra. They can dress up as their character and speak a few dialogues.
Redecorate your Kid's Room or Corner
October is a month of festivals and celebrations with Navratri, Dussehra and Diwali coming one after the other. Most people use this time to redecorate their homes and you can make it special for your kid. You can help them to put up pictures or posters related to these festivals. This not only makes them feel excited and involved, such Dussehra decoration ideas also give them a good idea about the festival and the traditions associated with it.
After the nine festive days of Navratri, the tenth day celebrates the victory of good over evil and is called Dusserah or Vijayadashmi. Conducting these interactive and interesting Dussehra activities for children add more excitement and charm to the celebrations. It is not only a very auspicious festival, it also is the perfect way to teach your children new things and develop a better understanding of the festival and its traditions. It not only keeps them involved in the festive celebrations, it also is an extremely constructive way to keep them occupied and is a great learning experience. If you are looking for more ideas on how to keep your kids busy during Dussehra with exciting and fun activities, do visit the EuroKids website for a whole range of them.