Exciting Indoor Games for Bonding with Your Toddler: 26 Playtime Ideas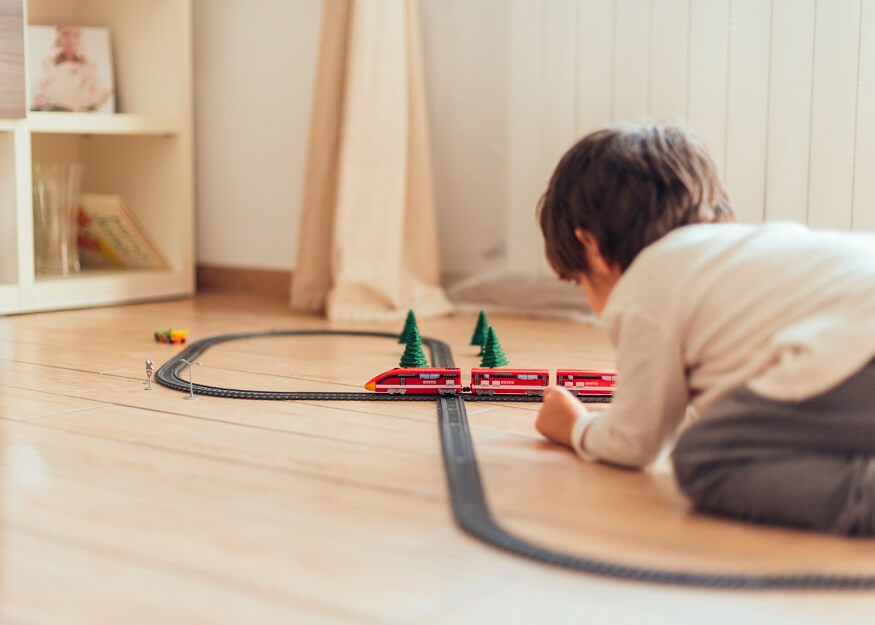 Indoor Games for Bonding with Your Toddler
The transition from 'baby' to 'toddler' makes for a far greater leap than you can imagine. That toddler stage is wonderfully delightful. Certainly, a phase one needs to make the most of, on account of its transient nature.
The need of the hour is keeping your toddler busy in a constructive manner, to help them make sense of the world around them and whet their appetite for discovery.
Here we have curated a list of the top Indoor Activities for Toddlers, that will keep them well-occupied not only on a rainy day, but on lovely sunny days, too.
26 Playtime Ideas for Indoor Fun with your Toddler
Looking for toddler games at home that will keep your child entertained for hours on end? Read on to find our top 26 recommended indoor games for toddlers.
#1. Flashlight Hide & Seek
If playing Hide & Seek thrilled you as a child, this variation of it will do the same for your kids. Clearly one of best playtime ideas, this one.
To do: Play Hide & Seek with the lights off and flashlights on! As simple as that.
#2. Follow the Leader
One of the most engaging games for toddlers, this will keep them thoroughly engrossed.
To do: Start by being the 'leader', and having your little one imitate your actions – like jumping up and down or making funny faces. Then, it's your toddler's turn to lead! Tip: The sillier the actions, the more fun!
#3. Building Forts
Every child wants a space they can call their own!
To do: Don't let the idea of building a fort daunt you. Simply toss a bedsheet over that kitchen table and throw in some pillows and blankets underneath. Tip: If it's a screentime day, watch a movie with your little one while camping in that fort!
#4. Treasure Hunt
Indoor activities for toddlers are great when accompanied with a touch of mystery.
To do: Put some sand in a large bowl. Take some objects like coins or a small toy, and hide them in the sand. Give your toddler a spoon and sieve and have them hunt down that treasure!
#5. Animal Rescue
Get children to hone their sense of empathy, by rescuing animals – at home!
To do: Using some painter's tape, stick some soft toy animals to a wall in your home or even the back of a cookie sheet. Then, tell your toddler to 'save the animals' by un-taping the tape. Bonus: Great for the development of fine motor skills.
#6. Parcel Surprise
Toddler games at home are great when they involve the element of 'surprise'!
To do: Wrap some of your children's toys in wrapping paper. Then ask them to identify what is in each parcel. For instance, you could say, 'Is this Happy Bear?' No matter whether they get it right or wrong, this game never fails to please.
#7. Indoor Picnic
Picnics are fun for everyone in the family.
To do: Set up a picnic just like you would in the outdoors, on your kitchen floor. This one's great for dark, rainy days when you're stuck indoors for hours.
#8. Sweeping and Dusting
Even ordinary chores that most parents hate, make for great indoor games for toddlers!
To do: Give your child a soft cloth or even mini broom, and have them imitate you as you go about cleaning the home. Needless to say, they will love that cleaning way more than you ever will!
#9. Obstacle Course
Toddlers are always up for challenges of every kind.
To do: Create an obstacle course in the environs of your home using simple items like pillows, or even your child's toys. Sit back and watch the fun as they navigate their way through those 'obstacles'!
#10. Magic Painting
For toddlers, magic is truly 'magic'!
To do: Using a white candle, make a simple design on paper. Then, make some watery paint (preferably bright coloured paint), and have your toddler paint on the paper. They will delight in the 'magic' that comes from the design being revealed.
#11. Cardboard Roads
This one's great for little ones who love all things on wheels!
To do: Make a system of roads with your toddler, using carboard pieces and black paper. Make it more fun by colouring the roads and creating parking lots. Tip: You could lean a piece of cardboard against the couch to make a 'ramp'!
#12. Musical Bumps
Activities are even more fun with background music.
To do: Groove to some music with your toddler. When the music stops, both of you have to sit down. The first person who sits, wins. Tip: You want to be slow to sit down more often than not, letting them have the joy of 'beating you to it.'
#13. Facetime with Family
Activities that make use of digital devices? Allowed at times!
To do: While nothing beats in-person interaction, virtual interaction is a must when we have family members that live far away. Have your toddler relish in Face Timing with them, to give them a strong sense of the importance of family.
#14. Animal Pretend Play
Pretend Play is always fun for little ones.
To do: Make some masks of your toddler's favourite animals out of card paper, or simply print out some (you can find loads online). Placing the mask in front of your face, make the accompanying animal gesture, like 'growling' if you have on that 'bear mask'. After that, it's your toddler's turn to be the animal of their choice!
#15. Watercolour Painting
It's never too early to get them to start painting!
To do: Simply hand your children a brush and some watercolours, and let them paint to their heart's delight on some white card paper.
#16. Playing 'Postie'
Posting objects into differently-shaped holes will never fail to delight your little ones.
To do: Make differently-sized holes in milk containers or cardboard boxes, and have your toddlers drop objects in them. Bonus: This is great for developing fine motor skills and understanding that when you drop something into a container, it doesn't go away.
#17. Reading books
Want to travel even while stuck indoors? Reading helps you do just that!
To do: Get books from the local library, or buy your own. Reading is one of those activities that is fun not only for a rainy day. Besides, it's great to help toddlers understand the world around them.
#18. Walking like a Bear
Another great activity that involves mimicking animals, this one!
To do: You and your little one have to walk like one of the three bears: Papa Bear, Mama Bear and Baby Bear. In the case of Papa Bear, you need to take large steps. With Mamma Bear it's medium steps. Needless to say, Baby Bear takes tiny steps!
#19. Board Games
You don't have to wait till your kids are older, to get them to play board games.
To do: If your child is 2.5 years or more, you will find plenty of age-appropriate board games in the market that will keep them busy for hours. 'Chutes and Ladders' and 'Connect Four', are just two examples of some really cool board games for toddlers.
#20. Create a large collage
What better way to 'create something', than by making a wonderful collage?
To do: Tape a large square of sticky-backed plastic to a window or door, sticky side facing out. Have your toddler collect all sorts of items ranging from sweet wrappers to bits of cotton, and let them go wild sticking them to create a work of art!
#21. Having a Dance Party
Sometimes you don't want the music to stop – ever!
To do: Make a playlist of all the songs your toddler loves listening to, and simply go wild dancing alongside them on a designated 'dance floor' in your home.
#22. Rolling the Ball
It's fun playing 'catch with a twist'!
To do: Have your toddler sit on the floor with their legs apart, while you do the same in front of them. Roll a large ball to them and have them 'catch it' (here, catching means 'stopping'.) Then have them roll it back to you. Repeat.
#23. Indoor Bowling
You don't need to go to the amusement park, to go bowling!
To do: Gather ten empty plastic bottles, and line them up like pins in a bowling alley. Give your toddler a plastic or tennis ball, and watch the fun as they try and knock those 'pins' down.
#24. Traffic Lights
Kids are never too young to drive – 'indoors', that is!
To do: You are the traffic light and your child, the car. Watch their delight as they 'vroom' around the room when you yell 'Green!', and stop when you say 'Red!'
#25. Sock Toss
Games that involve 'aiming at targets' make for loads of fun!
To do: Roll up some socks into little balls and tie them. Then place an empty bucket a little away from your toddler, and have them throw those socks into the 'target' area. Tip: Over time, increase the distance between your toddler and the bucket.
#26. Playing Newspaper Hopscotch
Played Hopscotch as a child? Get your little one to play the simplified version.
To do: Tape some newspapers to the floor, apart from each other but within jumping distance of your toddler. The objective is to get your toddler to jump from one newspaper to the other, without their feet touching the floor in between.
At EuroKids we place a great deal of emphasis on 'play' in our curriculum. We believe that it gives children vital sensory, physical and cognitive experiences. Moreover, playing with toddlers helps strengthen the bond between parent and child. All the more reason to indulge in the wonderful activities outlined here.