At-Home Handwriting Practice- Activities and Resources for Skill Development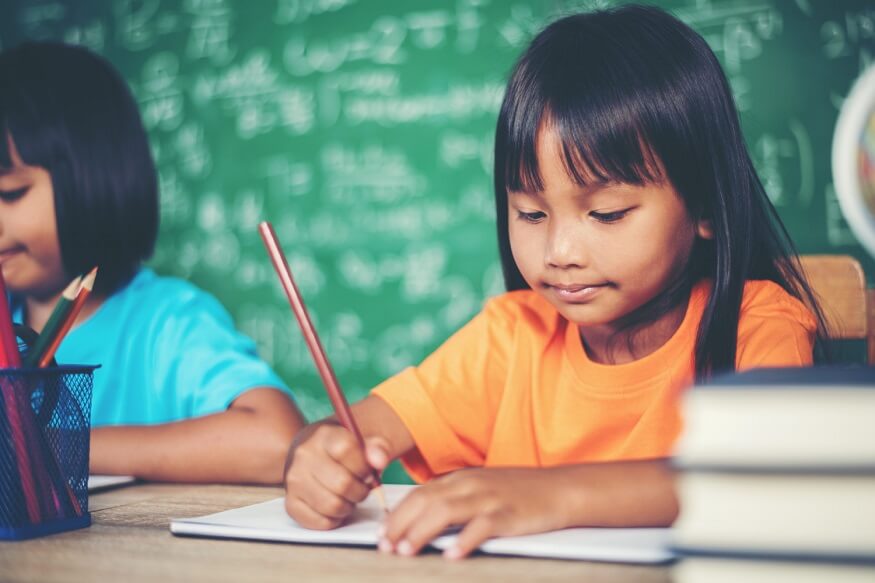 Handwriting Ideas for Kids: Improve Writing Skills with Fun Activities
'The pen is mightier than the sword', they say. However, just as a warrior needs to learn the art of wielding a sword, a young child on the threshold of learning writing, could most surely do with some vital exercises to improve their handwriting.
In this article, we have curated for you a list of the top handwriting ideas that will ensure that learning writing does not become a mundane task, but rather, something young children will look forward to.
Let's get started, then, by exploring the many wonderful activities that will help us hone the handwriting skills of kids writing in English.
Activities and Resources for Children Learning Handwriting
Looking to find all the ways to master the skills needed to use writing tools and develop those all-important, fine motor muscles?
Read on to find the 'write' way!
#1. Encourage 'Off-school' Writing
It's obvious that you want to check up on your child's progress in school every now and then, but what are you doing to help sharpen those writing skills at home?
Establish the practice of family members writing to each other on post-It notes. Tip: You can even take this a step further and write short notes to each other, setting up a family mailbox system using shoeboxes!
#2. Use Everyday Practices to improve handwriting
When you're looking for exercises to improve handwriting, you want to encourage your kids to indulge in simple, tried-and-tested practices that will go a long way in helping them sharpen those writing skills. These activities include, but are not limited to,
Making a grocery list.
Keeping a personal diary.
Writing out the schedule they have planned for the day, each day. Tip: You can do this handwriting practice in a notebook that is maintained over time.
#3. Sensory Writing Tray
If you're looking for handwriting ideas for especially small kids, try this one.
Children will delight in using 'beans' to create letters or words in rice. This is a great way to make students use their 'writing muscles', without them even knowing it!
#4. Handwriting Apps
Let's face it, we're living in a digital age. It would be foolish to miss out on several apps that are beneficial for children who want to learn vital skills, such as writing!
While there are a few stellar handwriting apps out there, you could choose from one of the following.
Homer Learning App: In addition to a 'letter formation' practice section, this one teaches kids strategies for Math, Emotional Learning and Reading, too.
LetterSchool by LetterSchool. Another great app for teaching kids writing, this one focuses on teaching numbers and uppercase and lowercase letters of the alphabet. Bonus: There is also a 'cursive writing' version.
#5. Following 'Paths'
Children learn how to form letters most effectively, by following paths. What are these 'paths', you might ask?
Have your child trace 'paths' or 'shapes' – like zigzags, waves, etc. – to help them form letters. This will make that future practice of writing letters a whole lot easier.
#6. Writing Warm-up Exercises
You heard that right! Warm-up exercises are not only for those who go to the gym or play a sport!
Get your child ready for writing, with some simple exercises that 'wake up' the muscles of the hands, like the following.
Rolling playdough. Have your child roll that playdough into small balls, or even a 'snake'!
Squeezing stress balls. Don't have a stress ball for your child to use? Never mind. You can use a rubber ball, for an effective, cheaper option.
Wall Push-Ups. Whoever said push-ups are only for adults? Here your child has to place both their hands against a wall, and push away from the wall.
#7. Adaptive Writing Paper
Depending on the individual needs of your child, you will find that there are several types of adaptive writing paper that you can use. These make for an essential addition to your child's handwriting curriculum.
There are various types of papers that can support students with their handwriting. An example is shaded paper, that's great for students who need to understand letter placement and sizing on the lines, or for handwriting accommodation strategies.
#8. Letter Sorting
This basic exercise is a must for effectively teaching kids writing.
Help children improve writing by having them practice sorting letters by attributes. So, they will have to sort 'letters that touch the top and bottom lines', from 'letters that touch the middle and bottom lines'. This is an activity that's great where it comes to helping students master the differences in letterforms – capital letters, lowercase, tail letters, etc.
Additional Tips to help children improve their handwriting
Besides the activities listed above, here are some additional tips that will help foster your child's writing skills.
Make writing practice 'fun'! Writing doesn't have to be a dull activity. You can encourage your little one in fostering their writing skills, by getting them an assortment of coloured pencils they can use to write with. This will work wonders, infusing in them a sense of enthusiasm to write more.
Play Writing Games. Get them to play the simple game of Hangman, or indulge in some cool Word Puzzles.
Buy a Pencil Grip. If your child's hand is getting easily tired with all that writing, you might consider this. A pencil grip is a low-cost tool that will not only help your child learn how to hold a pencil properly, but also prevent finger muscles from getting tired.
Get innovative with Writing Surfaces. A piece of paper is not the only writing surface there is out there. You could have your child trace their fingers in the mud, or even in a bowl of leftover sauce!
You can rest assured that we at EuroKids pay a great deal of attention in helping children hone their writing skills. We believe that since words need to be written in a particular order and structure, writing helps enhance problem-solving and critical thinking skills. Indeed, skills that will hold kids in good stead throughout their lives.