Easy Halloween costumes for kids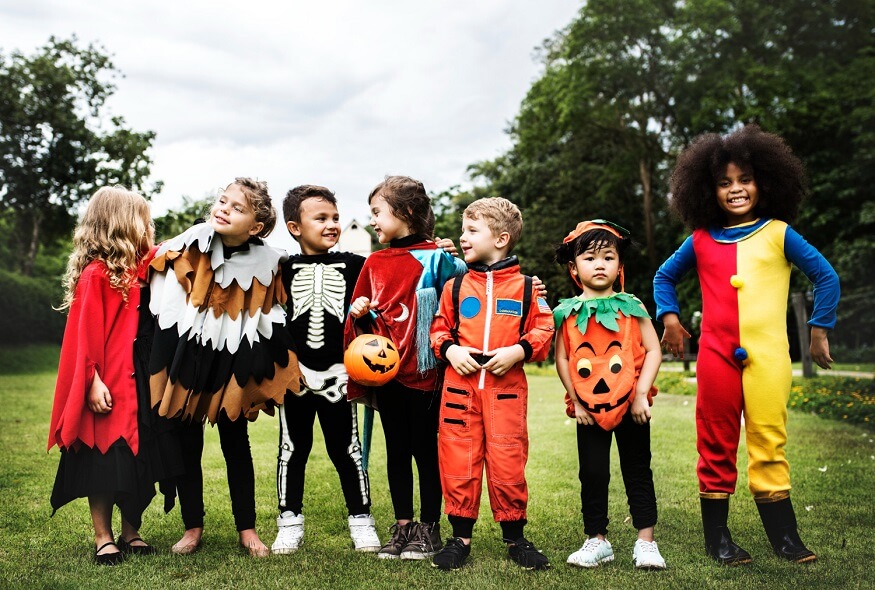 Mommies and daddies of the world, with Halloween around the corner, we are sure you are scrambling for cool costumes for your kids. Unfortunately, whether you rent or buy them, costumes can cost a fortune. And that is not worth it because your child will definitely outgrow it come next Halloween, and who wants to repeat the same costume twice in a row anyway.
That is why we have come up with a list of easy Halloween costumes for kids that you can DIY in a jiffy without burning a hole in your pocket. Check it out!
Spacesuit

This Halloween costume idea for kids is super easy to pull off! All you need is an inexpensive, hand-me-down one-piece jammy set. Cover it in silver duct tape from head to toe. Spray paint a baby-sized helmet and baby boots in silver and you are done! Just make sure everything you use is of the right size for your kid.

Vampire

For this, you will need an old black umbrella, a black fleece jacket, black pants and some felt. Use the felt to cut out triangular shaped ears that you can stick to a black headband. Next, take out all the spokes of the umbrella and cut it in half. Sew one half to the arms of your child's fleece jacket to form a vampire's cape. Dress your child in black pants and boots to complete the look. This scary Halloween costume for kids is bound to be an instant hit!

Baby troll

Another fun DIY Halloween costume for kids is baby troll. Get a furry leg warmer and roll it inside out to double up as troll hair, which you can make your child wear as a cap. Make your child wear a onesie of the same colour as the leg-warmer hair, preferably pink. And throw on a cutesy dress on top to complete the look.

Rain clouds

The easiest one to pull off on this list, for a rain cloud costume you will need your child's old umbrella. Cover the whole umbrella in tufts of white cotton so the whole thing looks like a giant puffy cloud. Next, hang hand-drawn and cut-out drops of rain from the spokes of the umbrella. Dress your child in a matching raincoat and gumboots and you are all set!

Tooth fairy

Take out the pretty, puffy, princessy tulle or organza dress your daughter wore last birthday. Fashion a tooth fairy wand out of a long piece of stick spray painted white, which has a white cardboard tooth stuck on top. Make her wear the same tiara from her birthday dress and you are good to go!

Penguin

Have an old all-black onesie with a hood that your child still fits into comfortably? Good! Now all you need is an oval cutout from white felt that you can glue to the front of the onesie. As for the beak, take some yellow felt and cut out the triangular shaped beak, and stick to the front hemline of the onesie's hood. You can even use black and white pieces of felt to make the eyes which you can then stick to the hood on either side of the beak.

Road runner

For this DIY Halloween costume for kids, you will need your child's black biker jacket. An old puffy jacket with a quilted design will do too as long as it is black in colour. Make your child dress in black pants with black shoes, and fashion a chequered flag out of craft paper and stick that they can hold. You can stick your child's old tiny cars on their pants or jackets to help give off that cool roadie vibe.

Human pinata

It felt like a rescue again! Dig into your arts and crafts stock at home and pick out felt sheets in red, blue, green and yellow colours. You can add more coloured strips if you like! Cut long strips of each colour and then cut fringes into each strip. Wrap ang glue gun the strips of coloured felt fringes around one of your child's old onesides that still fit. Next create two conical fringed caps with the same felt and stick them to a headband that your child can wear to complete their outfit.

Little pilot

Next on our list of Halloween costume ideas for kids is an outfit inspired by Amelia Earheart! Raid your child's wardrobe to find khaki jackets and khaki coloured pants with matching sports shoes. Use one of your old white scarves and wrap it around their neck. Create a starry pilot badge with the help of some yellow and gold felt and double tape it to the front of your baby's jacket. You can form the pilot's hat with felt paper too and attach two mason jar lids onto its frontside to look like a pilot's goggles. Cool, is it not?

Tiny monster

This is an easy Halloween costume for kids! Take out one of your child's old sweatshirts and sweatpants. Make sure they are of the exact same colour. A light green or a medium blue would be great! Cut out circles from a pool noodle and use a glue gun to stick it all over your child's sweats. Line the cuffs, the hood and the legs of the sweats with fur. Use felt to make green ears which you can stick to the hood along with giant googly eyes. And voila!

Little hip-hopper

The highlight of this costume is the easy-to-make boombox which can double up as a bag for when your kid goes trick or treating! To make the boombox, you need an old yet intact narrow cardboard box, like those of laptops or computer monitors. Spray paint the box to a bright colour and stick on the parts of a boombox cut out of different coloured papers. Spray paint the plastic handle of the box too and make sure the whole structure is solid and will not fall apart. As for your child, you can dress them in baggy jeans, and a cool hoodie with their earmuffs hanging around their neck to act as chunky headphones!

From scary Halloween costumes for kids to cute ones, we have covered a wide variety of ideas that work for both girls and boys and can be easily made at home. After all, a Halloween party can be great fun for your kids!
At EuroKids, we observe the festivals of different cultures, religions and countries in order to create a secular atmosphere in school, where each child is treated as equals. We strive to inculcate a sense of respect, appreciation and curiosity for different cultures and festivals amongst all our students. To know the core philosophy of our school chain and more, be sure to visit us!