Creative Concepts for Capturing Your Baby's First Photoshoot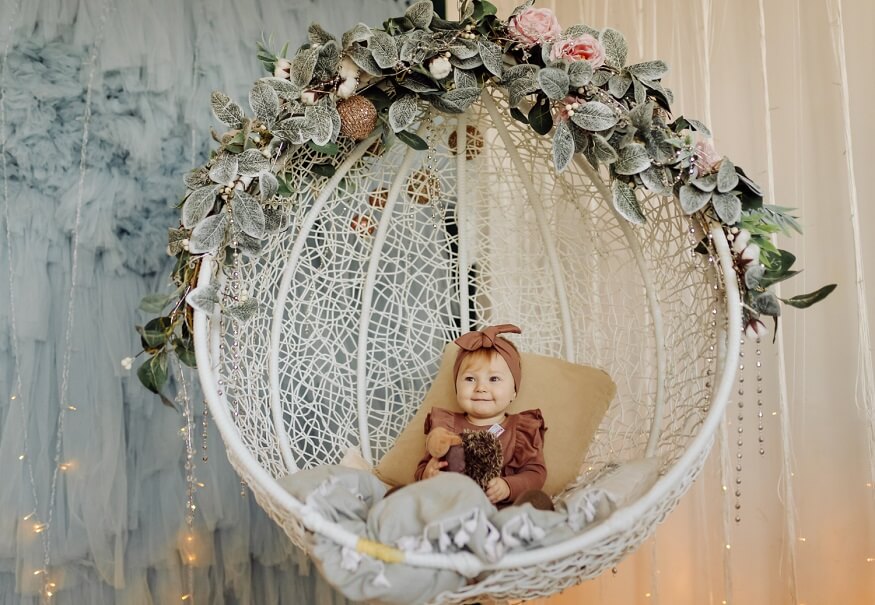 Baby Photoshoot Ideas
Welcoming a new baby into your family is an incredible milestone, and capturing those precious moments through photography allows you to cherish them for a lifetime. Planning your baby's first photoshoot is an exciting opportunity to create beautiful memories. From adorable poses to unique themes, there are endless possibilities to make the photoshoot truly special. In this blog post, we will explore creative concepts and baby photoshoot ideas at home for capturing your's and your baby's big day
Embrace the Natural Beauty:
One of the most timeless and beautiful ways to capture your baby's first photoshoot is by embracing the natural beauty of your surroundings. Whether it's in a serene garden, a cosy nursery, or a sunlit room, natural light can create a soft and ethereal ambiance. Use the gentle, diffused light to highlight your baby's features and capture their innocence and purity. Let the simplicity of the environment shine through, focusing on their tiny details like their fingers, toes, or eyelashes. The result will be a collection of photographs that exude warmth and showcase the natural bond between you and your baby.
Capture your baby peacefully sleeping in a soft, sunlit nursery.
Focus on the delicate features like tiny hands and feet bathed in natural light.
Take outdoor shots of your baby lying in a field of flowers or against a backdrop of colourful autumn leaves.
When it comes to baby girl photoshoot ideas, consider a floral theme with your little princess surrounded by blooming flowers, creating a soft and feminine atmosphere.
Themed Photoshoots
Themed baby photoshoots can add an element of creativity and playfulness to your baby's first photoshoot. Drawing inspiration from your baby's personality, interests, or hobbies, choose a theme that reflects their unique characteristics. Whether it's a favourite storybook, a beloved animal, or a whimsical fairytale, incorporating props and outfits that align with the theme can create enchanting and memorable photographs. This is your chance to let your imagination take full steam – so go ahead and experiment with various backdrops, costumes, and accessories. The key is to create a world where your baby can immerse themselves, capturing their curiosity and joy in the process.
For a fun twist, opt for a fairy tale-inspired baby girl photoshoot, dressing her up as her favourite princess and creating a magical setting with props like castles and fairy lights.
Capture your baby's love for animals by creating a safari-themed photoshoot with stuffed animals and jungle-inspired decor.
Recreate your favourite storybook by dressing your baby as a beloved character and incorporating appropriate props and settings.
Embrace a whimsical theme with creative baby boy photoshoot ideas, like a superhero-inspired shoot with capes and masks, capturing his bravery and imagination.
Include Family Members
Another really heartwarming baby photoshoot idea at home would be to involve family members in your baby's first photoshoot. It is a beautiful way to document the bond and love shared between them. Whether it's parents, siblings, or grandparents, capturing moments of connection and affection can be incredibly meaningful. Encourage gentle interactions and genuine emotions, allowing the photographs to showcase the familial bond. From tender cuddles to playful interactions, these images will not only capture your baby's innocence but also the love and support they receive from their family.
Capture intimate moments of your baby being cradled by their parents, capturing the love and connection.
Photograph siblings playing with the baby, showcasing their bond and interactions.
Include grandparents in the photoshoot, capturing multi-generational love and joy.
Outdoor Adventures:
Taking your baby's photoshoot outdoors can offer a refreshing change of scenery and provide a natural backdrop for stunning photographs. Nature provides a melange of colours, textures, and elements that can instantly beautify everything. Explore local parks, gardens, or even the beach, and let your baby immerse themselves in the beauty of the surroundings. Capture them amidst blooming flowers, under the shade of trees, or experiencing the sensation of sand between their toes. Outdoor photoshoots not only provide a different aesthetic but also offer the opportunity for candid shots that reflect your baby's curiosity and exploration of the world around them.
Capture your baby's expressions as they explore a flower garden, smelling the blooms or reaching out to touch petals.
Take your baby to a park and capture their excitement as they play on swings or crawl through grass.
Capture the joy on your baby's face as they experience their first encounter with sand and waves at the beach.
Milestone Focus:
This is one of the most loved baby photoshoot ideas, highlighting significant milestones or achievements to watch for in your child's early years. It can make for a memorable and meaningful photoshoot, capturing their first steps, first tooth, or first birthday. Focusing on these milestones creates a narrative of their growth and development. Incorporate props or decorations that symbolise each milestone, such as a chalkboard with handwritten milestones or a series of numbered balloons. By documenting these milestones, you can reflect on how your baby has grown and changed over time, creating a treasured keepsake that tells its unique story.
Document your baby's first steps by capturing their determination and excitement as they take those first independent strides.
Create a photo shoot highlighting your baby's first birthday, complete with a cake smash and decorations that reflect their personality.
Showcase your baby's toothy grin by capturing their first tooth milestone with a close-up shot of their smile.
Play with contrasting colours and textures in creative baby boy photoshoot ideas, such as using vibrant balloons against a rustic backdrop to create captivating images that highlight his joyful energy.
Click, Capture, and cherish.
Capturing your baby's first photoshoot is a magical experience that allows you to freeze precious moments in time. By embracing the natural beauty, exploring themed photoshoots, including family members, venturing outdoors, and focusing on milestones, you can create a collection of photographs that truly capture the essence of your baby's journey.
We hope that these creative baby photoshoot ideas at home will provide you with a starting point for your own unique and memorable photoshoot. So grab your camera, let your creativity flow. Capture these fleeting moments that will be cherished for years to come.
For more interesting ideas on various topics related to your child's life, like food, schooling, safety, creativity, etc., please visit the EuroKids website.