Celebrate Teacher's Day: Significance and Facts for Children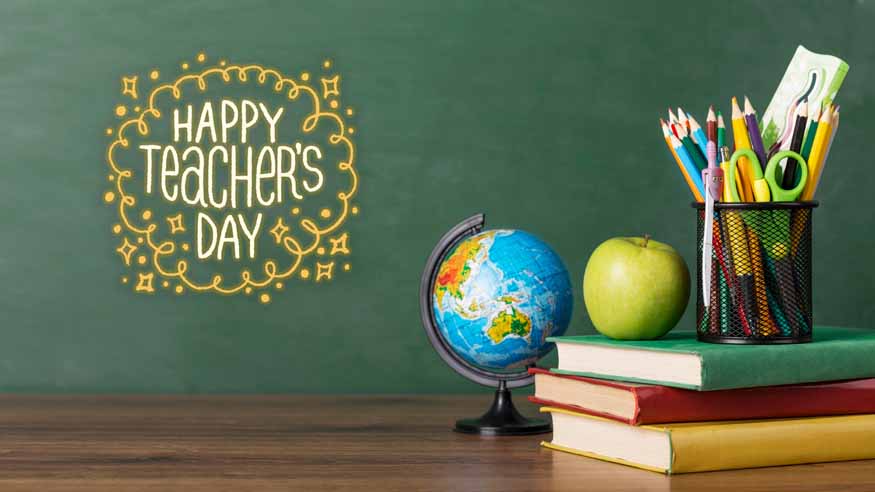 Friend, philosopher, guide. A good teacher is all these. And more.
Teacher's Day for Kids is truly special. It's a day when they get to honor the teachers in their schools with fun games and activities. Forget their schooling years, children celebrate Teacher's Day even later, in their College and University years.
What is the real reason behind celebrating Teacher's Day? Simply knowing which day is Teacher's Day, is not enough.
Here's the lowdown on what makes the celebration of Teacher's Day for Kids a truly memorable experience.
Why we celebrate Teacher's Day
Why do we celebrate Teacher's Day at all? Perhaps because teaching is one of the most influential professions in the world! That too, one of the noblest.
In India, we celebrate this day on the birthday of Dr. Sarvepalli Radhakrishnan. He was a former President of India, and recipient of the prestigious Bharat Ratna. A man of many good qualities, he was a favorite teacher among his many students. In fact, it was his request that his birthday be celebrated in honor of all teachers in the country.
The rest, as they say, is history. Teacher's Day is celebrated in India every year on the 5th of September. A tradition that started back in 1962, is still going strong to this day.
The Significance of Teacher's Day
We all know that Teacher's Day is a day that all students and teachers look forward to celebrating. Most of us even know which day is Teacher's Day.
However, do we truly understand the significance of Teacher's Day?
For teachers, the day provides a chance to bask in the adulation showered on them by their loving students. For the students, it is an opportunity to understand the efforts put in by their teachers, to make sure they get the best education possible.
Plenty of people believe that the future of a country lies in the hands of its children. Teachers don the hats of mentors to those children, who might grow up to be future leaders in the fields of their choosing. Moreover, they even push our children towards becoming better members of society.
It's little wonder, then, that Teacher's Day is celebrated around the country with so much fanfare. It is indeed a day to acknowledge the hardships endured by all teachers, in shaping our children into ideal human beings.
Some Interesting Teacher's Day Facts for Kids
Here you will find some interesting Teacher's Day Facts for Kids, that you probably didn't know yourself.
S. Radhakrishnan was born on the 5th of September, in 1988, in Tiruttani, a small town in Chennai. He was a brilliant student, and did his schooling in Tirupati and Vellore.


Radhakrishnan's family struggled to meet even the most basic human needs. Despite being mired in poverty, he rose against the odds and worked hard to become the great person he was to become in his later years.


After Independence, when Dr. Radhakrishnan became the first Vice President of independent India, he was asked to make a plan for India's universities. That was when he made the suggestion that it was important for all students to learn the different Indian religions in schools and colleges.


In 1962, Dr. Radhakrishnan took over as the President of our nation. That was the first year that Teacher's Day was celebrated.


Radhakrishnan's father was actually hellbent on making his son a priest. However, life had other plans for the boy. His natural inclination towards studies and his excellent academic performances, allowed him to study in even the harshest conditions. Most of the time, he studied on scholarship.


In 1984, the World International Teacher's Day was proclaimed by UNESCO. This was to commemorate the signing of the 1966 UNESCO recommendation concerning the status of teachers.


During his presidential years, Dr. Radhakrishnan's friends and even students, urged him to celebrate his birthday. However, the great man said he would be happiest to see his birthday celebrated as Teacher's Day. Right from that time, the 5th of September has been celebrated as Teacher's Day all across the country.


In 1948, Dr. Radhakrishnan was elected as Chairman of UNESCO's Executive Board. In 1954, he was awarded the highest civilian award in the country, the Bharat Ratna. He was even nominated for the Nobel Prize a staggering 27 times.


During his lifetime, Dr. Radhakrishnan penned many books. To this day, these wonderful books continue to inspire all sections of Society. They include the book 'The Philosophy of Rabindranath Tagore', which not only gained global recognition, but presented the uniqueness of Indian Philosophy to the entire world.


In India, Dr. Radhakrishnan is also known as one of the most popular philosophers of all time. After receiving his Bachelors in Philosophy from the Christian College in Madras, he became a professor at Madras Presidency College. Later, he went on to become a professor of Philosophy at the University of Mysore.


Radhakrishnan's fame spread across not only India, but the entire world, too. He was recognized by Oxford University, when the prestigious university approached him to take up the exalted position of Spalding Professor of Eastern Religions. Furthermore, he was elected as a Fellow of The British Academy in 1939.


In the year 1975, Dr. Radhakrishnan was awarded The Templeton Prize. This was on account of his promoting 'A universal reality of God that embraced love and wisdom for all people.' The noble and altruistic person that Dr. Radhakrishnan was, he donated all the prize money to Oxford University.


Teacher's Day is celebrated on different dates in different countries. Just like in the case of India, it is correlated to eminent personalities or achievements and milestones in the domain of education.
At EuroKids, we know how important Teacher's Day is for all our wonderful teachers and students. It is a day for kids to not only celebrate their beloved teachers, but to honor them, too. After all, the role of teachers in the lives of children is something that simply cannot be measured.