Best Winter Books For Preschoolers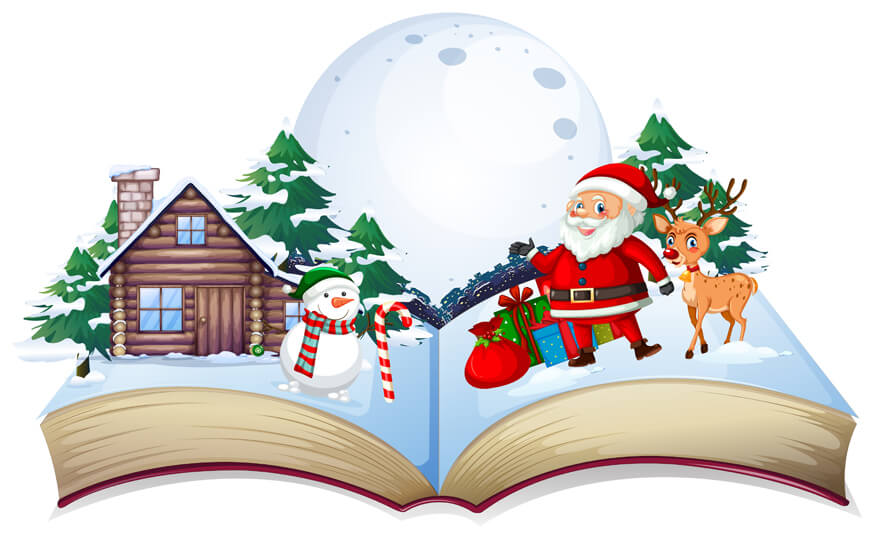 Best Winter Books for Preschoolers: Sparking Imaginations and Warming Hearts
Winter is a magical season, especially for preschoolers. It is a great time to curl up with some good books because of the sparkling lights, and the excitement of the approaching Christmas season. Little learners can learn about this frigid season by reading winter stories. They can enjoy a few humorous stories about the secret lives of snowmen, practice counting, and learn about unique creatures in the winter. Your kids will remain attentive during circle time if you use these books. Below, we have compiled a list of some of the best winter books for preschoolers that will warm their hearts and delightfully spark their imaginations.
Winter Books For Preschoolers
"Winter Is Here" by Kevin Henkes

"Winter Is Here" by Kevin Henkes celebrates the joys of winter, from ice skating to making snow angels, it has got everything covered. Its simple text and expressive illustrations are perfect for preschoolers. This book captures the pure delight of wintertime activities and encourages young readers to enjoy the charm of the winter season.

"The Snowy Day" by Ezra Jack Keats

"The Snowy Day" is a timeless winter tale that follows Peter, a young boy who experiences the joy of playing in the snow for the very first time in his life. The beautiful illustrations and captivating narrative make it a perfect choice for preschoolers. This book is a true winter wonderland that captures the joy of a snowy day and the mysticism from a kid's viewpoint.

"The Mitten" by Jan Brett

In "The Mitten," Jan Brett weaves an entertaining story of a lost mitten and the animals that seek warmth within it. It is an excellent choice for reading about winter because of the beautiful, elaborate graphics and the engaging plot. Preschoolers can learn about sharing and affection in this book during the chilly winter months.

"Bear Snores On" by Karma Wilson

"Bear Snores On" is a heartwarming story of a hibernating Bear and his forest friends who come together for a cosy winter party in his den. The rhythmic and rhyming text, paired with beautiful illustrations, will engage young readers and listeners alike. This book celebrates the importance of friendship and the joy of coming together during the winter season.

"Snow" by Uri Shulevitz

"Snow" by Uri Shulevitz captures the simple magic of a snowy day. The story focuses on a young boy and his dog while they watch snowflakes fall and finally transform the city into a beautiful paradise on Earth. It is a lovely celebration of how snow can change things. Preschoolers learn to appreciate the magic and beauty of winter from this book.

"The Polar Bear Son: An Inuit Tale" by Lydia Dabcovich

"The Polar Bear Son" is a story of a traditional Inuit tale. This story follows a mother's love for her polar bear son and is a heartwarming winter read that introduces children to different cultures and the importance of family bonding. It teaches preschoolers about the values of love, family, and understanding across cultures.

"Owl Moon" by Jane Yolen

"Owl Moon" is a poetic and serene tale about a young girl's nighttime journey with her father when they go for owling. The peaceful wonder of a winter's night and the relationship between a father and child are both beautifully depicted in the novel. Children are encouraged by this book to value the quiet beauty of nature in the winter and the unique times they can spend with their loved ones.

Snowmen at Night" by Caralyn Buehner

In "Snowmen at Night," readers take on a fun adventure, wondering what snowmen do when no one is watching. According to the book, these snowmen come alive at night and take part in a variety of entertaining activities, such as sledging and snowball fights. It is a charming story about imagination and the magical abilities of snowmen, ideal for encouraging young minds to be creative.

"Froggy Gets Dressed" by Jonathan London

Preschoolers will enjoy Froggy's antics and the fun, repetitive text. The story is cumulative and revolves around the idea of dressing. Every time Froggy goes out to enjoy himself in the snow, he always forgets a piece of clothing. This book adds a touch of humour and relatability to the winter experience for young readers.

"Snowballs" by Lois Ehlert

The short story Snowballs tells the tale of how a person creates a snowy world with snow people in it—a snow mom, dad, baby, boy, girl, family cat, and even a dog spot. That's only part of the story after the snow melts. The visually attractive book "Snowballs" has many colourful collage-style visuals. It is a lovely and imaginative way to honour snow and winter.

"Snowmen at Night" by Caralyn Buehner

An enjoyable read-aloud about snowmen that touches on issues of recognizing and comprehending emotions. This is an excellent book for children with autism who are learning about emotions. Each page has an encoded image of a cat, Santa face, dinosaur, and rabbit. Children of all ages read through the pages searching for these hidden photos. Well, finding some is much simpler than others.

"The Cat in the Hat" by Dr. Seuss

The Cat in the Hat is a 1957 children's book written and outlined by American author Theodor Geisel, also known by his pen name, Dr. Seuss. The main character of the tale is a tall, human-like cat with a red bow tie and a top hat with white and red stripes. The mischievous cat, the colourful visuals, and the rhymed prose will all attract young readers.
Reading habits can be helpful!
One of the essentials for being successful in life is to read. It enhances self-assurance and improves communication skills. It is good for one's overall well-being. Reading helps in understanding the different perspectives and makes one think critically, hence making them good decision-makers. So, a reading routine can be beneficial for preschoolers.
It is said that books are a man's best friend. One can read it while they are lonely, exhausted, or bored. Its never-ending battery life is its best feature. You can choose a physical book or a magazine for your young ones. However, you can also take a look at ebooks which are freely available online and easily accessible. So, pick a book and enjoy reading with your kids.
If you are looking for an exceptional environment for your preschooler to grow and learn, consider EuroKids Play School. With a curriculum designed to foster holistic development and a caring staff that understands the unique needs of every child, EuroKids provides a warm and supportive setting for early education. Enrol now to give your child a head start in life. Visit us today!