Best Baby Wipes for All Skin Types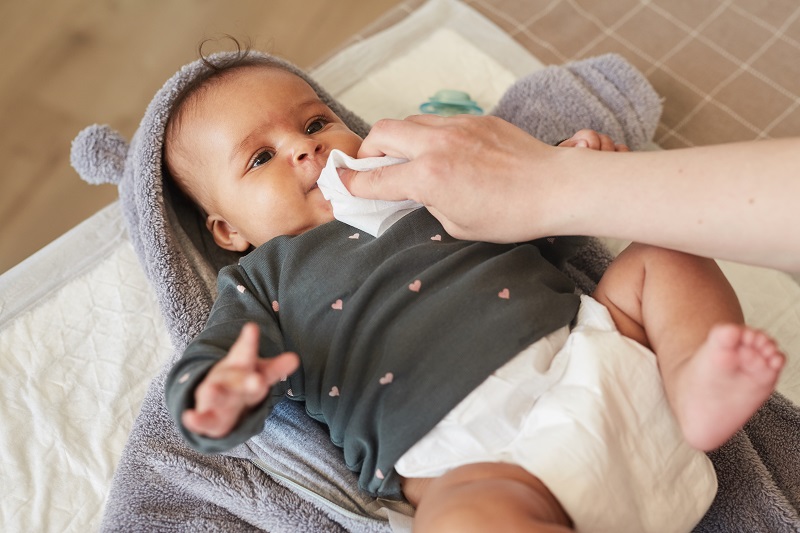 Has searching for the best baby wipes become the most daunting task of your early parenthood experiences? Are you finding it challenging to find the best baby wipes for sensitive skin? Well, you are not alone. Many parents need help in choosing the most suitable baby wipe. With the wide range of options available in the market, selecting the best baby wipe on the first go is nearly challenging!
The dozens of brands and styles of baby wipes include different scents, textures, sizes and packs. Some of the brands even offer organic wipes for kids. Many parents prefer to use natural wipes for kids to keep their babies clean and safe from skin irritation, rashes and infections. Baby wipes come into contact with your baby's delicate skin multiple times daily, so choosing the suitable baby wipe is essential.
Why Do You Need a Baby Wipe?
Baby wipes are often used to clean a baby's bottom during diaper changes. They are gentle on a baby's sensitive skin and are formulated to clean up messes quickly and effectively. Hence it is crucial to pick the best baby wipes for sensitive skin. Baby wipes can also be used for various other purposes, such as wiping a baby's face or hands, cleaning up spills and messes, and refreshing the baby when a shower or bath is impossible. The best baby wipes are versatile and convenient tools for keeping a baby clean and comfortable.
What Are the Benefits of Using Baby Wipes?
Disposable baby wipes are popular among parents, caregivers and preschools because of their many benefits:
Changing diapers is made simpler and more practical on the go with the help of baby wipes. Diaper duties won't be messier anymore. They don't need to be cleaned and washed after usage; they may be thrown away.
One of the best baby wipes is the ones that are available in small packs that are easy to carry into a purse or diaper bag. So even during an emergency, you will be well equipped to handle the mess.
Made for baby skin. Organic baby wipes are made specifically for a baby's skin. They don't include harsh irritants or other substances that can harm your child's skin.
What Are the Alternatives to Baby Wipes?
Some parents develop alternatives to natural baby wipes for various reasons, including cost, environmental concern, or practical considerations (such as flushing). Some people utilise everyday household items like toilet paper and water, paper towels and water, or cloth towels that they wash in the same machine as their cloth diapers. Some experiment with creating baby wipes by combining paper towels, distilled water, oils (like coconut and baby oil), and a light cleanser or shampoo. The oil nourishes the skin and assists in cleaning dirty diapers, and the distilled water inhibits the growth of any bacteria.
How to Choose the Correct Baby Wipe?
Ingredients – Babies' skin is susceptible and is not used to the chemicals in soap, shampoo, and other everyday cleaning essentials. When choosing the best baby wipe for your child's sensitive skin, examining each ingredient before buying is crucial. Water-based wipes formulated using only purified water are the best baby wipes. However, suppose your baby's skin is more dry than usual. In that case, you could also go for wipes containing hydrating ingredients, which will be more suitable for dry skin. You can also look for hypoallergenic, fragrance-free, alcohol-free, or plant-based wipes. With great baby wipes available, choose the ones that suit your little one's skin.
Price and Quantity: When choosing the best baby wipe for your child, compare the cost per wipe rather than the price per pack. Some packs may contain more wipes than others. Also, you should understand that you may need more wipes if they are thinner or are of lower quality than you would if they are thick. You can also buy baby wipes in single packs, multi-packs, and bulk. Generally, if you buy baby wipes in size, the price per wipe is reduced.
Consider Your Baby's Skin Sensitivities: If your baby has susceptible skin, you should go for natural baby wipes that are hypoallergenic. They are least likely to cause any irritation to your little one's skin. In addition, while choosing baby wipes, you should ideally go for baby wipes that are fragrance-free, paraben-free, and alcohol-free. Further, you could also go for wipes loaded with natural components like aloe vera.
Texture: The texture is significant for choosing the best baby wipe for your child. You should select wipes with a soft and gentle texture so they don't irritate your baby's delicate skin. Some wipes have a quilted texture that can help to clean up messes more effectively.
Thickness: Thickness is another critical factor to consider when choosing the best baby wipes for sensitive skin for your child. Thicker wipes are generally more durable and less likely to tear, making them easier to use during diaper changes and more convenient.
Packaging: Consider the type of packaging the wipes come in. A resealable package will help to keep the wipes moist and fresh for longer. At the same time, a pop-up dispenser will make it easier to grab a wipe with one hand during diaper changes.
Brand Reputation: Choose wipes from a reputable brand with a proven track record of producing high-quality, safe baby products to ensure a secure experience for your baby.
Concern For the Environment: Since baby wipe is a very frequently used product for the initial few years of any baby, it has a vast potential to generate waste. If cost permits, you should use biodegradable wipes to care for the environment and your little one's sensitive skin.
Conclusion
Choosing the best baby wipe for your child is highly important to ensure adequate hygiene and avoid any irritation to your child's sensitive skin.
Like baby wipes, it is also crucial to choose the best baby shampoo for your child as per their needs.
At Eurokids, we ensure using the best baby products for your kids. Click here to know more or to visit a Eurokids centre for preschool admission for your child.