11 Best Toys and Games for Child Development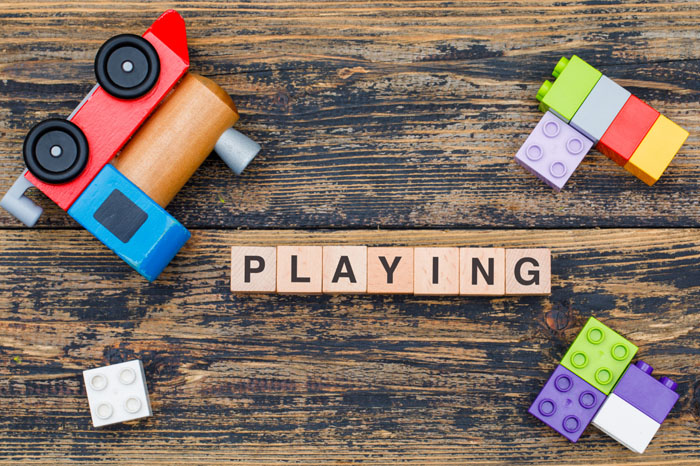 There are five broad aspects of personal health and development: physical, emotional, social, spiritual, and intellectual. When it comes to child development, child toys, and games can be a great way to help children learn new skills and have fun at the same time.
Child toys and games play a pivotal role in achieving holistic child development. Child toys and kids' games help develop a child's mind (cognitive skills), body (motor skills) and emotional (handling victories and losses), and social quotient (teamwork and collaboration).
Cognitive skills primarily involve the brain's functioning, such as creative, critical, and analytical thinking skills. These skills help in decision-making, a crucial ingredient for long-term growth.
As per the revised Bloom's Taxonomy, there are six levels of cognitive learning – Remembering, Understanding, Applying, Analysing, Evaluating, and Creating. The development of these six levels of education is essential for the robust cognitive development of children. Our educational system and curriculum are built around developing and enhancing these cognitive skills.
Motor skills involve specific movements of the body's muscles to perform tasks equally necessary for a child's development. Motor skills determine a child's adeptness in carrying out tasks such as running, walking, crawling, jumping, sliding, swimming, throwing, catching, dribbling, kicking, etc. Fine motor skills also involve the tasks we achieve by the finer movements of our wrists, hands, fingers, feet, and toes, such as playing the piano, tying shoelaces, threading a needle, brushing teeth, etc.
Following are the 11 Best Categories of Toys and Games that can Achieve this Holistic Development of a Child
1. Building Blocks or Legos
Kids' games or toys based on building blocks or legos are top-rated these days. These games engage both the cognitive and motor skills of children. Kids playing with legos or building blocks (e.g., Rubix cubes) must apply critical and creative thinking to match the right pieces with their counterparts to build something significant. These games often are challenging and time taking, thus invoking a sense of patience and concentration among the kids playing these games.
2. Shape Sorters
Kids playing games based on shape sorters require them to identify and name shapes and sometimes place them in their respective slots. These activities invoke motor skills such as hand-eye coordination and thinking skills such as reading, understanding, recognizing, matching, and problem-solving skills.
3. Jigsaw Puzzles
Child toys based on solving jigsaw puzzles are engaging and fun yet challenging. These games work on the child's development of motor skills and problem-solving skills. Jigsaw puzzles require children to turn, flip, slide, and wriggle pieces into position, helping children to develop finger strength and hand-eye coordination. The challenging nature of such child toys also creates a sense of perseverance among children.
4. Board Games
Kids' toys based on board games such as Monopoly and chess can be valuable tools for developing their cognitive skills. Such kids' games invoke problem-solving skills along with creative and strategic thinking. Frequently played in teams, they enhance a sense of team playing and collaboration. They teach children to focus and handle anxiety while they navigate the highs and lows of these engaging and fun games.
5. Dolls or Action Figures with Accessories
As per a prominent behavioural study, playing with dolls or action figures encourages kids to talk more about others' thoughts and emotions. Playing and interacting with imaginary figures and dolls helps them develop their social skills and enhance a sense of empathy toward other people's emotions and feelings. Taking care of their favourite dolls or action figures creates a sense of ownership and responsibility among children.
6. Musical Instruments
Musical instruments invoke the highest order of learning among children – creativity. Playing musical instruments requires dedication, patience, focus, practice, and creativity. Musical instruments help kids identify rhythms and patterns to create music. Musical instruments, such as piano and guitar also help in enhancing their motor skills.
7. Art and Craft
Kids playing with toys based on art and craft enhances their creativity, organisational, and problem-solving skills. Combining various art supplies to create something new and beautiful gives them a sense of achievement and purpose. Indulging in art and crafts also removes their minds from anxiety and worries they might be handling. They learn to think outside of the box and in unconventional ways.
8. Sports
Outdoor or indoor sports, such as cricket, football or table tennis, and badminton, helps enhance their motor skills and contribute significantly to physical development in children. Team-based sports promote a sense of bonding and teamwork among children. Children who participate in athletics and sports are also seen to perform better in academic tests and exams. Participating in such competitive sports also helps strengthen them mentally to compete and emotionally to handle victory and defeat.
9. Books and Reading-Based Games
Child toys involving reading enhance their vocabulary and language skills. These games improve their ability to comprehend and understand language. Such games instil a love for reading in children, which can be significant in long-term development. Reading enhances focus and concentration among kids and also positions them well for academic performance.
10. Science Kits or Educational Games
Child toys based on scientific phenomena can be of great developmental significance for children. Such toys develop children's cognitive skills, invoke their curiosity, and their ability to think analytically and creatively. Such educational toys are a fun way for children to learn while at play. Innovative educational kids' toys bring complex phenomena to life and help children understand the same.
11. Construction Sets
Construction sets are a great way to help children develop their problem-solving skills and spatial awareness. They can also teach children about engineering principles and design concepts.
Outdoor Play Equipment like Swings, Slides, and Sandboxes
Outdoor games for the child, such as swings, slides, and sandboxes, take them out of their homes or classroom environment and introduce them to new sensory engagements. Swinging or going down drops helps enhance their motor skills, such as grip strength and hand, arm, and finger coordination. These games also develop a sense of balance and spatial recognition among children. These outdoor thrills also introduce them to exciting new feelings and emotions.
9. Technology
Technology can be a great way to help children develop their digital literacy skills and creativity. They can also be used to teach children about coding, robotics, and other STEM topics. Examples of technology-based toys include robots, coding kits, and virtual reality headsets.
Access to such games and toys can ensure coverage of any developmental gaps left behind in school. Parents must find ways to provide access to such games and toys to children. Most preschools give access to these toys and games for child development. These days, public parks and play areas are a frequent sight in residential areas. Parents must set aside dedicated time in their child's daily routine to engage in these games and toys.
Enroll your kids in EuroKids preschool for learning fun activities and games.