10 Collaborative Art Projects for Kids and Parents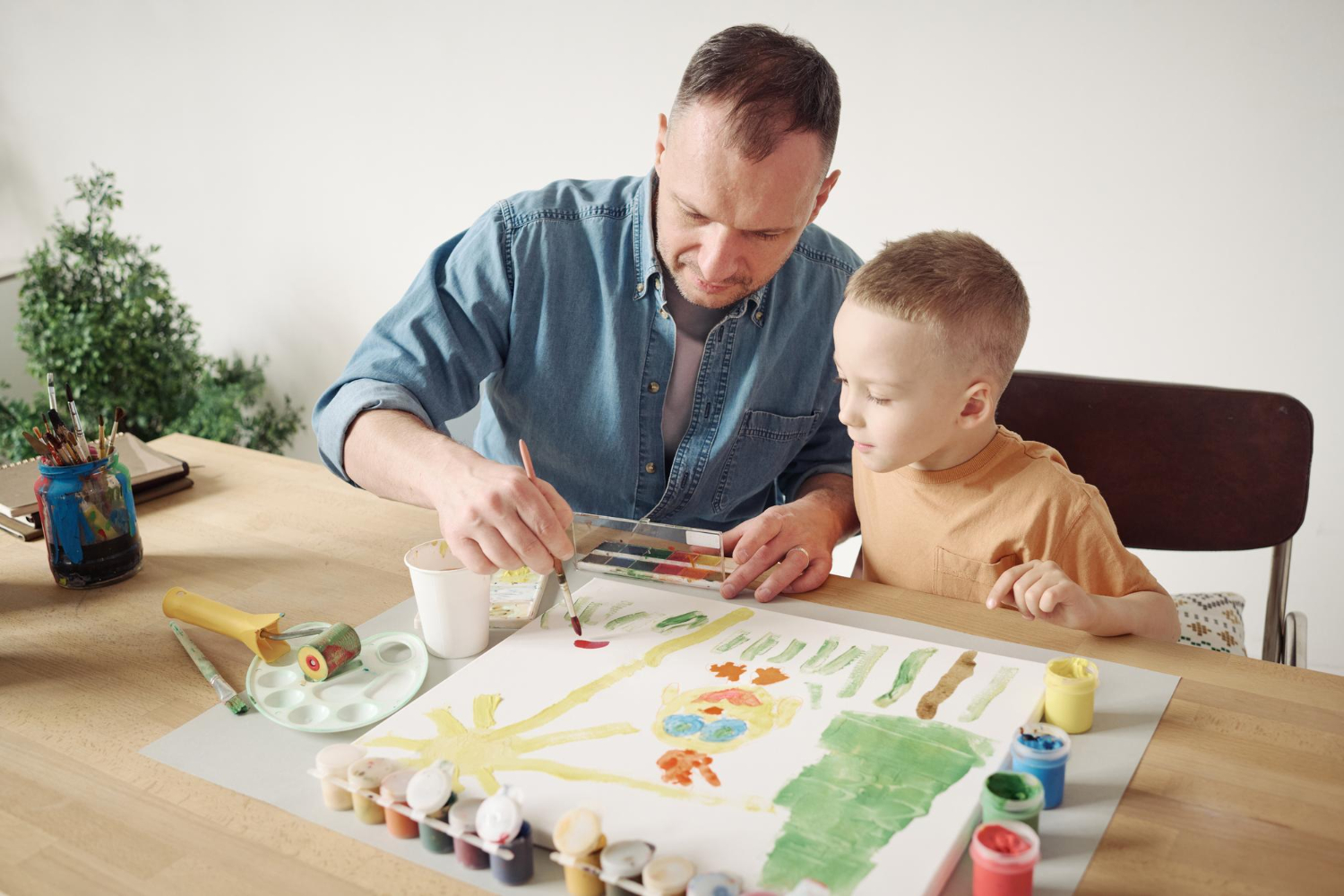 Get ready to unleash a whirlwind of color, imagination, and laughter! In this fun-filled blog, we're about to embark on a fantastic adventure, exploring ten amazing art projects that kids and parents can team up to create. Imagine splattering vibrant paint onto rocks, designing your own comic strip adventures, or weaving an eco-friendly collage with nature's treasures. With a treasure trove of art activities for kids, you and your little ones are bound to create magical memories and one-of-a-kind masterpieces that'll last a lifetime. So, buckle up, and let's dive into the world of collaboration and creativity!
Painted Rocks: A Classic with a Twist
One of the simplest yet engaging art activities for kids is painting rocks. It's a wonderful way to spend time outdoors and collaborate on creative art projects for kids. Parents can assist with choosing the rocks, mixing the paint, and coming up with designs. Then, let your imaginations run wild as you create an assortment of colorful, patterned rocks. Once your masterpieces are complete, display them in your garden or around the house for a burst of personality.
Handprint Canvas: A Collaborative Family Keepsake
This collaborative art activity is ideal for parents and kids of all ages. Each family member selects their favorite color and takes turns painting their hand before pressing it onto a large canvas. The result is a beautiful, layered handprint design that represents your family bond. Consider adding the date and framing this treasured keepsake to hang on your wall.
DIY Stained Glass: A Glittering Collaboration
Create your very own stained glass effect with this easy and engaging art project for kids. Using colored tissue paper, clear contact paper, and black construction paper, you can design and craft an array of faux stained glass windows. Parents and kids can collaborate on the layout and color combinations, encouraging teamwork and communication. Once complete, display your work in a sunny window to enjoy the vibrant colors.
Collaborative Comic Strip: A Storytelling Adventure
If you've got aspiring writers or illustrators in the family, this art project is a fantastic way to encourage their creativity. Together, come up with a story, develop characters, and create a storyboard. Then, let your creativity flow as you work together to draw and color the comic strip. This collaborative art activity not only promotes teamwork but also helps develop storytelling and artistic skills. The kids would be enthralled by this activity. After all, this is amongst the best art activities for kids for a reason 🙂
Family Mural: A Wall of Imagination
Transform a blank wall or large piece of paper into a collaborative family mural. Choose a theme or let everyone's imagination run wild as you paint or draw a scene together. This art project for kids is a fantastic way to encourage creative expression while building a sense of unity and accomplishment in your family's artistic creation.
Personalized Puzzles: A Mind-Bending Art Activity
This fun and creative art project involves designing and creating your own puzzles. Draw or paint a picture on a sturdy piece of cardboard, then cut it into puzzle pieces. Parents and kids can collaborate on the design and cutting processes, ensuring that the puzzle is both challenging and visually appealing. Once completed, enjoy solving the puzzle together or give it as a unique, handmade gift.
Customized Tote Bags: A Fashionable Collaboration
Customize plain canvas tote bags with this collaborative art activity. Using fabric markers or fabric paint, parents and kids can work together to create one-of-a-kind designs. Whether it's a family portrait, a pattern of handprints, or a collection of your favorite things, the possibilities are endless! These customized tote bags make great gifts or everyday accessories.
Upcycled Wind Chimes: A Musical Art Project
Transform ordinary household items into a harmonious masterpiece with this creative art project for kids. Gather materials like keys, bottle caps, and old utensils, and then work together to create a one-of-a-kind wind chime. Parents can assist with drilling holes and attaching the items to a sturdy base, while kids can help with painting and designing. Hang your upcycled wind chime in your backyard or on your porch to enjoy the sweet sounds of your collaborative creation.
Nature Collage: An Eco-Friendly Art Adventure
For this environmentally friendly art project, head outdoors to collect natural materials like leaves, twigs, flowers, and small rocks. Once you've gathered your supplies, arrange them on a large piece of paper or canvas to create a stunning nature collage. Parents and kids can collaborate on the composition and placement of the items, creating a beautiful representation of the world around them. Preserve your nature collage by glueing the items in place or by placing them under a sheet of clear contact paper.
Family Quilt: A Cozy, Collaborative Art Project
This art project is perfect for families who enjoy sewing or want to learn a new skill together. Work together to design and create a family quilt by selecting fabrics, cutting them into squares or other shapes, and arranging them in a pleasing pattern. Parents can teach kids basic sewing techniques, and everyone can contribute to the stitching of the quilt. The final product will be a cozy, collaborative work of art that you can cherish for years to come.
In conclusion, embarking on these ten entertaining and imaginative art projects for kids will not only open the door to a world of creativity and collaboration but also forge lasting memories between parents and children. Imagine looking back years from now and reminiscing about the time you turned a blank wall into a family masterpiece, or crafted a cozy quilt filled with love and laughter. By participating in these collaborative art activities for kids, you're nurturing the bond between you and your child, fostering teamwork, and encouraging their artistic talents to flourish. So, let's not wait any longer! Grab those art supplies, rally the family, and dive headfirst into this colorful journey of artistic exploration and togetherness.
Our special curriculum keeps the innocent and beautiful mind of a child at the heart of everything we do. Based on the three pillars (mindful learning, spaced learning, & blended learning), our initiatives focus on nurturing the mind of a child, keeping it healthy and well-balanced. To know more about the same, do visit a EuroKids centre nearest to your home