10 Best Outdoor Playsets for Toddlers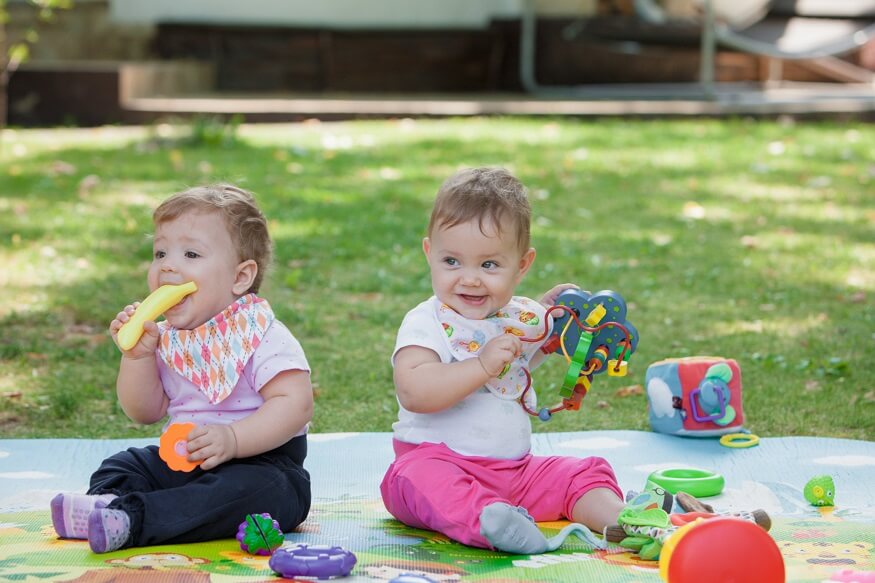 Toddlers, no matter how originally imaginative, need plenty of stimulation to help make their outdoors playing experience a most exhilarating one. Whether it's playing make-believe in a medieval castle or climbing a rock wall ladder, Outdoor Playsets for children can elevate their outdoor experience, making them yearn for more, thereby enhancing their motor skills and boosting their imaginations.
All this, of course, right in the very confines of their backyards!
Looking for value for money when buying that Outdoor Playset? Here's a look at some of the best children's Outdoor Play Equipment in the marketplace.
#1. Little Tikes Activity Garden Playset
This one's an example of outdoor play equipment for kids that's certainly worth buying.
Recommended Age: 6 months to 3 years
Highlights: It incorporates a variety of stimulating colors, textures and shapes that help developing motor skills and cognitive ability. What's more, it unfolds into an open, two-sided play center that affords multiple play possibilities. Things like the 'Clicking Caterpillar' and 'Spinning Butterfly', will keep children engaged for hours.
#2. Creativity for Kids Construction Zone Playset
If you're looking for Playsets for Toddlers that enhance their creative skills, this one's bang on the buck.
Recommended Age: 3 years and upwards
Highlights: Incorporating a sandbox that is filled with tools, sand and toys, it allows kids to go wild digging, scooping, sorting and playing with their hands. Tip: You can make their pretend games more fun by having them identify the toys or even make up stories about them.
#3. Backyard Discovery Buckley Hill
By and large one of the best outdoor playsets for toddlers, this one.
Recommended Age: 3 to 10 years
Highlights: It provides children a variety of areas to play on and explore. For instance, the upper fort deck that's protected by a sunshade. Or the section beneath that can also fill up with sand and serve as a sandbox. There are also two areas to hang swings from, a wavy slide and rock wall, too!
#4. Clubhouse Climber
An example of one of the coolest children's outdoor play equipment. Is your kid always trying to climb in strange places? This one's for them!
Recommended Age: 12 months to 4 years
Highlights: There are cool features like a climbing ladder with hand and foot holes, a bridge that connects to a lookout tower, a hideout area beneath with a crawl-through tunnel, and a wavy slide exit. If that's not enough, there are other fun amenities like a skylight, a steering wheel and even a cool electronic phone!
#5. PigPigPen Kids Tunnel for Toddlers
Outdoor play equipment for kids is the best when they give little ones a sense of adventure!
Recommended Age: 2 to 5 years
Highlights: Your child can play Hide-And-Seek, Peekaboo or simply chase their friends, in this durable tunnel made of polyester and safe stitching for children. It can help them develop their arm and leg muscles and boost their creativity by inducing them to make stories around the tunnel.
#6. Step2 All Around Playtime Patio with Canopy
It's playtime every moment here!
Recommended Age: 2+ years
Highlights: Besides the overall play structure being great, this wonderful outdoor playset comes packed with accessories like a water wheel, shovel and pouring cups. It is loaded with some really cool features like a sun shade, pretend grill, wet and dry table, and serving station with plates, cups, spatula, pot and pan and shovel. Note: Want to take it indoors? This one can be assembled without the canopy for indoor use!
#7. Little Tikes Rock Climber and Slide
Is there any child out there that doesn't love sliding and climbing? This adventurous outdoor playset takes that sliding and climbing fun several notches higher.
Recommended Age: 2+ years
Highlights: To begin with, there's an adjustable slide and two sets of climbing holes for both younger and older kids. There are safety rails that protect them, while three crawl-through tunnels provide them even more fun ways to play. Bonus: There's even a steering wheel and play telescope that make for some great imaginative play, alone or with their friends.
#8. Bundaloo Inflatable Seesaw Rocker
When children go to a park, what do they do? They head straight for the slide – or the seesaw! Why not let them seesaw from the comfort of your backyard?
Recommended Age: 3+
Highlights: All this inflatable seesaw made of high-quality PVC needs, is two eager children, to provide loads of guaranteed outdoors fun. Equipped with two handles for your children to hold onto, it is known for its safety and stability. We give a big thumbs up to this one!
#9. TP Toys Blue Explorer Den + Monkey Bridge
Again, if you have a 'climber' on your hands, this one's one of those outdoor playsets you want to purchase for them.
Recommended Age: 3+
Highlights: In essence, it is a 'Small Treehouse Fort meets Climbing Dome'. The overall design is brilliant, it makes for the perfect option for small backyards. What's more, you can even hang a slide or hammock swing from it. Bonus: The more adventurous can purchase The Monkey Bridge addon, which provides monkey bars with rails for children to hang from.
#10. Little Tikes Hide and Seek Climber
If you're looking to start your children early on where it comes to having fun with outdoor playsets, we highly recommend this one.
Recommended Age: 12 months+
Highlights: This wonderful climber comes with a climbing 'rock wall' that is especially designed for beginners. What's even more delightful here is the inclusion of an adventurous tunnel that little ones will love to crawl through. This outdoor playset is just the perfect size for toddlers and scores brownie points in building coordination and balance!
We at EuroKids place a strong emphasis on free play. That being said, while it might not be absolutely necessary for you to buy an outdoor playset for your little ones, the possibilities for fun and learning are more or less limitless, when you do.