World Egg Day – Facts about eggs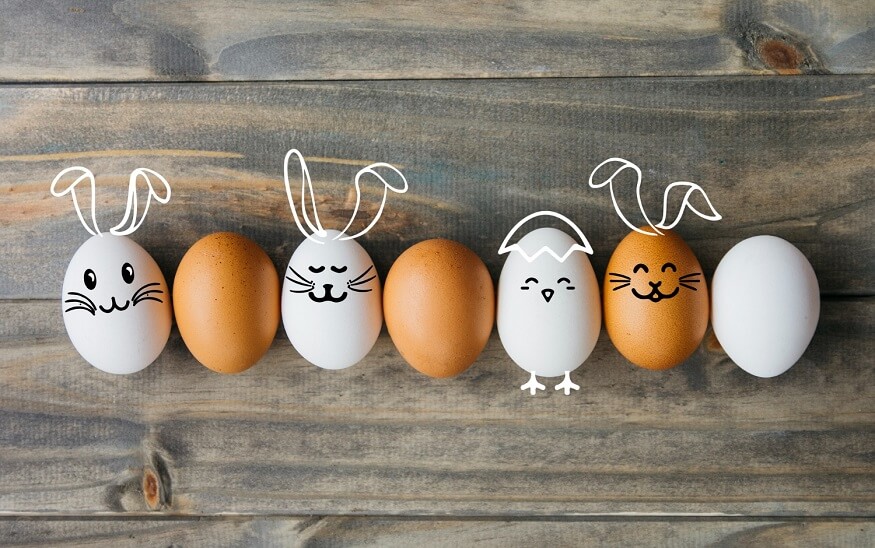 Boil them, scramble them or toast them, you know you simply cannot resist a breakfast with them!
Eggs are so versatile and nutritious, that it is no surprise that a whole day of a calendar year is dedicated to them!
This white-shelled is widely loved all over the world and is used in both savoury and sweet foods alike. The world's love for eggs is so profound that food historians say that the use of eggs can be traced back to 6 million years ago. Think 3200 BCE when wild birds were first domesticated in India, leading to the use of their eggs as food.
It is to honour this rich history and widespread use of eggs is why World Egg Day is celebrated on the second Friday of October everywhere!
Egg-cited to know more? Let us hatch this story wide open for you!
What exactly is World Egg Day?
Held by the International Egg Commission, World Egg Day is all about celebrating the universal significance of the humble yet mighty egg. This powerful food combines the best of taste and nutrition, which has turned it into a global favourite. Go to any corner of the world and the chances of you finding eggs on the local food menu are pretty high.
Rich in protein, eggs are available in abundance in almost all corners of the world. However, eggs are not merely famous for their nutritional value, taste and versatility. In many parts of the world, eggs are revered as sacred foods. For example, in Christianity, eggs are emblematic of eternal life, fertility and resurrection. That is the reason why they form such an integral part of the celebrations of Easter.
In ancient Egypt, eggs were considered the origin of our planet and all the life on it. Plus, who can forget the old chicken and egg question? That debate still enamours and engages the world today!
When is World Egg Day celebrated?
Time for the million dollar (or rupees, if you will) question! When is World Egg Day observed, you ask? As we already mentioned, the second Friday of October every year is chalked out for celebrating World Egg Day. This year, the date for it is 14th October.
World Egg Day was first observed in the city of Vienna in 1996. Back then, the core cause for celebrating this day was to raise awareness about how nutrient-rich eggs really are, aligning with the principles of World Food Day. Now, it is all about celebrating this humble and affordable food's power and role in the world of food, emphasising its contribution to global nutrition.
What is the theme of World Egg Day for the year 2023?
Just like most other international days that are observed worldwide, World Egg Day has a theme too.
For World Egg Day 2023, the International Egg Commission has chosen the theme of "Eggs for a healthy future." The focus this year is going to be on how eggs can be a powerful yet sustainable source of nutrition that contributes to a healthy future for everyone on this planet – be it the people or the environment.
Previous years have had very interesting themes too. Take for example the theme for World Egg Day 2022, which was "Eggs for a better life." Or for the year 2021, which chose "Eggs for all: Nature's perfect package" as its core agenda. The one for 2020 was "Eggs: much more than the perfect protein."
What is the importance of eggs in our daily lives?
One of our finest food discoveries, eggs are one of nature's most protein-dense foods. The protein in eggs contributes to the development of our brains and muscles while strengthening the body overall. Let us take a 'crack' at all the reasons that make eggs so important:
The core nutrient in eggs is protein. Most of an egg's protein is found in the whites of it rather than the yellow yolk.
You will also find a lot of vitamins and minerals in eggs. These include vitamins such as A, B6, B12, D and K. On the mineral side of things, you will find copper, iron and zinc in eggs in high amounts.
Eggs also contain high amounts of a nutrient known as choline, which is responsible for improving memory and plays a role in brain development.
Egg whites are extremely nutritious while the yolks are fatty.
The importance of eggs does not end with its nutritional value. Eggs can also be a sustainable food source. In the present day, most farmers and organisations are focused towards practising sustainable sourcing methods so it can continue to be a part of our collective diets, now and beyond.
When is National Egg Day?
Well, World Egg Day is not the only day observed in the commemoration of eggs. We have our very own National Egg Day too in India! Celebrated on June 3rd of every year, this day shares heart and soul with World Egg Day.
What kind of activities are observed on World Egg Day?
To mark this very special day, people organise several events and activities. After all, the agenda is to increase the awareness about eggs as much as possible. You can celebrate World Egg Day too with the following activities:
Whip up delicious egg-based dishes for your friends and family.
Host a workshop that educates people on the several benefits of eggs for consumption and the environment.
Play egg-based games such as an Easter egg-like treasure hunt. You can also paint egg shells, or use the shells to create various works of art and craft.
Organise a quiz on eggs on social media and have a little eggs-tra fun with your followers.
World Egg Day quotes and wishes
Planning to celebrate World Egg Day in school or at home with your friends and family? We have prepared a list of egg-static quotes and wishes for you!
An egg a day can also keep the doctor far, far away! Wishing you an egg-cellent day!
Let us celebrate World Egg Day with a hearty and healthy breakfast of delicious and nutritious eggs! Happy World Egg Day!
There is nothing as egg-citing as whipping up a storm in the kitchen with eggs! May you have a hale and hearty World Egg Day!
The great thing about eggs? They are simply irresistible! Have an egg-licious day, everyone!
This World Egg Day, be egg-stra!
We hope you enjoy sharing these World Egg Day quotes and wishes! You can use this blog to teach your kids about the wonders of eggs and the history and importance of World Egg Day. Explore delicious egg recipes and discover why eggs are so special. At EuroKids, we keep our preschoolers up to speed on the important days of the world by conducting event-specific activities in the classroom. For more information on our preschools, visit the one that is nearest to you.