Which is the Best Baby Monitor?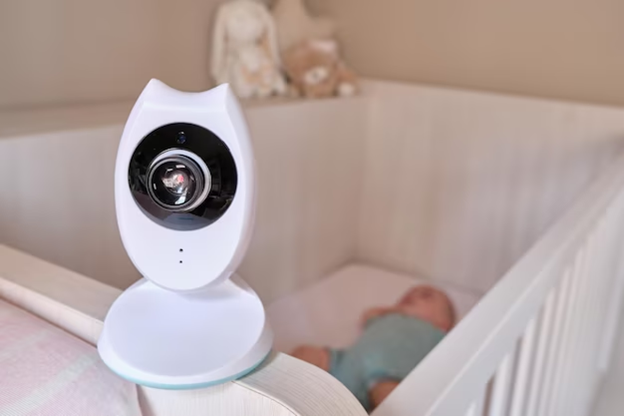 Is it your first time being a parent, and your quest to find perfect products, gadgets, and gears like baby monitors is getting challenging and overwhelming? A lot of people believe that in a house where bedrooms are very close, baby monitors aren't needed. Many believe it is redundant to have crib monitors for babies as parents know their sleep cycle minute by minute. However, reasons like this can be overruled when compared with the number of accidents that happen with babies left unmonitored. So let's dive in to find which is the best simple baby monitor.
Types of baby monitor
With the technology boom, the market is storming with baby monitors with a wide range of features and utilities influencing the buying decision. You can use monitors to know if your baby is sleeping safely. You can pick an audio or video monitor based on your needs and budget.
The baby video monitor has cameras and screens that allow you to see and hear your young one. Some of these monitors also give information on temperature so that you can see how hot or cold your baby's room is. They also let you play soothing music, have a two-way speak option so you may comfort your baby with your voice, or even have a nightlight.
The heart rate, temperature, respiration, and movement of your baby can all be monitored with these monitors using extra items called – vitals tracking monitors. While some baby monitors operate on a wireless network signal, many provide data through radio frequency.
Infant Optics DXR-8
The Infant Optics DXR-8 crib monitors for babies shine out in the survey of seasoned parents, personal experience, and online reviews. High-end features include crystal-clear audio and video, a lengthy battery life, a two-way intercom so you can talk to your baby, night mode, digital audio-only mode, a wide-angle lens so you can see the entire room, and remote control of the camera so you can move it around to see everything or change the angle. The ability to attach up to four cameras and its capacity to rotate and zoom is rated highly. Since the wide-angle lens lets you see the entire room, many parents prefer to consider this as the best simple baby monitor even for the toddler phase. If a baby sibling is born, you may easily add another camera without purchasing an additional screen unit. The DXR-8 provides excellent quality and the features that the majority of parents desire at a fair price.
Eufy Security Spaceview Video Baby Monitor
The Eufy Spaceview video monitor for babies is a rising star in the field of the best simple baby monitors. It has all the great features of Infant Optics' DXR-8. The video clarity is exceptionally sharp on the 5-inch, high-definition (HD) screen. You can see more with this monitor than with most other radio frequency displays. Thanks to excellent zoom, pan, and tilt features, you can view every detail.
In addition, this monitor has a wide-angle lens, wall mount, built-in thermostat, night vision, two-way speak, quick notifications when your baby cries, a long battery life, and a simple setup.
This model upgrades all the ideal video monitor characteristics while keeping the cost extremely affordable. Consider another scenario where you want excellent camera optics but want to use your phone as the display. In that case, you can buy the camera-only model, which is a bit less expensive, compatible with phones, and equipped with improved camera and security specifications.
Nanit Pro Smart Baby Monitor
The Nanit Pro Smart Baby Monitor may be the most potent object in existence if information truly is power. This is one of the best-sophisticated crib monitors for babies that employs computer vision to monitor and assess your infant's movements, sleeping habits, ambient temperature and humidity, and the frequency of your visits to the nursery. All of this information is stored in a phone app. As a result, you are free to observe your baby's sleep patterns without worrying about monitoring.
Additionally, the app will offer tailored sleep coaching based on your baby's individual patterns. Here's looking at all the worn-out parents who have been attempting to put that lovely little nocturnal creature to sleep. You can watch your ,a href="video monitor and the Nanit app">kid sleep from anywhere thanks to this camera's ability to stream to a video monitor and the Nanit app.
Apart from these baby monitors, Google Nest Cam Security Camera is another gadget that can be considered. It is a security camera for interior use that is compatible with the whole Nest smart home system. The fact that you can install numerous units throughout the house (making it a sleep monitor, nanny cam, and security camera all in one) and that it live streams directly to your phone makes it a great choice for new parents who are settling back to life. You can watch the footage anywhere without a particular viewing monitor. On your phone, you may view the video in real-time, rewind and view the video from the last three hours. You can sign up for the Nest Aware service to be able to capture video for extended periods of time. Although, the security of Wi-Fi monitors does raise some concerns.
Baby monitors can help you feel more at ease and possibly increase your baby's safety. The best simple baby monitors have features that can measure physiological data or sleeping patterns. Price, battery life, screen size, audio quality, range, connection type, connection security, and whether you want to be able to stream on your phone are a few things to think about when selecting video baby monitors.
At Eurokids, we understand and ensure the safety of your kids by all means. We also ensure you don't miss the critical moments of your kid's growing life by occasionally sharing pictures and videos.