Top Places in Madurai Where Kids Will Enjoy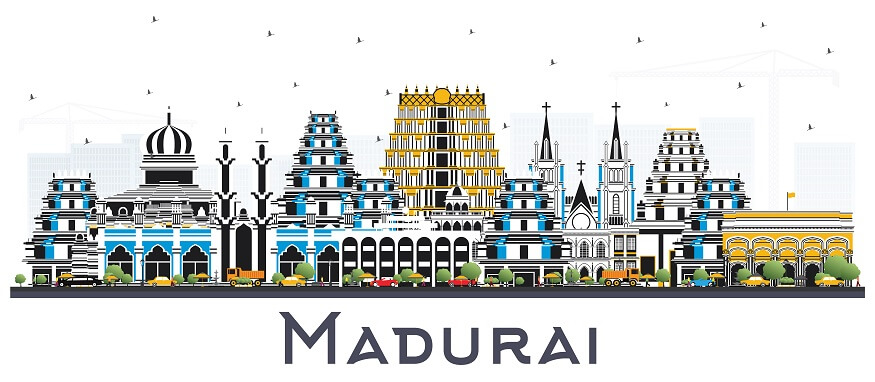 Top 10 Places to Visit in Madurai with Kids
Madurai, one of the ancient cities in India, offers a splendid combination of history, culture, and entertainment. While this city is primarily known for its historical and religious significance, it also has an array of attractions to keep the young ones engaged and excited. If you're wondering, "What are the places to visit in Madurai for a family day out?", we have curated a list for you.
Meenakshi Amman Temple The Jewel of Madurai

One of the most famous places to visit in Madurai is the Meenakshi Amman Temple. Adorned with intricate sculptures and vibrant colours, the temple is a visual delight that even kids would appreciate. The temple pond and the corridors filled with art and history will intrigue their young minds. Even if they are too young to understand the history, the sheer grandeur of the place is enough to leave them awestruck.

Gandhi Memorial Museum Walk Through India's Freedom Struggle

Although a museum might sound like a place for adults, the Gandhi Memorial Museum is structured in a way that children can understand and appreciate. This museum is among the top 10 places to visit in Madurai, as it narrates the story of India's struggle for freedom using visuals, which can be both educational and engaging for kids.

Thirumalai Nayakkar Palace A Glimpse into the Royal Past

When discussing what are the places to visit in Madurai, the Thirumalai Nayakkar Palace is a must-mention. Built in the 17th century, this palace showcases a blend of Dravidian and Islamic architecture. The daily light and sound show narrating the palace's history will keep the kids entertained while educating them about Madurai's rich past.

Vaigai Dam Unwind by the Water

A short drive from the city, the Vaigai Dam offers a serene environment and picturesque views. With parks surrounding the dam, it's a perfect place for a family picnic. Kids can enjoy boat rides, witness beautiful sunsets, and play in the gardens, making it one of the top 10 places to visit in Madurai for relaxation.

Rajaji Park Madurai's Fun-filled Haven

What's more enjoyable for kids than a well-equipped park? Rajaji Park is among the places to visit in Madurai that's tailored for children. With its various slides, swings, and recreational areas, it ensures that the kids have a fun-filled day out.

Eco Park Connect with Nature

Another gem among the top 10 places to visit in Madurai is the Eco Park. With musical fountains, thematic gardens, and boat rides, it offers numerous attractions for children. The park's serene environment also provides a perfect setting for parents to relax.

Samanar Hills Adventure and Ancient Carvings

For families who enjoy a bit of trekking, the Samanar Hills are ideal. Not only does it offer beautiful views of Madurai, but it is also home to ancient Jain carvings. While the hike might be more suited for older kids, the historical significance makes it one of the famous places to visit in Madurai.

Athisayam The World of Fun and Frolic

No list for kids is complete without mentioning an amusement park. Athisayam, located on the outskirts of Madurai, is filled with thrilling rides, water slides, and attractions tailored for children of all ages, making it one of the must-visit places in Madurai.

Azhagar Kovil Reverence Amidst Nature

Situated amidst hills, the Azhagar Kovil not only holds religious significance but also offers picturesque landscapes. The temple's architecture and the surrounding beauty make it one of the famous places to visit in Madurai.

Pazhamudircholai Murugan Temple Divinity on a Hilltop

Nestled atop a hill, this temple provides panoramic views of the city. The journey to the temple through the dense forest is an experience in itself. Among the places to visit in Madurai, this offers both a spiritual experience and a treat for nature lovers.
Madurai's Unique Experiences for Kids
Beyond the Traditional
When considering places to visit in Madurai, many often limit themselves to the historical and religious sites. However, this vibrant city has more up its sleeve to engage young minds.
Madurai Street Food Tour A Gastronomic Adventure
No visit to Madurai is complete without diving into its rich culinary culture. The city is famed for its array of delicious street food. Take your kids on a street food tour, where they can enjoy treats like jigarthanda, a cold beverage perfect for the city's climate, or munch on the famous kari dosa. Not only does this give them a taste of local delicacies, but it also introduces them to the joy of discovering new flavours.
Pottery Workshops Hands-on Creativity
Madurai, with its deep-rooted cultural traditions, is home to numerous artisans. Several local artisans and organisations conduct pottery workshops for children. Here, kids can learn the age-old craft, moulding clay into different shapes and getting their hands dirty. Such an activity not only is fun but also boosts their creativity and dexterity.
Local Markets: A Burst of Colour and Activity Engaging All Five Senses
Madurai's bustling markets are a treat for the senses. The famous Pudumandapam, located near the Meenakshi Temple, is an ancient hall turned into a market. Here, children can witness the vibrant display of traditional fabrics, toys, and trinkets. The sounds of hawkers, the aroma of fresh flowers, and the kaleidoscope of colours offer an immersive experience.
Cycling Tours Exploring at a Different Pace
For families that enjoy outdoor activities, there are organised cycling tours in and around Madurai. These tours provide a unique vantage point to explore the city. Children can pedal through lesser-known lanes, discover hidden gems, and learn about Madurai's culture, all while enjoying the thrill of cycling.
In Conclusion
Madurai is a city that beautifully intertwines history, religion, and modern entertainment. From centuries-old temples to amusement parks, Madurai has something for everyone, ensuring that the kids are as engrossed and enlightened as the adults. So the next time you're pondering over "what are the places to visit in Madurai?", this guide has got you covered.
Also, if you're looking for the right preschool to provide the right start for your child's education, then consider EuroKids.