Top Bib choices for infants and toddlers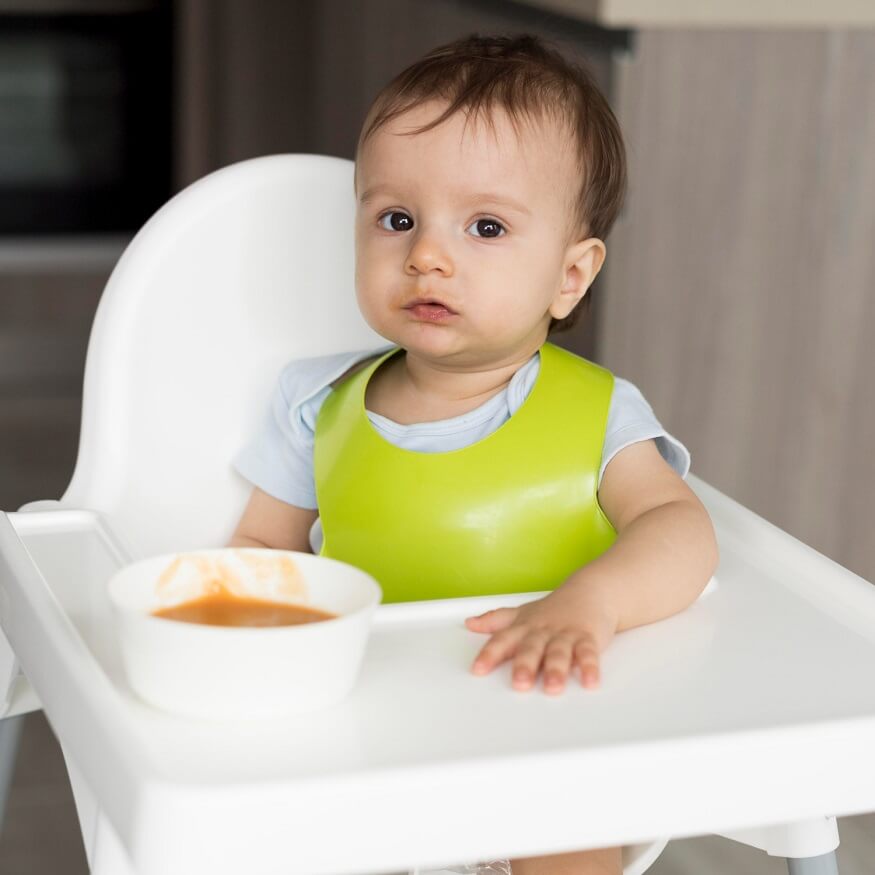 Tips about bibs for kids:
While purchasing baby bibs for kids, parents should consider these tips to make a good choice for their little babies.
Material and Comfort:
Opt for bibs made from soft, comfortable, and hypoallergenic materials. Infants have sensitive skin, so choosing materials like organic cotton, silicone, or bamboo can help prevent irritation and discomfort during extended wear.
Easy Cleaning:
Babies and toddlers are messy eaters. Look for bibs that are easy to clean – either machine washable or wipeable with a damp cloth. Stain-resistant fabrics are also a plus.
Waterproof baby bibs for kids:
Waterproof baby bibs with a layer of protective material prevent spills and liquids from soaking through to your child's clothes. Stain-resistant bibs help maintain the bib's appearance even after messy meals.
Adjustable and Secure Closure:
Choose bibs with adjustable closures such as Velcro, snaps, or buckles. This ensures a secure and comfortable fit around your child's neck, preventing them from easily removing the bib.
Size and Coverage:
Consider the bib's size and coverage. Infants may need smaller bibs that cover just the chest, while toddlers might benefit from larger bibs that cover their entire upper body.
Pocket Design:
Bibs with catch-all pockets are particularly useful for containing food debris and spills, keeping your baby's clothes and the floor cleaner during mealtime.
Age-Appropriateness:
Look for bibs designed specifically for your child's age. Some bibs are tailored to infants, while others offer features suitable for more active toddlers.
Style and Designs:
Colours, patterns, and types of bibs are available. Select bibs that correspond to your child's personality and preferences. Some bibs even have entertaining or informative themes.
Portability:
If you're frequently on the go, consider portable bib options that can be easily folded or rolled for travel. Some come with storage cases to keep them clean in your diaper bag.
Durability:
Opt for bibs made with durable materials and strong stitching to withstand repeated use and washing.
BPA and Phthalate-Free:
Ensure that the chosen bib is free from harmful chemicals like BPA and phthalates to ensure your child's safety.
Special Features:
Some bibs come with special features like teething rings, chewable corners, or sensory elements that can help distract and soothe babies during feeding.
Multipack Options:
Consider purchasing bibs in multipacks. This is especially handy for parents who require several bibs throughout the day.
Brand Reputation:
Choose bibs from reputable brands known for producing high-quality baby products. Reading reviews from other parents can also provide insights into the bib's performance and durability.
Types of Baby bibs:
Here are 20 types of baby bibs for your toddlers or babies.
Waterproof Baby Bibs:
Waterproof bibs are designed to repel liquids and prevent them from soaking through to your baby's clothes. They typically feature a plastic or silicone layer that acts as a barrier against spills and messes.
Cotton Bibs for Babies:
These cotton bibs for babies are made of soft and breathable cotton material, are friendly to your baby's skin and also available in more colours and designs.
Silicone Baby Bibs:
Silicone bibs are durable and easy to clean. They're waterproof and usually have a pocket to catch food debris. These bibs are great for messy eaters and can be wiped down or even tossed in the dishwasher.
Disposable Baby Bibs:
Disposable bibs are convenient for travel or on-the-go situations. They're made from lightweight materials and can be discarded after use, saving you from carrying around dirty bibs.
Bandana Baby Bibs:
Bandana bibs have a fashionable triangular shape that resembles a bandana. They're not only functional but also add a stylish touch to your baby's outfit.
Sleeved Baby Bibs:
Sleeved bibs offer full coverage by extending down your baby's arms. They're perfect for messy eaters and arts and crafts activities, providing extra protection against stains.
Velcro Closure Baby Bibs:
Bibs with Velcro closures are adjustable and easy to put on and take off. They allow for a secure fit around your baby's neck, preventing them from pulling the bib off.
Snap Closure Baby Bibs:
Snap closure bibs feature snap buttons instead of Velcro. They're durable and stay securely in place, even if your baby tugs at them.
Pullover Baby Bibs:
Pullover bibs are worn like a garment, with a stretchy neckline that your baby can't easily remove. They're simple to slip on and provide mess protection.
Feeding Smock Bibs:
Feeding smock bibs resemble aprons and provide full-body coverage. They're ideal for messy eaters and creative play activities that could lead to spills.
Pocketed Baby Bibs:
Bibs with pockets catch dropped food, making cleanup easier. These pockets can help keep your baby's lap and the floor cleaner.
Art Smock Bibs:
Art smock bibs are designed for messy arts and crafts activities. They protect paint, glue, and other creative materials.
Drool Bibs:
Drool bibs are smaller and lightweight, designed to catch dribbles during teething. They prevent clothes from getting soaked and reduce skin irritation.
Toddler Bibs with Sleeves:
Similar to sleeved bibs, these are designed for toddlers who are still mastering self-feeding. They protect clothing and arms from food messes.
Teething Bibs with Rings:
Teething bibs often come with attached teething rings. They serve a dual purpose by catching drools and providing a teething toy.
Holiday-Themed Baby Bibs:
These bibs feature festive designs for holidays like Halloween, Christmas, and Easter, adding a fun touch to mealtime celebrations.
Personalized Baby Bibs:
Personalised bibs can be customised with your baby's name or a special message. They make for unique and thoughtful gifts.
Toddler Bibs with Pockets:
Larger pockets on toddler bibs are designed to hold utensils or small snacks, encouraging self-feeding skills.
Organic Baby Bibs:
Organic bibs are made from natural, chemical-free materials, ensuring your baby's safety and comfort during mealtime.
Convertible Bibs:
Convertible bibs may be used as a traditional bib or as a placemat, giving a clean surface for on-the-go meals.
Conclusion:
At EuroKids we suggest that considering your baby's age, feeding habits, comfort, and preferences while selecting baby bibs. Having a range of bib styles on hand may help you adjust to varied scenarios and make mealtime fun for both you and your child.