Toddlers Sensory Bin- Enormous Foam Experience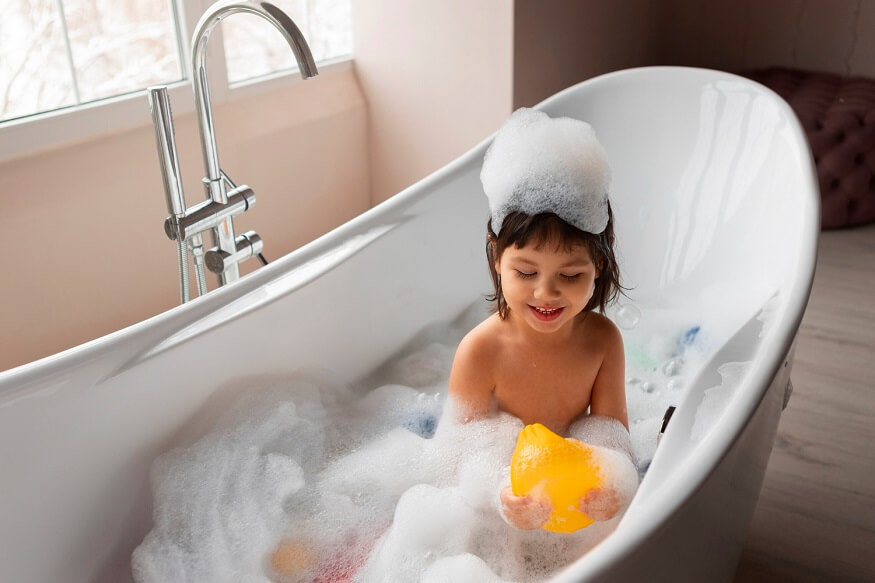 Bubble Play Activities for Toddlers
If you're looking to make Summer unforgettable for your toddlers, introduce them to some fabulous Bubble Play Fun! All kids love foam bubbles, which is what makes this toddler sensory activity one of the most pleasurable pastimes for kids who are 'Water Babies, but not quite ready for the swimming pool'.
Firstly, a look at how to create bubble foam right within the confines of your home itself. Those homemade bubbles are only a few steps away!
How to make bubble foam at home
Feeling daunted by the prospect of having to buy a foam machine to create the perfect bubbles? Making foam bubbles is a lot simpler than you can imagine.
How to: All you have to do is grab your hand mixer to mix 2 parts water and 1 part bubble bath. Mix until you have stiff peaks and plenty of that bubble foam.
Pros: This is a cheaper way to make bubble foam.
Cons: It's a slower process, and entails a good deal of planning.
The Importance of Playing with Foam
Playing with foam makes for an activity for young kids that goes a long way in helping them develop a keen awareness of their senses. This is one toddler sensory activity that involves all the senses – taste, sound, sight, touch and smell.
There is adequate research that goes to show that Sensory Play builds nerve connections in the brain's pathways that lead to a child being able to complete more complex tasks. Moreover, sensory play, like the kind kids indulge in with foam, is most relaxing and rejuvenating to little children. Needless to say, they are going to have a blast getting covered in all that foam, too!
You can make Foam Play Fun even more interesting for your little one, by having them help you make that foam at home, or even assist you when you use a foam machine.
How to create a Giant Foam Sensory Bin
A giant foam sensory bin is nothing short of being a more fun version of a splash pool! Here are some of the best ways to create one that you can use in your backyard or perhaps indoors, too.
Things you need to create a Giant Sensory Bin
Firstly, a look at the things you need to create that giant foam sensory bin.
Tear Free Bubble Bath (Recommended: Johnson & Johnson).
FoamOFoam Machine (you can get this on Amazon) or that hand mixer.
Kiddie Pool (you can get this at your local hardware store).
Making a Giant Foam Sensory bin
Making a giant foam sensory bin is really a lot easier than it sounds. We've already seen how you can make homemade bubbles using that hand mixer readily available in your kitchen. If you don't wish to engage in that process, that might tend to get a bit laborious, simply opt in for a Foam Machine!
Using the FoamOFoam Machine, you will find yourself able to fill that kiddie pool in a matter of a mere few seconds, with minimal effort.
To do: Simply fill the machine with FoamO solution and water (or even tear free bubble bath and water) and turn on the machine!
Pros: Makes bubbles fast for optimal play and is great to use when hosting a lot of people for a foam party.
Cons: That foam machine is going to burn a hole in your pocket!
Making Foam Kid-Friendly
Just like all other things children play with, you have to ensure that the foam you use for all that endless foam madness fun in the backyard, is safe for kids to begin with.
This great toddler sensory activity can be rendered safe by using Tear Free Bubble Bath. This is the best way to make foam kid-friendly. You will find that the FoamO solution can be a tad harsh on children's eyes, making them hurt at times.
That is especially why we recommend Johnson and Johnson's Tear-free Bubble Bath, more than ever. Bonus: It smells great, too!
Cleaning up after Foam Sensory Play
Yes, all that foam sensory play is going to create a lot of mess. If you're obsessed with tidiness, the good news is this: Cleaning up after foam play is almost as easy as setting it up!
The best part about foam bubbles is, they are going to eventually burst! Post that foam play madness, all you will be left with will be leftover bubble solution and water, in your kiddie pool. What you have to do is simply dump that solution down the drain and hose the grass. Oh, and don't forget to hose off those naughty kids, too! That will be like the cherry on the cake for them, after that fun foam activity.
Bubble Foam Play Ideas
Looking to add some extra spice to that foam play activity? Here are some stellar tips you could use, to get your little ones to have even more fun while playing in that giant foam bin.
Throw things in the mix. You could toss in some giant pom poms, sponges or even a water-friendly baby doll!
Pop your hand mixer back in. You know how those bubbles in the bathtub eventually disappear? The same will happen with that bubble foam in the foam bin. Simply put your hand mixer in and give the contents a good whip, to bring that bubble foam right back to life!
Make it colourful. It can be Holi every day in your backyard! Add some food colouring or even liquid watercolors, to whip up some intensely colourful foam.
Have them indulge in some sliding fun. Why wait until they are older to take them on a slide in a regular pool? Simply set up a Slip N Slide and add foam to it!
At EuroKids, we believe that bubble movement can assist with hand-eye and foot-eye coordination in younger children. When little kids try to reach out for bubbles with their hand or foot, it goes a long way in developing their gross motor skills.