The Importance of Dress Code for Kids- Fostering Respect and Discipline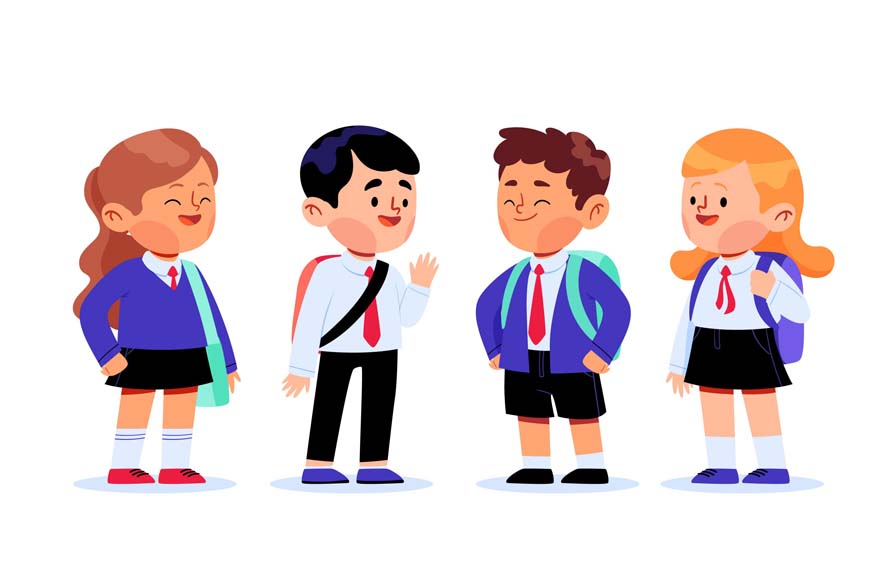 Importance of School Uniforms: Fostering Equality, Discipline, and Focus
In an age of Insta Reels, most children want to look their spiffiest best, at all times.
Given a chance, kids would bring in all that glamor to their school lives, were it not for the fact that most schools deem it necessary to wear 'uniforms'.
Why even wear a uniform at all, when everyone is trying their best to stand out? Interestingly, there's a plethora of reasons why you should. In this article we will delve into all the reasons why wearing school uniforms is an absolute must. Why they should be made to replace fashionable clothes that are typically used by children to make a statement.
But first, the answer to the question, 'What is a Dress Code?'
The Meaning of the Term: Dress Code
Simply put, a Dress Code is a set of regulations governing what is, and what is not, appropriate attire for a given setting.
There are many places where it is deemed necessary to conform to a particular dress code. The office is a classic example, where a dress code is set to create a perception of professionalism. In similar fashion, elementary and junior high schools might also require children to wear uniforms, as a process of maintaining order on the campus.
The Importance of Dress Code in School
In school, the importance of that uniform cannot be overstated. Here is a list of reasons why.
It fosters a sense of Equality
There's a good reason this one makes it to the top of the list. When all children in a school wear the same uniform, it instills a sense of oneness in them. In some schools, clothing has become something of a status symbol for kids. Luckily, uniforms help negate that. With uniforms in the picture, there's no chance for rich bullies to discriminate and pick on poor children in regard to the clothes they wear.
It drastically limits acts of Violence
When answering the question 'Why is a dress code important?', one must look beyond the obvious.
Those socioeconomic variations that come to the fore on account of children wearing what they like, might actually be responsible for random acts of violence! The incorporation of a dress code in school, actually serves to encourage a more optimistic educational atmosphere.
An Enhanced Focus on Learning
Move over low-self-esteem, school uniforms are here!
The really great thing about wearing those school uniforms is, children will no longer feel insecure about the way they look. Not finding the need to compete with their peers in terms of 'fashion', they will focus all their energies on what they need to be doing most of all. Studying, that is. They will no longer use fashion as a means to define themselves, and express themselves with a flourish, be it in arts or academics.
It makes it simpler to get ready for school each day
This is a most elementary, but vital, importance of dress code in school.
Since there is a fixed dress code, there will be no confusion in the minds of children, pertaining to what they have to wear each day. Further, this will also reduce the extra burden placed on parents, who might otherwise have had to splurge on all those fancy clothes. In the case of the absence of a dress code, that is.
It instills a sense of discipline
The very act of putting on a school uniform and going to school, is an act of sheer discipline!
The discipline that the act of wearing a school uniform instills in kids, goes a long way in reducing absenteeism in school. It also serves to induce in them some vital presentation skills, that help them talk with an air of confidence, and equip them with a strong sense of motivation.
It limits any Distraction that might arise in the classroom
The importance of that uniform also lies in its helping to keep children away from unnecessary distractions.
As children get older, it's natural for them to start paying more attention to each other, than to their syllabus. This is where a dress code steps in quite effectively. Kids will have to follow a common rule of fixed length skirts and shorts, for girls and boys respectively. Moreover, they will not be permitted to expose any part of the body, nor wear any weird printings on their clothing.
Promotes the School Spirit
How wonderful it is to be part of a community. Even more so, of a 'School'!
When children wear their uniforms to school, it generates a sense of belonging and loyalty to the school. Further, it works wonders when it comes to encouraging the positive attitude towards working in a team. This is especially important in the case of their representing their school in inter-school competitions.
It helps to easily spot the Trespassers
This importance of the uniform cannot be overstated, especially when it deals with something so crucial. The security of our children, that is.
It is easy to spot the 'outsiders', in a school where all children wear the same uniform. This will help prevent any sort of misdeeds from happening on the campus. This becomes even more relevant in the case of those field trips, where the chances of strangers infiltrating that core school group are higher than ever.
It helps them prepare for the Outside World
Wearing a school uniform goes a long way in helping prepare children for their future years.
Later on in life, a lot of children will find themselves working at jobs where a uniform dress code is the norm. They might even find themselves part of a sports team, where they will have to wear the same outfit as their team members. Wearing a uniform to school, helps them prepare well for such scenarios.
At EuroKids, it is our belief that school uniforms help students feel that they all belong together. They help create a level playing field that reduces socioeconomic disparities and encourages children to focus on their studies, rather than their clothes.