The Benefits of Reading for Toddlers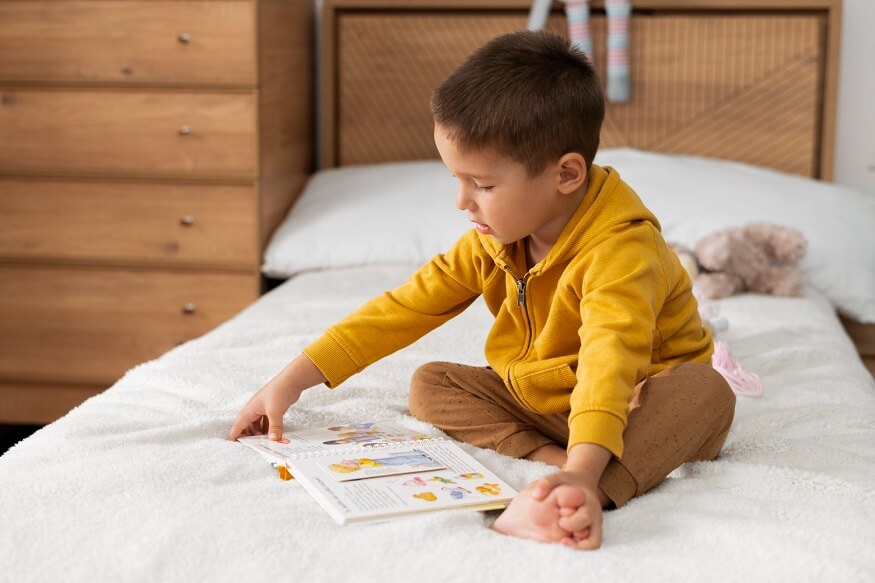 Reading allows each and every one of us to become travellers. All the more so, for 2-year-old children whose minds are naturally prone to wander into the crevices of their imaginations. However, merely being transported into a magical world is not where it stops. Children learn things like new words and phrases, and experience a whole range of emotions besides acquiring some vital life skills, too.
The benefits of reading for toddlers are far more varied than you can imagine. Here's a look at some of the key ones.
Assisted cognitive development
The use of reading materials for children assists greatly in their cognitive development. In layman terms, cognitive development refers to how we think and perceive about our world in reference to our intelligence, reasoning and language development.
Boosts empathy
By putting themselves in the shoes of the characters in the books that they read, children come to embrace their emotions and thereby garner a keen sense of empathy for them.
A deeper understanding of the world
'Knowledge' is the key word here. Children learn more about the world around them when they read books. Reading materials help children learn about things like people, places and cultures that they wouldn't have known of otherwise.
Fosters a strong bond with parent and child
If you read to your toddler on a regular basis, you will see that you come to nurture a close bond with them over time. A bond based on deep love and affection.
Must Read Books for Toddlers
Of course the need of the hour is finding age appropriate books for your 2-year-old, but what's more important is reading to them only the very 'best' books. After all, there's a vast plethora of children's books out there, as there are for adults.
Here's a sneak peek into the list of must read books for toddlers.
#1. Guess How much I love You
By Sam McBratney, illustrated by Anita Jeram
The efforts of little Nutbrown Hare and his dad to lend words to the special love that exists between parent and child.
#2. Dear Zoo
By Rod Campbell
This one's a classic lift-the-flap book featuring a child who writes a letter to the zoo, asking them to send a pet.
#3. Where do Diggers Sleep at Night?
By Brianna Kaplan Sayers, illustrated by Christian Slade
If you're parents of vehicle-obsessed children, reading this book is a great way to put your kids (and trucks) to sleep with the sweet rhymes it contains.
#4. Chicka Chicka Boom Boom
By Bill Martin Jr. and John Archambault, illustrated by Louise Ehlert
This fantastic board book takes your kids on a wild adventure with the 26 letters of the alphabet.
#5. Use Your Words, Sophie
By Rosemary Wells
Nobody is able to understand Sophie when she speaks jellyfish language, and the new baby simply won't stop crying!
#6. Press Here
By Herve Tullet
Don't want your child to press buttons on gadgets? Try this book that magically makes one dot into two at the press of a button!
#7. Duck & Goose, 1,2,3
By Tad Hills
What a joy it is to count clouds, feet and eyes with the help of Duck and Goose!
#8. Potty
By Leslie Patricelli
Does your toddler need potty-training? What better way to assist them, than by reading to them a book about poop! All about a baby on the search of 'where to go' and eventually succeeding on the potty seat.
#9. You're Two!
By Shelly Unwin, illustrated by Katherine Battersby
If you're looking for age-appropriate books for 2-year-olds, what better than one that celebrates being two years of age! This personalized board book has plenty instances of 'two', like 'Two Thumbs Up'.
#10. A Little Stuck
By Oliver Jeffers
The hilarious tale of Floyd, who in the process of trying to rescue his kite from a tree, ends up throwing just about everything to knock it down – from a shoe to an orangutan!
Tips for Reading Books to Toddlers
Now that you have a general sense of the kind of books you want to read to your toddler, here's some most pertinent tips that will assist you when it comes to all things reading for children.
Get them involved. Ask your child to pick out a book in a store, and when you read to them, allow them to hold the book and even turn the pages.
Get cosy. Snuggle with your child in their favourite blanket as you read to them.
Curate a special reading space. This could be a beanbag or even a particular chair in your child's room. Someplace they will look forward to going, for that reading session.
Choose books according to their interests. Does your child have a fondness for insects? Try choosing books that speak about them!
Cultivate a quiet space. You don't want the TV or radio to be playing in the background when you are reading to your child. To that effect, make sure your cell phone is silent, too.
Read stories again and again. Children love repetition, so make sure you read again to them, the books they have loved in particular.
Don't set a time limit. Reading is an activity that should be conducted in a relaxed manner. If you find your little one getting irritable after a point, it might be a good idea to continue later.
Read with enthusiasm. If you read to your kids in a drab tone, how can it be fun for them? Read enthusiastically and with different voices for different characters, and see the difference!
Get them involved. You could ask them, say, what that horse on the cover of the book is doing.
At EuroKids we know well that reading stories stimulates the imagination of toddlers, helps them sharpen their social skills and learn more about the world around them, in general. Reading, thus, finds itself on top of our list of activities that contribute to the sound development of children.