Kid-friendly places to visit in Agra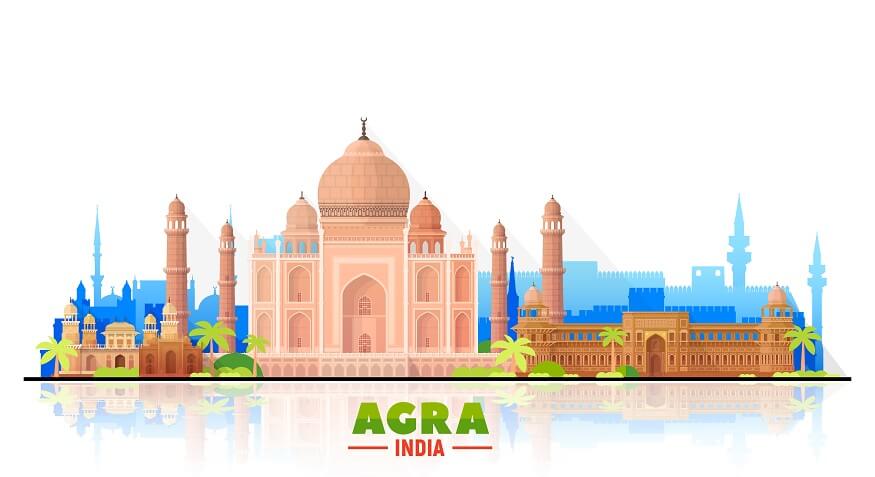 Can't seem to shake off that feeling of wanderlust every now and then? There's no reason to! Helen Keller famously said, 'Life is either a daring adventure, or nothing at all.' There's a good reason for you to keep your work aside every now and then, and see the world.
As a parent, you have to search for kid-friendly places, when looking to plan your next holiday. Agra is one such place, and no, visiting the Taj Mahal isn't the only thing that needs to be on your list.
Read on to know the best places to visit in Agra. You can rest assured that your children will have loads of fun visiting these really cool and diverse places.
Top Places to visit in Agra
Here is our list of the must visit places in Agra, to help make your Agra trip the perfect family vacation.
The Taj Mahal
No brownie points for guessing why this one makes it to the top of the list of the most famous places to visit in Agra.
Highlights: Designated as one of the Seven Wonders of the World, this is an example of the finest architectural symmetry that dates back to the 17h century. If you're looking for a sight that will make you and your kids go 'Wow', it's a glimpse of the Taj Mahal!
Travel Tips
The Taj Mahal is open from sunrise to sunset.
Night viewing is only possible on full moon nights.
Timings: 8.30 p.m. to 12.30 a.m. Duration: 30 minutes.
Sur Sarovar Bird Sanctuary
Is your little one a bird watcher? If so, you must especially take them here!
Highlights: This wonderful bird sanctuary is home to several species of birds, many of which are rarely found in India. Further, being part of the Bear Rescue Program, it is also home to several bears!
Travel Tips
Winter is the best time to visit, to see migratory birds.
Don't forget to pay a visit to the Bear Rescue Centre.
Mehtab Bagh
All children need is space to move around and have fun in. What better place to take them to, than this verdant garden? Definitely one of the must visit places in Agra.
Highlights: Otherwise known as the Moonlight Garden, this is a magnificent piece of greenery with 25 fountains that only add to its allure.
Travel Tips
Want to see the orange glow of the yellow sun over the white Taj Mahal? You can witness it from the Mehtab Bagh viewpoint.
It is best to visit Mehtab Bagh at 6 a.m. (sunrise) or 5 p.m. (sunset).
Dolphin Water Park
Even though this park was inaugurated in the year 2002, it is now easily one of the most famous places to visit in Agra.
Highlights: You will find plenty of games for kids to play, like the Carousel Caterpillar and the Merry go Round. There's also a wonderful water park for children and adults alike, with some amazing water rides your children will want to go on, time and again.
Travel Tips
The park is open daily, from 11.30 a.m. to 6 p.m.
There's no need to worry about your belongings. There are locker facilities at a nominal charge, so you can store your valuables while enjoying the rides.
Wildlife S.O.S. – Elephant Conservation and Care Center
This one's a great place to take your children, to help them garner a sense of empathy for animals. Oh, and it's a bonus if they adore elephants!
Highlights: In essence, this is a charity that works to improve the condition of sick and suffering elephants that are usually forced to work in large cities. A visit to this shelter, then, becomes a truly heartwarming and enlightening experience for people of all ages.
Travel Tips
All visits to this place should be booked in advance.
It is open 7 days a week.
Red Fort
Did you know that this massive monument in Agra is a UNESCO World Heritage Site?
Highlights: The main residence of the Mughal emperors till 1638, this sprawling fort is built on a whopping 2.5 kilometer-radius. What's more, it is built entirely out of red sandstone. A must visit, for its architectural creativity and brilliant design.
Travel Tips
The fort is open all days from 6am to 6pm
You should make it a point to come here between 6 p.m. to 7 p.m. in the evening. This is when they have the Light and Sound Show in two languages: English and Hindi.
As you have seen over the course of this article, the appeal of Agra is not limited to the magnificent monument that is the Taj Mahal, alone. There's plenty to experience here for you and your little one, which is why we at EuroKids have Agra on our list of must visit cities with kids. If you enjoyed reading about the best places to visit in Agra, you'll also love exploring our guide on the top places to visit in Hyderabad.