Hosting a Successful Kids' Holiday Party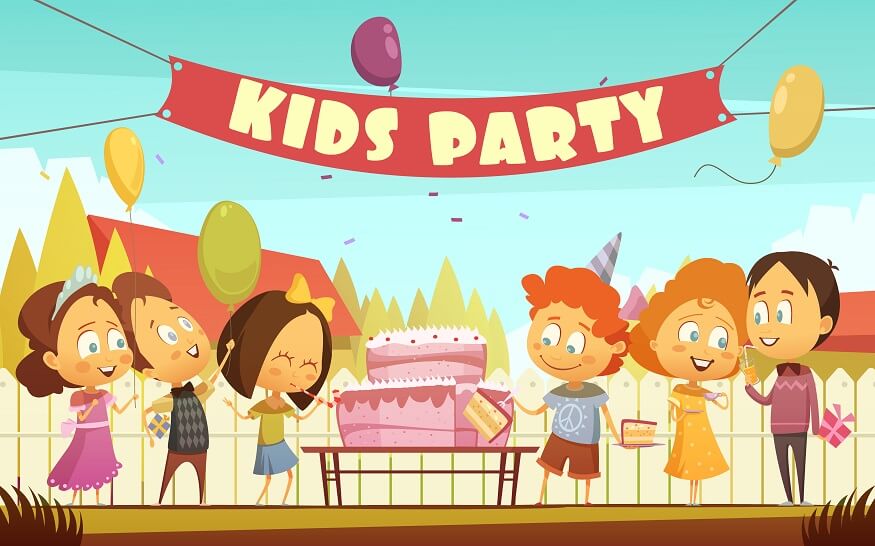 Hosting a Successful Kids' Holiday Party
The holiday season for kids is here, and so is the time for holiday crafts for kids and an occasion for all parents to think about children's party themes and holiday party planning. Also, not forgetting to mention some yummy yet healthy party food. Academic pressure is less, schools are closed, and kids can socialize and enjoy themselves fully at parties. Children's party themes that involve holiday crafts for kids can be a great way to celebrate and create lasting memories for children and adults.
However, holiday party planning is a strenuous task. Most parents face the challenge of throwing such a party, selecting the theme, deciding on activities for the party, etc.
If you have the same questions, we have got you covered!
Why should you host a Kids' Holiday Party?
The first question that comes to the parent's mind is whether throwing a party is necessary. The answer is as follows-
Creates creative and positive mood – Holiday party planning brings kids and parents some engaging, creative, and fun time. This is a beautiful way to spread holiday pleasure. The gathering might encourage kids to embrace the season and feel festive.
Holiday crafts for kids – Children's games, holiday crafts for kids, and decorating are just a few entertaining activities that can be done during the party. Their creativity, interpersonal skills, and capacity for teamwork can all be developed through these activities.
Building solid relationships– Relationships can be strengthened by attending the celebration, participating together in making holiday crafts for kids, an excellent opportunity to bring family and friends together. Children can meet new friends, and parents can get to know one another better.
Teach the spirit of giving: You might take advantage of the party to talk to the kids about the value of charity and donating. You can persuade them to come with a little donation to a nearby charity or group. Also, motivate them to create some hand-made cards using awesome and creative techniques while working on holiday crafts for kids
Create evergreen memories: Both kids and adults can create lasting memories while planning a holiday party for kids. Children will always cherish the little fun moments as they recall the season's enjoyable events, festive décor, and excitement.
Overall, it may be gratifying for everyone involved to throw a kids' holiday party. The holidays can help reunite families and friends and create enduring memories.
Tips For Holiday Party Planning
Children's party themes can be an exciting and enjoyable way to express the fun holiday season brings. Here are some tips and recommendations for holiday party planning –
Choose a creative children's party theme: Choosing a theme for your party can help the kids remember it and have more fun. Winter Wonderland, gingerbread house decorating, Fairytale, Marvel, and Santa's Workshop are common Christmas themes.
Decorations: Use festive accents like lights, balloons, banners, and centerpieces to make the space feel festive. To enhance the atmosphere, think about utilizing themed dinnerware and party favors.
Plan engaging, entertaining activities like holiday crafts for kids that are appropriate for their age. A hot cocoa bar, Christmas crafts, pin the nose on the snowman, and cookie baking are a few examples of creative ideas. A kid-friendly holiday movie showing is another option.
Snacks: Create a menu of simple-to-make and serve snacks suitable for children. Some examples are hot cocoa, popcorn, candy canes, cookies, and cupcakes that aligns with your theme. Food makes any party rock – so make sure your menu is full of healthy party food. Some of the healthy party food for kids can be carrot fries, avocado dips with multigrain chips, paneer rolls, egg-bites, zucchini noodles, etc.
Send out invitations well in advance, ensuring you include all pertinent information like the date, time, place, theme, and RSVP information.
Safety: Providing constant adult supervision ensures the party is secure for children. Consider any dietary restrictions or allergies if you're planning to serve food.
Party favors: Give children a party favor related to the party's theme when they leave.
Remember, besides the stress of hosting a successful Kid's Holiday party, you need to have fun and enjoy the holiday season with the kids!
Fun Ideas For Your Holiday Party Planning
Here are some more specific ideas for a kids' holiday party-
Movie screening: Organize a screening of classic holiday films like Rudolph the Red-Nosed Reindeer or A Charlie Brown Christmas on a screen. Serve hot chocolate and popcorn to recreate the atmosphere of a movie theatre.
Karaoke: Set up a karaoke machine, play Christmas music, and engage the children in a sing-along. You can also give props like Santa hats or reindeer antlers to add to the fun.
Holiday crafts for children: Provide craft supplies for activities like diya making and rangoli making that will engage children in a fun, competitive way and allow them to hone their creativity and craft skills.
Organize dance lessons: Hire a professional dancer or instructor to teach the kids an old-fashioned Indian dance, such as the bhangra or the garbage. This lively, entertaining exercise may teach kids about Indian traditions and culture.
Card making: Give kids the supplies they need to make their festive cards to send to their friends and family. For more minor children, you may make things easier using templates or stencils.
Storytelling: Tell the kids about festivals like Diwali or Christmas by telling a tale or playing an animated film. Children can learn about the significance of the occasion through this.
Treasure hunt: You can try hiding festive props like candy canes, easter eggs, or bags of colors and engage children in a fun scavenger hunt by providing slight hints.
Experiment with healthy party food: Try twisting existing ethnic dishes by using more nutritious ingredients.
Above mentioned activities, like holiday crafts for kids, making healthy party food, karaoke, etc., are a few ideas of activities that can be organized during Kids' Holiday parties. Be sure to enjoy yourself while organizing these parties.
Conclusion
Holiday party planning might sound tiring but it is an enriching experience for everyone involved. It helps to build new and strengthen existing social relationships and can provide you with a rich trove of happy and fun memories.
At Eurokids, we give the utmost importance to all festivals. We always plan to organize short celebration parties for every festival, allowing children to bond and learn about each other's culture. Click here to learn more or to visit a Eurokids center for preschool admission for your child.