Honouring the Bond: Raksha Bandhan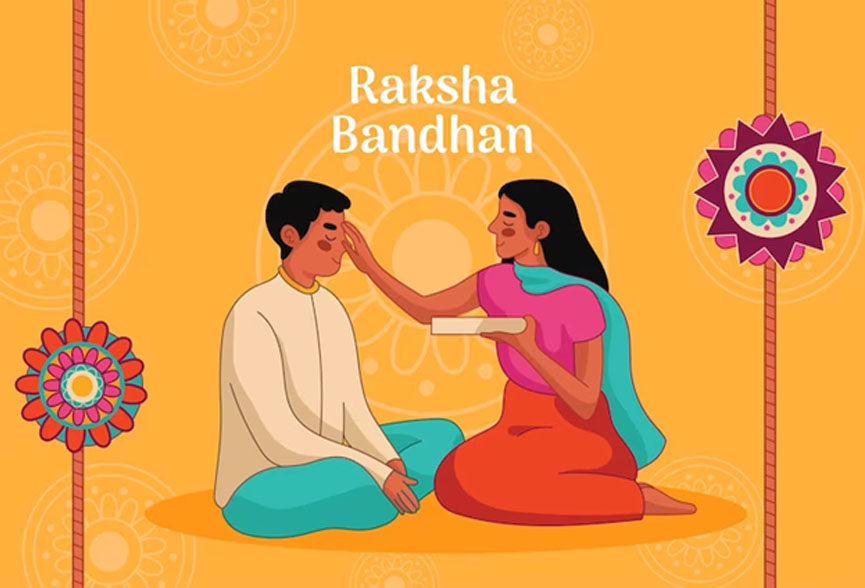 Siblings enjoy a unique relationship but there's nothing more special than the strong bond of brother and sister. Indian culture celebrates this relationship in the form of Raksha Bandhan which means 'protective knot' and is commonly called the 'Festival of Threads.' Traditionally, this festival is celebrated on the last day of the 'Shraavana' month of the Hindu calendar and is a poignant reflection of the love and affection shared by brother and sister since childhood as well as the unbreakable bond between brothers and sisters. The sister ties a Rakhi or sacred thread on the wrist of her brother and he in return gifts her something as a recognition of that strong bond.
As time passes, professions, marriage and other commitments create a distance between siblings but despite that sisters rarely forget to send a rakhi through the mail or online portals. Such is the strength of the bond between brothers and sisters! So let's look at what raksha bandhan is and how it celebrates the bond of brother and sister. As a parent especially, you need to inculcate in your children the spirit of supporting, protecting, encouraging and standing by each other and thus understanding the importance of Rakhi.
Folk Lore
It is believed that Lord Krishna and Draupadi created a deep bond of a brother and sister when she tore a strip from her saree to bandage his cut finger. In return, he was always there to protect her when she needed help, including when she was humiliated by the Kauravas who tried to disrobe her. In recognition of that, sisters prepare a Rakhi pooja thali with sweets and other things while praying for their brother's health and well-being. In return, her brother promises to always protect her.
The Protective Bond
Raksha Bandhan or Rakhi is a much awaited celebration where brothers and sisters reaffirm their love and respect for each other when they tie a rakhi on their brother's wrist who in return gives her a gift or money to acknowledge that bond. The sister prays for the well-being and health of her brother who in return promises to always protect her. In today's woke world, where women may not feel they require the protection of a man, it may seem that the importance of Rakhi is diminishing. But, one can still not deny that this festival is beyond that as its significance lies in honouring and nurturing the bond between brothers and sisters.
Brings Siblings Closer Together
There are no siblings in this world who have not fought with one another or exchanged hot words. The importance of rakhi is that it makes them forget all those arguments and fight and they reconnect with renewed love and affection during this festival. It serves as a reminder of the love and respect for each other that they grew up with and is a perfect time to bury the hatchet and rebuild the link they shared.
Raksha Bandhan Means Caring
For women the meaning of Raksha Bandhan has evolved to express care for not just brothers but for men whom they respect or admire and often refer to them as their 'Rakhi Brothers.' Children and workers may also tie a rakhi on the wrists of senior individuals or authority figures as a symbol of their respect and admiration for them and in return accept their protection. In the modern world, in families where there are no brothers, sisters often tie rakhis on each other's wrists to symbolise their commitment to always love and protect each other.
Reunites Siblings
However far siblings may live from each other, Raksha Bandhan is one time they will make an effort to reunite. Such is the strength of the bond between brothers and sisters, that this festival becomes an excuse to meet. It deepens the love and care they share and also bridges the gap that may arise due to distance. It symbolises affection and concern for one another and reminds them of the values they share.
Sharing Gifts
This is the festival where the cost of the gift or money given is insignificant as compared to the emotions behind it. It could be anything from a branded dress, handbag or perfume to something as simple as a chocolate hamper. It's always appreciated by the sister as it's a celebration of a childhood spent together and reminiscing about a time gone by. These days, sisters may also buy a small gift for their brothers along with tying a rakhi to express their love and appreciation.
Importance of Relationships
The bond between brothers and sisters is unique as it's representative of an entire childhood shared together with all its ups and downs. This relationship outlasts all others and they can rely on each other without giving it a second thought. It gives them a sense of security and belongingness that cannot be surpassed and Raksha Bandhan is one of the best ways to reinforce that relationship for a lifetime..
What is Raksha Bandhan but a celebration of the beautiful and strong bond between brothers and sisters that transcends all other bonds! This festival not only has its rituals of lighting a diya, doing an aarti, tying the rakhi and feeding your brother scrumptious sweets, it also has a fun element with shopping and exchange of gifts and money. Rakhis are bought by sisters and can be anything from a simple decorative thread to a designer rakhi while brothers look for a suitable gift for their sisters which can be something branded or maybe just a book or game she likes. These activities are instrumental in building a long-lasting relationship between brother and sister and you can get in touch with EuroKids for more ideas on how to strengthen a spirit of sharing responsibilities, teamwork and working together. This will do wonders in getting them closer to one another and will build a bond that will last a lifetime.