Fashionable Spring Looks for Babies and Toddlers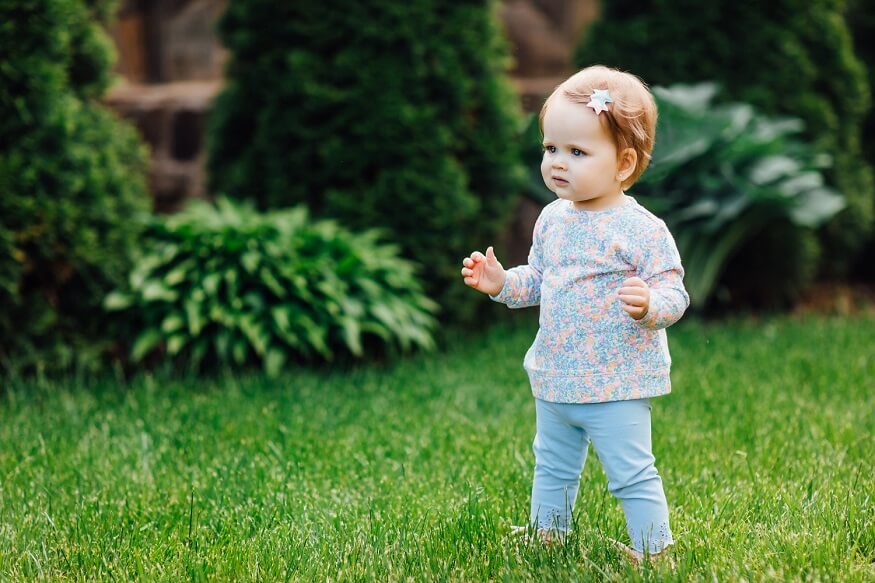 Stylish Toddler Spring Outfits: Colorful & Comfortable Looks
American poet Edgar Guest once said, "Spring's greatest joy is when it brings children out. It is a beautiful season, a time to celebrate love and immerse oneself in the beauty of nature. Spring brings happiness and warmth, and it would further enhance the season's beauty if our toddlers blossomed like flowers, showcasing their fashionable outlooks during this season. So here are some easy spring outfit ideas you can try on your toddlers.
Choose vibrant colors: Spring is a captivating season when nature is most beautiful. It's a time when colorful flowers bloom and make the world look like a beautiful painting. Our little ones are just like flowers, and they are charming too. So, let's dress them up in bright colors that match the beauty of spring. Choose spring-season clothes that have bright and cheerful colors. These colors will remind us of the warm sun and the blooming nature. In this season of new beginnings, let our children become like living pieces of art, spreading their happiness and colors everywhere they go.


Choose comfortable clothes for your babies: Comfort should be the foremost consideration in fashion. No matter how stylish an outfit may appear, its purpose diminishes if it fails to provide comfort. Given children's sensitivity, it is vital to prioritize their comfort when selecting clothes. Moreover, spring is a season associated with comfort. Therefore, it is crucial to carefully choose garments free from itchy materials or any sources of discomfort. Your toddler will cry and get irritated by their clothes if uncomfortable. The optimal approach is to seek fashionable, soft, and comfortable looks. By opting for trendy yet gentle clothing on their delicate skin, we can ensure that our children remain content, at ease, and able to express their personal style.


Loose-fit clothes: If you're wondering what to wear in spring, loose-fit clothes are a fantastic choice. They have their charm; they are the best spring-season clothes. They not only provide comfort for your babies but also enhance their appearance. Their relaxed style is universally appealing, making them a popular choice. Dressing your little ones in loose-fit clothes ensures their comfort and adds to their overall charm.


Try-die t-shirts: If you are looking for fashionable looks for your toddler, tie-and-dye t-shirts are one of the best options. Tie-dye t-shirts for toddlers are cool and colorful. They feature unique patterns with swirling colors that look exciting. These shirts make dressing up fun and bring out your child's personality. They are best to wear if you are planning to go for a picnic. They make your little ones look stylish and catch everyone's attention with bright colors. Tie-dye t-shirts are one of the most loved spring-season clothes.


Floral prints: Have you ever noticed how adorable kids look in floral prints? These prints add to the charm of spring-season clothes. Floral print dresses for toddlers are a delightful choice this season. They have beautiful patterns inspired by flowers, making their wardrobe more charming. The vibrant colors and lively floral prints perfectly capture the essence of spring, making your little ones ready to embrace the blooming season. Whether it's a family outing, a party, or a casual playdate, floral print dresses bring a sense of freshness and joy. Try these prints for your toddler; they will be one of their most fashionable looks.


Don't forget about accessories: Accessories are an essential part of fashion and play a crucial role in completing your toddler's fashionable look. For toddlers, Various accessories, such as sun hats, watches, and printed sneakers, are available. Hats, in particular, are a great option to protect your child from the sun while adding style. Toddlers can also try wearing sunglasses, as they have a unique charm. Don't forget to explore different accessory options when you explore fashionable looks. They enhance your toddler's style, making them look even more adorable and fashionable.


Use proper layers: Layering is essential in spring season clothes as it can be challenging to dress your baby for spring because the weather can change rapidly throughout the day. Mornings are usually excellent, but afternoons can become hot quickly. To ensure your baby is dressed appropriately, layering is essential. Begin with a comfortable bodysuit as the base layer. Then, add pants and a long-sleeved shirt. If it's still cold, consider using a snowsuit. You can remove some clothing to keep your baby comfortable as the temperature rises. This allows you to adjust their attire and quickly ensure they always feel comfortable.
Conclusion
Spring is the right time to dress your little one in fashionable looks. Choosing vibrant colors, comfortable clothes, loose-fit garments, tie-dye t-shirts, and floral prints can enhance their charm and embrace the season's spirit. Accessories, such as sun hats, watches, and printed sneakers, add the finishing touches to their stylish looks. Additionally, proper layering is essential to adapt to the changing weather throughout the day. By prioritizing comfort and style, we can ensure our babies and toddlers are ready to blossom like flowers and spread joy wherever they go during this delightful season.
At Eurokids, we understand the importance of proper clothing and fashion. We ensure that you get the most fashionable looks for your toddlers. Click here to learn more or to visit a Eurokids center for preschool admission for your child.